OPED

Society
The love for hate stories in virtual space
Nonika Singh
The social media websites are being hailed for their immense potential to connect people and build bridges. But as more and more users are spewing vitriol online, targeting celebs and ordinary mortals alike, the need to control hate comments becomes paramount.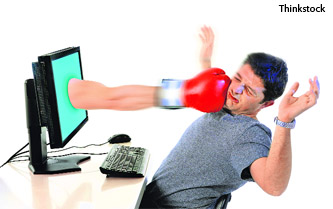 Packing in a cyber punch: Many emotions like anger and frustration that can't be verbalised otherwise find a vent online.
Mind your language... are you kidding? In a free-for-all virtual space where free speech reigns almost like the Lord of Deliverance, it's not just ps and qs you don't need to mind but even the choice of words. Choicest of abuses, slander, derogatory words.... take your pick, in the newly emerging cyber culture it seems there is no culture. So aspersions are cast, reputations are destroyed and abuse is hurled in all directions and at all and sundry.
To put it simply, cyber bullying is an agonising reality. According to a Global Youth Online Behaviour Survey by Microsoft, 53 per cent of children have been bullied online in India, which puts it at the third place, after only China and Singapore.
Trolling and trailing
However, it's not children alone who are at the receiving end. Trolling, which the Urban Dictionary defines as: "The art of deliberately, cleverly and secretly annoying people, usually via the internet", trails women endlessly. A study by the Internet Democracy Project points out that responses to women's opinions on the Internet are a mix of sexist and sexually explicit content aimed at making them uncomfortable. An unwarranted degree of familiarity pervades social networking sites. Absolute strangers greet women with remarks such as, "hey sexy and beautiful," otherwise reserved for close partners.
Internet was meant to be the most democratic world. Yet the only democracy that perhaps prevails here is, be it celebs or ordinary mortals, that the diatribe spares none. So pretty and petite film star Alia Bhatt is not only the butt of unflattering jokes but is called by a litany of unprintable names by some unknown man somewhere. A young girl is haunted mercilessly for daring to differ with vox populi. A well-known film critic is accused of taking money and writing favourable reviews.
And the monster of hate knows no borders. It's not only in India alone that unsuspecting men and women are under attack. Cyber bullying is a universal phenomenon. In the US even children with special abilities are targeted, forcing a mother of a child suffering from seizures to accompany her to school. Normal people are no less vulnerable. A girl was bullied with such ruthless relentlessness that she committed suicide.
Hub of vile
Meant to be a utopia for freedom of expression, the Internet has become a hub of vile where people vent out their spleen as if the world was coming to an end and hate bites were the only recourse to make their life worthwhile. Certainly, hate speech was not created online. After all, hate is as universal an emotion as love and as perennial too. And doesn't one encounter bullies in real life too. But in the virtual space bullying is raised to the power of infinity. And the Internet's biggest strength, that is its reach, becomes a Damocles sword. Besides, the anonymity of this world lends it a virulence rarely seen in face-to-face interaction. The American computer scientist who coined the term 'virtual reality', Jaron Lanier, author of You Are Not A Gadget, might say, "Don't post anonymously unless you really might be in danger", a tribe of anonymous bloggers are posing threats to others all the time. These are not just virtual but fraught with the possibility of turning real any time. No wonder the tagline of MTV's mini-series Webbed, that deals with cyber abuse reads — The Internet is a great place to make friends; a better place for faceless predators.
Online projections
Actually, there is a significant shift in the way people lead their lives and the way they project themselves online. Besides, many emotions like anger and frustration that can't be verbalised otherwise find a vent online. Psychologists even have a word to explain this rancid behaviour and call it "de-individuation". In simple words, it refers to the diminishing of one's sense of individuality that occurs with behaviour disjointed from personal or social standards of conduct. For example, someone who is an anonymous member of a mob is more likely to act violently towards a police officer than a known individual. According to a US study, 81 per cent of youth agree that bullying online is easier to get away with than bullying in person and 80 per cent believe it is easier to hide online bullying from parents than face-to-face bullying. In short, de-individuation makes us obligation free.
Those who think what's there in words, well hate comments are not just isolated stand-alone random thoughts. Rooted in inherent prejudices, stereotypes, misogyny, false perceptions — these could well be a precursor to action. According to one episode of Webbed, a girl had to physically face sexual abuse just because she sided with a different football team and had the misfortune of expressing her opinion online. A young man on the other side of the debate located her, befriended her only to leave her abused and scared. Law-enforcement agencies in the US estimate that electronic communications are a factor in 20 per cent to 40 per cent of all stalking cases. Forty-seven states in America now have laws that include electronic forms of communication within stalking or harassment laws.
In India, Section 66 of the Information Technology Act prescribes: "Punishment for sending offensive messages through communication service." Kunwar Vijay Pratap Singh, DIG Jalandhar Range, and author of several books on cyber crime, informs that legally action can be taken against the offenders since Section 66 A deals with offensive messaging and Section 67 with obscenity. But the problem, according to him, is that most of the Internet Service Providers (ISPs) are based in the US and not answerable to Indian laws. While in some cases the ISPs do cooperate with India's cyber cell, many a time they respond with a stock reply — Come through MLAT (Mutual Legal-Assistance Treaty). Thus legal remedies are delayed.
Mokshda Bhushan, Assistant Professor cyber crime, Amity Law School Noida, feels Section 66 is too ambiguous and is without sufficient guidelines or parameters. While on the one hand it fails to fully redress genuine grievances, on the other it can and has been misused by the police and government officials to clamp down on individuals in the name of "threat" to national sovereignty and communal harmony. In fact, it's not her alone but many others in India who are already objecting to Section 66 A as well as Section 66 B and asking: Can causing inconvenience and annoyance be clubbed with criminal intimidation?
While some European countries have made certain forms of hate speech, like Nazi propaganda and Holocaust denial, a crime, in India however people could get into trouble for innocuous statements as well. Like Shaheen Dadha and her friend Renu Srinivasan's harmless reaction to Mumbai shutting down in the wake of Shiv Sena supremo Bal Thackeray's death was construed as hate-mongering. There are several examples of people being booked under this section which can be seen as an affront to liberty.
Line between free speech & hate
Indeed, in the brave new world of Internet, the line between free speech and hate speech gets erased often enough and there are votaries on either side. Of course, efforts to purge Internet of hate- filled and bigoted comments have begun too. Facebook has taken steps to help protect user safety. Bullies can be blocked and threatening messages can be reported. The user's account can be disabled by Facebook. YouTube, partnered with the Anti-Defamation League to launch an Abuse and Safety Centre, which allows users to report content that violates YouTube's community guidelines on hate speech. Twitter added a button to report abuse. Facebook, Google and Twitter have given the Indian government a virtual hotline to flag objectionable content for removal.
Right to forget online
Experts, however, feel that by and large service providers act only if the content is abusive in nature. Otherwise, if it tarnishes a person's reputation or indulges in character assassination in seemingly polite language the websites don't take it off. In fact, more often than not false stories remain on Google or other sites long after these have been refuted. But more recently this is also being taken care of.
The "Right to forget online" has not only been approved in the European Court of Justice but is also part of Indians laws. Nations of the European Union already have an agency where citizens can appeal for help in erasing their online histories. However, implementing the same is easier said than done. Google which was flooded with thousands of such requests found it a big challenge to actually erase the data.
But, the real moderator, feels Anuja Lath, director and co-founder Red Alchemy, an IT company, will be the people themselves, particularly the youth who are neither prejudiced nor judgemental. She is positive that the saner majority can certainly steamroll and "outtalk" the bile-ridden minority. Banning anonymous bloggers too can help the virtual world get rid of what Lanier calls "digital Maoists".
Of course, complete extermination of obnoxious remarks may never really happen, except by resorting to extreme recourse. Stop tweeting and facebooking, in short move out of social networking sites or have their servers in India. That alone can ensure complete immunity from the hate spewing tribe. So recommends Kunwar Vijay Pratap. Since in a net-addicted country that is next to impossible, learn to live with it. Or better still take them on.
Just as Alia Bhatt in her video, "The Genius of the Year," has. In a remarkably hilarious spoof, she has dared to laugh at herself. Whether it will silence her detractors who have been all along mocking at her low levels of general awareness or not her video has garnered over five million hits. Can the power of the Internet be used to launch a counter offensive? May be not. But by having your say it sure can help you to decelerate the juggernaut of hate.
Bullying in cyberspace

Dr Rajesh Sagar, Professor of psychiatry AIIMS, New Delhi, member of a panel that came up with guidelines on tackling cyber bullying as part of Delhi Commission for Protection of Child Rights rule book on child abuse agrees that cyber-bullying is likely to be more vicious and the consequences debilitating.
The victims of hate abuse, especially adolescents can develop several negative characteristics like low self-esteem, lack of confidence and it can also affect their academic performance. Their social functions and relationships take a beating as they begin to speculate the source of anonymous comments and doubt friends and peers. It's not only the victims but also the perpetrators who need counselling.
Global watch
Across the world various global initiatives are already on to tackle the menace of hate comments.
The Media Awareness Network, a non-profit organisation based out of Canada has been developing programmes since 2004 to address online hate speech.
The rationale is to prep up kids against hate on the Internet and sensitise them so that they do not contribute to the tirade.
Hate Speech Watch invites followers to report any online hate content that is targeting victims of hate crime.
Wikipedia has its own army of official volunteers to deal with what it calls Wikitrolls that is vandals who set out to insert slander and nonsense into pages.
In India newspapers and magazines have their own methods and systems to sieve genuine criticism from slander.