Cong list a mix of old and new guard


2 MLAs denied ticket

3 MLAs swap seats with kin


Ex-HJC men who backed Cong fielded
New Delhi, September 24
The Congress has retained majority of its 44 sitting MLAs as candidates for the Assembly polls in Haryana, denying tickets to only two — Zile Ram Sharma and Sharda Rathore — facing charges of murder and indiscipline, respectively.

CONGRESS LIST for HARYANA assembly elections
Bumpy ride for Birender in BJP
Jind, September 24
At the time of his entry in the BJP, Chaudhary Birender Singh was seen as a potential threat to the BJP CM aspirants as the saffron party appeared to be lacking a match to him. But with only few of his supporters getting ticket and uncertainty looming large over his future role in the party, things are not going well for him.
Stage set for INLD's Jind show today
Jind, September 24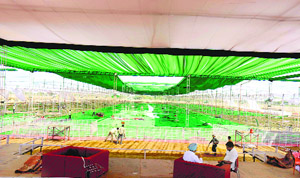 The stage is set for INLD's September 25 grand rally in Jind to mark the birth anniversary of its founder and former deputy prime minister Devi Lal. Leaders are leaving no stone unturned to ensure record turnout at the rally and have invited senior leaders of other states to give the party the required push in electioneering.

The preparations for the INLD's rally are in full swing in Jind on Wednesday. Photo: Manoj Dhaka

Labour Minister decides to contest as Independent
Faridabad, September 24
Haryana Labour and Employment Minister Shiv Charan Lal Sharma has announced to contest the Assembly elections from the Faridabad (NIT) segment as an Independent again.
INLD workers oppose SAD candidate
Kalanwali, September 24
After BJP's annoyance with alliance partner SAD in Punjab for supporting the Chautala's in Haryana, now it's the turn of the INLD workers against fielding an SGPC member from Kalanwali segment. The workers are enraged over the ticket to former SGPC member Balkor Singh Khalsa and have decided to oppose him in the poll.
JP quits Cong, to contest as Independent
Kaithal, September 24
Former Union Minister and senior Congress leader, Jai Parkash, popularly known as 'JP' announced his decision to quit Congress and contest as an Independent from Kalayat Assembly segment of Kaithal district, today. He said he was shocked to know the party high command had allotted the ticket to Ranveer Mann, son of former minister Tejinder Pal Mann, and ignored his claim to the seat.
Chautala to address rally, says Arora
Kurukshetra, September 24
State Indian National Lok Dal (INLD) chief Ashok Arora, said, "Former Haryana Chief Minister and INLD chief Om Prakash Chautala will address the Jind rally on Thursday."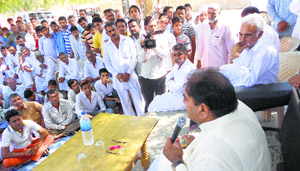 People fed up with Congress, says Abhay
Sirsa, September 24
Ellenabad MLA Abhay Singh Chautala today claimed that the INLD would win 60 seats in the Assembly poll and form government on its own.



INLD leader Abhay Chautala talks to the media at Poharka village in Sirsa district on Wednesday. Tribune photo

CM heads rumour-mongers: Union Minister
Jhajjar, September 24
Terming Haryana Chief Minister Bhupinder Hooda as the 'head of rumour-mongers,' Union Agriculture minister Radha Mohan Singh said the Modi government had not imposed any ban on the rice export.
Five BSP office-bearers quit
Sonepat, September 24
As many as five office bearers of the BSP from Rai Assembly constituency resigned from the party in protest against nomination if former MP and party's CM candidate, Dr Arvind Sharma, as the party's candidate this Assembly poll.
45 more file nomination papers
Chandigarh, September 24
As many as 45 candidates today filed their nomination papers for October 15 assembly elections, taking the total number of nominations to 92.
Ex-minister to contest as Independent
Karnal, September 24
Putting all speculations to rest, two-time MLA and former minister Jai Parkash Gupta, who remained on the second position in the last Assembly elections on the HJC ticket, has announced to contest the Assembly poll as an Independent from the Karnal seat. His announcement had made the elections more interesting, as he is one of the bigwigs of Karnal, said a political analyst, adding that Gupta was a veteran leader and was well acquainted with the problems of Karnal.
Ticket tussle: Karnal YC chief resigns
Karnal, September 24
Agitated over the neglect of grass-root workers and denial of ticket, District Youth Congress chief Pankaj Gaba today resigned. Sources said he may quit the party. He is a younger son of Des Raj Gaba, former district president and also an active member of Congress here. His elder brothers Parvesh Gaba and Parag Gaba are also active members of the party and have held several posts. "My family nurtured the party for 40 years, but the high command neglected us," he said. Between my father, me and my brothers, a Punjabi dharamshala and the Shaheed Madan Lal Dhingra chowk were set up in Karnal. We also fought for reservation for Punjabis," he added. TNS
SBP candidate deserts party to join BJP
Ambala, September 24
In a major turn of events just a few days prior to the Assembly elections, the Samast Bhartiya Party (SBP) candidate from the Ambala Cantonment seat deserted his party and joined the BJP in presence of sitting MLA and leader of the BJP's legislative party Anil Vij last evening. Raman Dhiman, who had been picked up by the SBP to contest the elections against Anil Vij, resigned from his party and joined the BJP. He had been the general secretary of the Ambala Youth Congress in the last Lok Sabha elections and had later joined the SBP. While, joining the BJP, he said moved by the steps being taken by Narendra Modi, he had decided to withdraw his candidature in favour of the sitting MLA Anil Vij. TNS
Setback for HJC as youth general secy steps down
Kurukshetra September 24
Haryana Janhit Congress (BL) today suffered a setback in Thanesar constituency when its youth wing state general secretary Ashok Sharma quit the party with his supporters. I am a social worker but when you are associated with a political outfit it is impossible to raise the voice of people. Many times you know your leaders wrong but you can't do anything bring a member of that party.
Three file nominations
Three independent candidates from Pehowa constituency filed their nomination papers today before the Returning Officer and SDM, Dharamveer Singh. They are Raj Kumar, a Sarsa resident, Tarsem, a resident of Gaucharand and Suresh Kumar, a resident of Thana village. TNS