Mid-term review of SAD-BJP government: Infrastructure
Express highways hit a bump
Chandigarh, September 23
The promise to build a network of expressways has remained on paper, even during the second term of the SAD-BJP government. Also, flights have not been started at the Bathinda, Sahnewal and Pathankot airports. The runway at the Sahnewal airport is yet to be expanded. The much-talked about projects like the Metro and rapid bus transport in Amritsar and Ludhiana are yet to take off.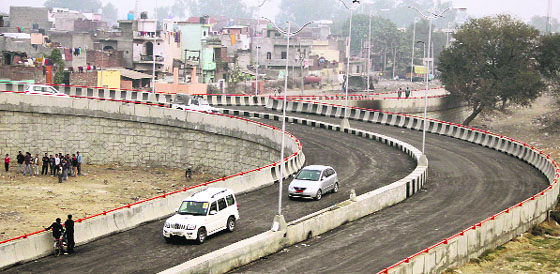 The Damoria railway overbridge in Jalandhar. File photograph


Speaker summons MLA Nagra, SDM
Chandigarh, September 23
Vidhan Sabha Speaker Charanjit Atwal will record statements of Congress legislator Kuljeet Nagra and Fatehgarh Sahib Sub-divisional Magistrate (SDM) Pooja Syal Grewal tomorrow.
SAD 'diktat' has pvt transporters in dilemma
Mansa, September 23
To carry supporters for INLD's Jind rally on Thursday, around 500 buses from the Malwa region would be pressed into service by the SAD. Sources said the transport authorities at the behest of Akali leaders had ordered private transporters to deploy their buses to ferry supporters to Jind. They said the government would pay only fuel cost to the transporters. The buses will be plied from Bathinda, Mansa, Ferozepur, Faridkot, Muktsar, Patiala, Barnala and Sangrur districts.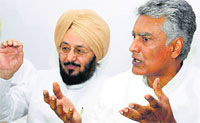 Cong sets terms for backing package
Chandigarh, September 23
The Congress today said it was willing to join hands with the SAD-BJP government in getting a financial package for the state, but it should first come out with a clear picture on the state's economy.


Sunil Jakhar, CLP Leader, and Laal Singh at a press meet in Chandigarh on Tuesday. Tribune photo: Manoj Mahajan

Will act against erring revenue officials: Majithia
Nawanshahr, September 23


Revenue Minister Bikram Singh Majithia has said that the consolidated report pertaining to the under-valuation of registration deeds of properties throughout the state is complete. He said that instructions to Revenue Department officials had been issued to recover the undervalued amount from the buyer besides initiating disciplinary action against the erring officials.




Revenue Minister Bikram Majithia at Banga on Tuesday. Tribune photo: Malkiat Singh

Replace Bajwa, demands Singla
Bathinda, September 23
Congress leader and former MP Surinder Singla today said voices within the party to replace Punjab Congress president Partap Singh Bajwa were getting louder with each passing day. He claimed a number of senior leaders had conveyed their sentiment to the party high command.
Cong protests 'anti-people' policies of state govt
Gurdaspur, September 23
Hundreds of Congress activists held a protest against "anti-people policies" of the SAD-BJP state government. Punjab Pradesh Congress Committee member Raman Bahl led the protesters as they made their way from the busy Hanuman Chowk area of the city to the Deputy Commissioner's (DC) office this morning.


Protesting college guest faculty vow to teach govt a lesson
Chandigarh, September 23
Guest faculty teachers, who constitute around 50 per cent of the total strength in government colleges, are up in arms against the state government. They alleged the promises made to them ahead of the 2012 Assembly elections had not been fulfilled till date.
BPL families being given infested grain, say activists
Hoshiarpur, September 23
Subsidised whole gram supplied by the state government to BPL families through ration depots has been found to be "heavily infested". A team of the Social Democratic Party (SDP) workers, under their 'Bharat Bacaho Andolan', have procured many such packets of whole gram being sold for Rs 20 per kg from various depots in the district and other areas in Punjab.
Review moisture content norm, demand FCI staff
Fatehgarh Sahib, September 23
The FCI Quality Control Staff Welfare Association in a representation to Prime Minister Narendra Modi has demanded a review of the norms for rice procurement for 2014-2015. The Centre has issued directions that it would not accept rice with more than 14 per cent moisture content for the central pool.
Amloh residents to intensify stir against distillery
Amloh, September 23
Residents of around a dozen villages today continued their dharna against the setting up of a distillery in Kumbhra village here. They have been protesting outside the Nahar Sugar Mill since September 1. The distillery is being set up by Nahar Group of Industries on the Amloh-Khanna state highway.



People protest on the Amloh-Khanna road in Fatehgarh Sahib. Tribune file photo
Specialist doctors to leave for J&K
Patiala, September 23
At least six specialist doctors from Government Medical College, Patiala, and members of the Patiala chapter of the Indian Medical Association will leave for Jammu and Kashmir on September 25 for providing medical services to the flood-affected people in Anantnag and Shopian region of the state.
Happy Seeder popular among farmers
Sangrur, September 23
Several farmers in the district have bought Happy Seeder machines in the district this year. As many as 304 farmers and 38 multipurpose agriculture service societies have bought the machine. The Punjab State Farmer Commission is providing a subsidy, ranging between Rs 55,000 and Rs 60,000, on the machine.
2 years on, trade in trouble at ICP
Amritsar, September 23

The strike by transporters at the Integrated Check Post (ICP) in Attari has brought to fore the need to address various problems plaguing the facility. The protesters have been enjoying the support of the trading community. The facility had become the first ICP to get operational in the country when it was inaugurated around two and a half years ago.
Transporters stage a protest outside the ICP gate in Attari on Tuesday. photo: Vishal Kumar

Suspended IG Cheema applies for bail
Mohali, September 23
Suspended Punjab Police Inspector General Gautam Cheema today applied for anticipatory bail in Mohali court in two different cases.
Monument in memory of Guru Ravidass on anvil
Hoshiarpur, September 23
State Minister for Tourism and Cultural Affairs Sohan Singh Thandal today said a monument in the memory of Guru Ravidass would be built over 15 acres of land at Khuralgarh village in Garhshankar sub-division of the district.
Panchayat members stage dharna
Sangrur, September 23
Members of the Panchayat Union, Sangrur, staged a dharna outside the District Administrative Complex on Tuesday against the handing over of the audit work to private chartered accountants.
Gurdaspur college shines in GNDU fest
Dinanagar (Gurdaspur), September 23
Shanti Devi Arya Mahila College, Dinanagar (Gurdaspur), excelled in the Division 1 inter-college youth festival of Guru Nanak Dev University (GNDU) by bagging the overall first position.
SGPC starts restoration work on five forts
Anandpur Sahib, September 23
The restoration work on five forts built by Guru Gobind Singh was started by Shiromani Gurdwara Parbandhak Committee here today. The restoration of the forts is part of a year-long celebration of the 350th anniversary of Anandpur Sahib, which was founded on June 19.
SGPC flays attack on gurdwaras in Greece
Amritsar, September 23
The SGPC today strongly condemned the attack on gurdwaras in Greece. In a statement released here, SGPC president Avtar Singh Makkar said the Greece government must trace the miscreants involved in the attack and take strict action against them.


HC to examine delay in local body elections
Chandigarh, September 23
The Punjab and Haryana High Court today made it clear that the Bench would examine whether justifiable reasons prevented Punjab from holding within the prescribed time-frame elections to the local bodies. The court would also examine whether the government was competent to appoint administrators to manage Municipal Councils' affairs after the term's expiry.
Lawyers warned against illegal construction
Phagwara, September 23
Phagwara Sub-Divisional Magistrate Keshav Hingonia has issued a notice to the local Bar Association president and two lawyers, prohibiting them from constructing any illegal structure in the Tehsil Complex in future and asking them to maintain status quo.
Man convicted for mother's murder
Hoshiarpur, September 23
A local court sentenced a man to life imprisonment for his mother's murder. Another accused was acquitted due to lack of evidence.


BJP leader booked for abetment to suicide
Faridkot, September 23
A day after the death of a BJP district president's son in Kotkapura town of Faridkot, the police today booked three leaders of the party for abetment to suicide.
Truck union row turns ugly, 1 hurt
Moga, September 23
A dispute over the control of the truck union at Kot-ise-Khan town in the district took a violent turn this evening. A group of 20 to 25 people armed with sharp weapons attacked a member of the union and an Akali worker, Gurmeet Singh Gagra, injuring him seriously.
Recovery of carcasses: 2 sent to police remand
Sangrur, September 23
The district police today claimed to have arrested two members of a gang in a case wherein carcasses, said to be of cows, were recovered. The carcasses were found in Malerkotla on September 10. The accused, Mohammad Rahid and Asadh, were today produced in a court in Malerkotla that remanded them in police custody for six days. The other four are still at large.
34 rocket launchers found in canal
Fatehgarh Sahib, September 23
The local police have recovered a large collection of arms from the sub canal of Bhakra Mainline canal near Mullanpur Khurd village here today. The police seized 34 live rocket launchers, two air launchers and 800 cartridges.