3-day Industrial expo in Haridwar from today
Haridwar, September 25
A three-day industrial expo will be held under the aegis of Micro, Small and Medium Enterprises, Director of Industries, Uttarakhand and SIDCUL Manufacturers Association of Uttarakhand in Haridwar from September 26 to 28.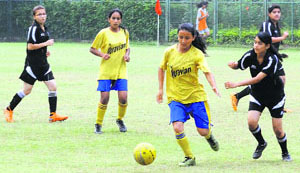 Summer Valley School trounce Guru Nanak Academy 3-0
Dehradun, September 25
On the second day, two interesting matches were played in the ongoing Dehradun Council Schools Association Girls' Football Tournament (DDCSA) at Unison Girls School here today.

Players vie for the ball in a match in the Dehradun Council Schools Association Girls Football Tournament at Union World School in Dehradun on Thursday. Tribune photo by Vinod Pundir

Welham Girls, Shigally Hills in basketball finals
Dehradun, September 25
Host Welham Girls' School and Shigally Hills International School won their semifinal matches in the ongoing DDSCA Junior Girls Under-15 Basketball Tournament played at Welham Girls' School here today.
Cleanliness drive initiated in Haridwar
Haridwar, September 25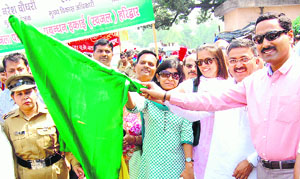 Under the ambitious Swajal Project, a cleanliness drive was initiated here today, with a mass awareness rally being organised. District Magistrate D Senthyl Pendiyan, Chief Development Officer Ranjana, Mukhya Nagar Adhikari Vipra Trivedi and Mayor Manoj Garg flagged off the rally from Pt Gobind Ballabh Pant Park, Devpura.

Clean-up act: DM D Senthyl Pendiyan, MNA Vipra Trivedi, CDO Ranjana and Mayor Manoj Garg flag off a rally as part of a cleanliness drive in Haridwar on Thursday. Tribune photo: Rameshwar Gaur

Unnayan-2014 showcases yoga, technical skills of DSU students
Haridwar, September 25
Annual multi-activity extravaganza 'Unnayan'-2014 was organised to welcome the freshers at the Dev Sanskriti University here today. Freshers who enrolled in various curriculums were given a warm welcome by the seniors. Both seniors and freshers showcased their talents and skills in Unnayan-2014.
Devotees throng temples in Kumaon on first day of Navratras
Pithoragarh, September 25
A large number of devotees visited ancient temples of goddesses across the Kumaon region and Ramlila started at various places, including Almora and Pithoragarh towns, as the Navratra festival began today.
Infrastructure along borders
Army, civil admn to coordinate
Pithoragarh September 25
Time-bound and comprehensive programmes in coordination with the Army and civil administration will be started to increase infrastructure facilities on the nation's borders with China, Nepal, Myanmar, Pakistan and Bangladesh. Lt Gen (retd) MC Bhandari stated this at a seminar in Nainital today. The seminar was organised by the Ministry of Training and Personnel, Government of India.
NHM Director visits Haridwar hospital, expresses concern at lack of facilities
Haridwar, September 25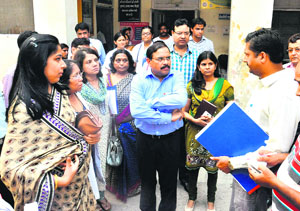 CK Mishra, Additional Secretary, Health, and Director of the National Health Mission (NHM), government of India, inspected the district hospital here yesterday. Mishra enquired about the facilities being provided at the hospital and took inputs from patients. He expressed unhappiness at lack of cleanliness and facilities, shortage of equipment and medicines in the hospital.

CK Mishra, Director of the National Health Mission, enquires about health facilities being provided at the district hospital in Haridwar on Wednesday. Tribune photo: Rameshwar Gaur

Officials told to study disaster norms of other states
Dehradun, September 25
Prayag Datt Bhatt, chairman of the Disaster Management and Rehabilitation committee, has asked officials concerned to examine disaster norms laid down by Orissa, Himachal Pradesh and Bihar governments for disaster-hit people in their states.
'Committed to rebuilding infrastructure'
Dehradun, September 25
Chief Minister Harish Rawat has said the state government is committed to constructing and rebuilding damaged infrastructure in disaster-hit areas of the state.
CII hails Made In India campaign
Dehradun, September 25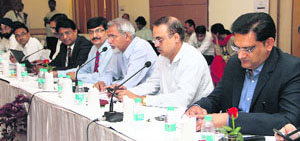 Ajay S Shriram, president, Confederation of Indian Industry, welcomed launch of "Made In India (MII)" campaign by Prime Minister Narendra Modi. He said that initiative to ease procedures and welcome investment into the sector had been taken at the right time.

CII members discuss the Made In India campaign in Dehradun on Thursday. Tribune photo: Vinod Pundir

Sanitation awareness campaign
Dehradun, September 25
Minister for School Education and Water Resources Mantri Prasad Naithani today launched an awareness campaign on sanitation and cleanliness drive under the Nirmal Bharat national programme at Rajiv Gandhi Navodya Vidyalya.
Girl commits suicide
Dehradun, September 25
Unable to bear the pain of scolding from her parents on some issue, a 16-year-old schoolgirl allegedly committed suicide by jumping in front of a moving train near Maukampur railway crossing here this afternoon.
UKD expresses concern over 'deteriorating' law and order
Dehradun, September 25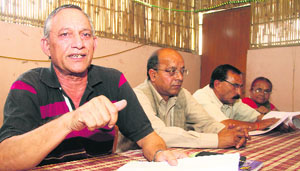 AP Juyal, officiating central president of the Uttarakhand Kranti Dal, expressed concern over the deteriorating law and order situation in the state today. He demanded that the Congress-led state government should take effective steps to maintain proper law and order in the state.

Uttarakhand Kranti Dal leader AP Juyal addresses mediapersons in Dehradun on Thursday. Tribune photo: Vinod Pundir

Forest minister wants policy framed for vital herb
Dehradun, September 25
Uttarakhand Forest Minister Dinesh Agarwal has directed framing out of a clear-cut policy for extraction of high-value herb Keda Jadi found in higher reaches of Uttarakhand.
Navratra festivity takes off
Haridwar, September 25
A large number of devotees thronged and worshipped the 'Shail Putri' deity as the pious Navratra festival began here today. Rituals were performed since wee hours in the morning with many taking the holy dip in the Ganga prior to visiting shrines and temples. Traditional "Kalash Sthapna" was done from 10:12 am to 12:30 pm as the time was considered auspicious by pundits and astrologers.
'Stress contributes to heart diseases'
Dehradun, September 25
Dr Preeti Sharma, Head, Cardiology, and Dr Punish Sadana, Consultant, Cardiology at Max Super Speciality Hospital, Dehradun, discussed common heart problems, their causes, prevention and new treatments available here today. They shared that a sedentary lifestyle, in addition to stressful work conditions and a compromised diet, are leading factors in precipitating heart disease risk. Addressing mediapersons here, Dr Sharma said it had been found that over 70 per cent of the urban Indian population is at the risk of being diagnosed with cardiovascular disease. Dr Sadana said it is fairly common to see youth in the 25 to 35 years age group suffer heart strokes. Erroneous lifestyle habits such as smoking, alcohol dependence and excessive fast food consumption are among the reasons. TNS
Bhatt seeks CBI probe into suicide case
Dehradun, September 25
Ajay Bhatt, Leader of the Opposition in the Uttarakhand Legislative Assembly, has demanded a CBI inquiry into the alleged suicide of businessman Om Prakash Uniyal of Guptkashi. Bhatt said Uniyal's suicide had exposed the tardy disbursement of ex gratia to the victims of last year's flash floods. "Local Congress leaders favoured their relatives and friends in grant of ex gratia and ignored genuine flood-affected people," he said. Meanwhile, Kedarnath MLA Shaila Rani Rawat, against whom a case of abetment to commit suicide has been registered on the complaint of Uniyal's wife, has said she is ready for a probe by the CBI. Uniyal reportedly committed suicide after Shaila Rani Rawat and a few other persons refused to repay money borrowed from him. TNS
Tributes paid to Deen Dayal Upadhayay
Dehradun, September 25
Ganesh Joshi, MLA, Mussoorie, paid floral tributes to Pt. Deen Dayal Upadhayay on his 98th birth anniversary at a function in Mussoorie today. He urged BJP workers to follow in his footsteps. Joshi said Upadhayay played a crucial role in generating communal harmony of the country. He recalled his efforts and termed him as one of the best leaders who had a vision for development. Joshi added Upadhayay had worked for the uplift of weaker sections of society. TNS
Mining Vigilance Force conducts raids
Dehradun, September 25
In a crackdown on illegal mining in Dehradun district, the Mining Vigilance Force raided various large mining material godowns and found them storing illegal mining material here today. The team led by Deputy Inspector General (DIG) Sanjay Gunjyal sealed five godowns for storing illegally mined material in large quantity. Mining Vigilance Force teams carried out raids at various godowns in Sahaspur, Vikasnagar, Raipur and Patelnagar police station areas. During the crackdown, the team found that the godown owners did not have valid documents to undertake the business. TNS
Woman officer caught taking bribe
Dehradun, September 25
A Women and Child Development Project officer was caught red handed while accepting a bribe of Rs 5,000 here today. The officer, Manju Kanujiya, is posted at the Sahaspur block and she was arrested from her office. SP, Vigilance, VKS Karki, said, "An anganwadi worker had complained to the Vigilance Department that the Women and Child Development Project officer was demanding a bribe for releasing her salary. A vigilance team investigated the matter and found the complaint to be true." TNS
Media Ratan award for Kapil Deo
Dehradun, September 25
Kapil Deo Prasad Dubey, manager (corporate communication), THDC India Limited (THDCIL) has been awarded "Media Ratan Award for PR-2014" by the Indraprastha Press Club of India (IPPCI) in a function held in Delhi. He has been awarded the award for his notable contribution in the field of public relations and corporate communication. MPs Vijay Goel and Manoj Tiwari, Additional Solicitor General Pinki Anand jointly gave this award to Dubey. TNS