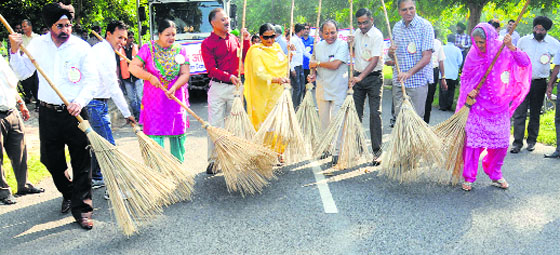 Cutting across party lines, Mayor HC Kalyan of the Congress (fourth from right), BJP councillors Arun Sood, Hira Negi and Asha Jaiswal, SAD councillor Harjinder Kaur, MC Joint Commissioner Rajiv Gupta and Chief Engineer Mukesh Anand chose the well-maintained VIP Sector 2 instead of the neglected southern sectors to launch the Swachh Bharat campaign in Chandigarh on Thursday. Tribune photo: Pradeep Tewari P4
Civic body rejects water tariff hike proposal
Chandigarh, September 25
Providing a relief to city residents, the Municipal Corporation rejected the water tariff hike proposal at a meeting of the House today.
Circular creates confusion
Chandigarh, September 25
A circular issued by the Education Department today stating that government schoolteachers, students, NSS volunteers, NCC cades and Bharat Scouts and Guides would have to attend schools to take the "Swachhta pledge" on Gandhi Jayanti has raised the hackles of educationists and students.
MC's casual approach to the fore
Chandigarh, September 25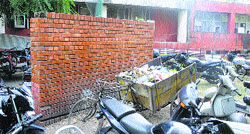 The seriousness of the Municipal Corporation (MC) to launch Prime Minister Narendra Modi's "Swachh Bharat" campaign can be gauged from the fact that the MC chose the well maintained Sector 2 instead of neglected southern sectors and colonies to start this campaign.
While the MC started the"Swacch Bharat "campaign, garbage was found dumped on the rear side of its building in Sector 17, Chandigarh, on Thursday. Tribune photo: Pradeep Tewari
Councillors justify expenditure on study tour
Chandigarh, September 25
Cutting across party lines, councillors, who had gone on a study tour that had generated a buzz for overshooting the sanctioned expenditure as family members of several councillors joined the trip, today justified the expenditure from the public exchequer on the tour.



Kambala village sans potable water for month; residents harassed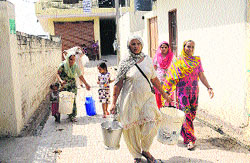 Mohali, September 25
Lalita Devi, a resident of Kambala village, has been spending sleepless nights. Reason: Her days and nights are being spent in fetching water for her family of 10 persons from here and there. Taps in the village have been running dry due to suspended water supply for the past around one month. The life of residents of the village has become a hell. The village is located on the border of Mohali.

Residents carry buckets to fetch water in Kambala village. Tribune photo: vicky Gharu
No passes at Mansa Devi temple, but 'special arrangements' for VIPs
Panchkula, September 25
Chaos prevailed at the Mansa Devi temple on the first day of Navratras as devotees were seen exchanging heated arguments with the police to allow special entries to VIPs kin as VIP passes have been done away with. Interestingly there were no VIP passes but the administration had made good arrangements for the 'VIPs'.



A policeman diverts a commuter at a barricade at the Mansa Devi temple in Panchkula on Thursday (left) and Devotees in queues at the Mansa Devi temple. Tribune Photos: Nitin Mittal
PGI faculty begins protest
Chandigarh, September 25
Lack of operation theatres, resulting in long waiting lists for surgeries, pending promotions and lack of house facilities drove the PGIMER faculty to begin a silent protest against the authorities.While there was no suspension of work, the doctors expressed their resentment wearing black badges all day.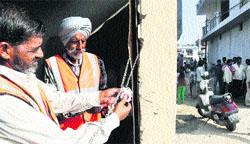 10 godowns sealed in village
Chandigarh, September 25
The UT Land Acquisition Collector (LAC) today sealed at least 10 godowns and commercial establishments in Daria village, attracting protests from stakeholders.
Apprehending sealing of entry gates of godowns and commercial establishments by the UT's Land Acquisition Collector for violations under the Periphery Act, owners of the property removed the entry gates to pre-empt the UT move. Finding no option, the UT staff sealed the entry points to the buildings with iron chains at Daria village on Thursday. Tribune photo: Parvesh Chauhan
GMADA's cars, bank account attached
Mohali, September 25
The Permanent Lok Adalat (Public Utility Services), headed by Jagroop Singh Mahal, has ordered the attachment of cars and bank account of the GMADA to compel it to comply with its orders. The warrant of attachment has been issued for October 9.
Women attend talk on heart diseases
Mohali, September 25
Over 50 women from different walks of life attended a special event, 'Go Red for Women', to mark World Heart Day at Fortis Hospital, here, today.
Food street to be auctioned
Chandigarh, September 25
The municipal corporation today decided to auction kiosks in the Sector 48 food street. The decision was taken in the MC House meeting with some amendments. The reserve price of these shops was reduced from Rs 50,000 to Rs 20,000 and sealed bids would be invited.
Spicejet flight delayed
Chandigarh, September 25
Passengers boarding the Chandigarh-Delhi Spicejet flight (SG 2414) were inconvenienced when the flight failed to take off from Chandigarh airport due to a technical today.
Digitise govt depts, demand industrialists
Chandigarh, September 25
During a live viewing session of Prime Minister Narendra Modi's 'Make in India' session from Vigyan Bhawan, New Delhi, industry associates from the region raised a number of issues that needed to be addressed to implement the programme here.
Ramlila committees battle inflation demon
Chandigarh, September 25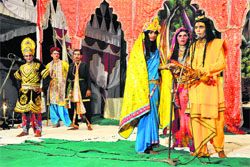 A steep hike in the cost of various inputs, including hiring of professional artistes (Rs 3.5 lakh), costumes designed in Delhi (Rs 1.4 lakh), stage sets (Rs 3 lakh) and speakers (Rs 60,000), needed for staging the Ramlila has lead to an additional financial burden on the organisers across the city. The organisers say their budget has almost doubled as compared to last year.
With the cost of all inputs increasing, organisers are finding it increasingly difficult to meet the Ramlila expenses. Tribune photo: Parvesh Chauhan
Culinary development workshop concludes
Chandigarh, September 25
The culinary development workshop, under the management development programme, concluded today.
Complainant faced 15 departmental inquiries: Defence counsel
Chandigarh, September 25
Continuing with the cross examination of Inspector Anokh Singh, the SHO of the Sector 26 police station, on the resumed hearing of the case involving SP Deshraj Singh as the accused today, the defence counsel stated that the SHO faced as many as 15 departmental inquiries in his tenure.
Panchkula, Kalka Votes 2014
On first Navratra, 5 file nomination
Panchkula, September 25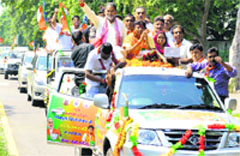 The onset of Navratras marked the first day of filing of nomination papers for the Panchkula Assembly seat. Five candidates filed their nominations at the SDM office in Mini-secretariat here today.



BJP candidate for the Panchkula Assembly seat Gian Chand Gupta during the roadshow before filing of nomination papers on Thursday. A Tribune photograph
BJP candidate does not own a car
Panchkula, September 25
BJP candidate Gian Chand Gupta has grown richer as compared to the assets he had declared during the last Vidhan Sabha elections.
Hooda's aide Ravinder Rawal to contest on HJC ticket
Panchkula, September 25
In a surprising development, Bhupinder Singh Hooda's aide Ravinder Rawal would be contesting the Panchkula Assembly seat on the Haryana Janhit Congress (HJC) ticket.

Manvir Gill arrives to a rousing welcome
Panchkula, September 25
The Congress candidate from the Kalka Vidhan Sabha seat, Manvir Kaur Gill, arrived to a rousing welcome here this morning. She reached here from Delhi where she had been camping to ensure she got the party ticket.


Manvir Kaur Gill, Congress candidate from the Kalka seat
Will form govt with two-thirds majority, claims BJP state chief
Kalka, September 25
Keeping safety and security of women in mind, the BP had fielded women candidates on 15 of the 90 seats in the state Assembly elections this time. This shows the party's concern for women, said Ram Bilas Sharma, president of the BJP's Haryana unit.
Congress dissidents to contest as Independent
Kalka, September 25
With the Congress fielding Manvir Kaur Gill, a former president of the Panchkula Municipal Council, as its candidate from the Kalka Assembly seat, a number of party leaders, who were in the race for the ticket, have lodged their resentment against the party's decision.

CSIR's foundation day celebrated
Chandigarh, September 25
The Institute of Microbial Technology (IMTECH), Chandigarh, today celebrated the Council of Scientific and Industrial Research's (CSIR) foundation day by organising several events.

Dr Ehrlich Desa addresses a gathering at IMTECH in Chandigarh on Thursday. Tribune photo: Parvesh Chauhan
Ailing patient needs help
Chandigarh, September 25
A 29-year-old patient, Prerna, has been suffering from severe liver problem and is in need of transplant to survive. While her father died 10 years ago, her mother, a resident of Ram Darbar, has already spent all her savings (nearly Rs 8 lakh) on her treatment over the years. Now, she needs Rs 10 lakh to Rs 15 lakh for liver transplant.


PU proposes smart cards for library
Chandigarh, September 25
To check the entry of fake identity card holders at AC Joshi Library, Panjab University, the authorities are coming up with smart identity cards for students.
Panel inspects 2 government schools at Maloya
Chandigarh, September 25
A team of the Chandigarh Commission for Protection of Child Rights today inspected two government schools of Maloya.
Students bring laurels to institute
Banur, September 25
Students of the Gian Sagar Medical College and Hospital have brought laurels to the institute with their research projects being selected for the Undergraduate Research Workshop (Illuminati-2014), held at Armed Forces Medical College, Pune, last week.
Students to attend global conference
Chandigarh, September 25
Six students of Classes X, XI and XII of Vivek High School accompanied by school principal PK Singh and chairman HS Mamik would be participating in a pre-conference tour and project in Turkey and a Round Square International Conference in Jordan from September 28 to October 13.
UICET chairman says he fulfils eligibility criteria
Chandigarh, September 25
Reacting to the complaint over the issue of the eligibility criteria, UICET chairman Dr US Shivhare said he fulfilled the criteria laid down by Panjab University when the post was advertised by the authorities.
Dances mark freshers' party
Mohali, September 25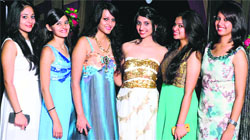 Students of the Northern India Institute of Fashion Technology (NIIFT) here had a gala time during the freshers' party. It was organised on the college premises to welcome the new students in the college. In the party, organised by the cultural committee of the college, the students performed various dance items, singing performances and stand-up comedy shows.
Students pose for a photograph during a freshers' party at the Northern India Institute of Fashion Technology in Mohali on Thursday. A tribune photograph