Garhwal Rifles foundation day
Kendriya Vidyalaya to come up at Doiwala: Mussoorie MLA
Dehradun, October 5
Ganesh Joshi, MLA, Mussoorie, today said necessary steps would be taken to open a Kendriya Vidyalaya school at Doiwala in Dehradun. He would pressure the Congress-led state government to construct a war memorial, and hostels for the wards of ex-servicemen from the state.
POLITICAL DIARY
ND Tewari meets CM, political circles agog with speculation
Dehradun, October 5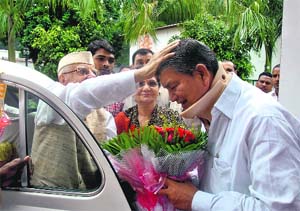 A meeting between Chief Minister Harish Rawat and his arch political rival and former Chief Minister ND Tewari in Dehradun on Saturday has evoked much interest and amusement in the political circles in the state. The meeting assumes significance since both Harish Rawat and ND Tewari belong to the Kumaon region and had been arch rivals for over three decades.
Former Chief Minister and veteran leader ND Tewari blesses Chief Minister Harish Rawat in Dehradun on Saturday. A tribune photograph


Ex-Union minister Brahm Dutt dead
Dehradun, October 5
Former Union Minister for Finance and Petroleum and senior Uttarakhand Congress leader Brahm Dutt passed away in Delhi today. He was not keeping good health for quite some time. He was 88. He leaves behind his son Vikasnagar MLA Nav Prabhat. Chief Minister Harish Rawat laid a wreath on the mortal remains of Brahm Dutt at latter's native town Vikanagar in Dehradun, where his last rites were performed.
Heritage School win by eight wickets
Dehradun, October 5
Hosts The Heritage School defeated Shiwalik International School by eight wickets in the ongoing 7th Rohitash Singh Memorial Inter-School Boys Super-8 Cricket Tournament here today.
Nakronda robbery mastermind held
Dehradun, October 5
The Dehradun police arrested Akhlaq, the mastermind of the robbery at Nakronda, from Bhagwanpur yesterday. They had earlier arrested Sajid, Nadeem, Shahzad and Aanees for the crime.
Monsoon starts withdrawing from Uttarakhand
Dehradun, October 5
Uttarakhand has finally got respite from monsoon rains as Met officials have announced the start of withdrawal of monsoon from Uttarakhand. According to Anand Sharma, Executive Director Meteorological Centre, Dehradun, conditions are becoming favourable for the withdrawal of south-west monsoon from some parts of Uttarakhand during the next 2-3 days.
CPI (ML): Modi govt favouring industry
Dehradun, October 5
The NDA government led by Narendra Modi is giving a free run to corporate players to earn high profits by indiscriminately using country's rich resources, said Dipankar Bhattacharya, national secretary of the CPI (ML) while addressing a public gathering at Haldwani today.
Brisk sale of goats for Eid-ul-Zuha
Dehradun, October 5
Thousands of visitors were seen negotiating to buy a goat a day before Eid-ul-Zuha at Innah Mullah Building on Gandhi Road here today. Every year, thousands of goats are brought to markets in Dehradun, primarily sold at Innah Mullah Building, from Saharanpur, Bulandshahr and Bijnore ahead of Eid.
Blend of various cultures of world showcased at yoga fest
Haridwar, October 5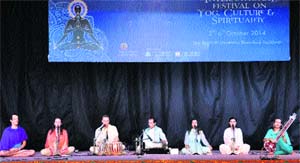 A blend of different cultures of the world was witnessed on the fourth day of the International Yoga Festival being held at Dev Sanskriti University here today. Besides yoga sessions in the morning followed by a discussion on yoga, ayurveda and spirituality, a cultural programme was performed.
Foreign participants present an Indian musical programme as part of the ongoing 4th International Yoga Festival at Dev Sanskriti University in Haridwar on Sunday. Tribune photo: RAMESHWAR GAUR

HDA, Haridwar admn to remove encroachments
Haridwar, October 5
The Haridwar Development Authority (HDA) and the district administration have identified encroachments by traders, slum-dwellers, and vendors in the core mela zone periphery to be removed.
Man eater leopardess killed in Thal area
Pithoragarh, October 5
Hunters sponsored by the Forest Department today killed a man eater leopardess from the Thal area in the district. They confirmed that the animal had turned man eater as it was unable to hunt normally due to broken teeth. "The killed leopardess has one broken canine which might have led her to prey easy on men," said IP Singh, DFO, Pithoragarh.
BJYM members protest at Jal Sansthan office
Dehradun, October 5
Members of the Bharatiya Janata Yuva Morcha (BJYM) held a protest at Uttarakhand Jal Sansthan office in Nehru Colony in support of their demands here yesterday. The protesters led by BJYM city president Vipin Rana also submitted a memorandum for the managing director of Jal Sansthan demanding laying down of new water and sewer pipelines in the Nehru Colony area and rectifying anomalies in the water bills of the residents of the city.
Sunderlal Bahuguna praises conservation efforts
Dehradun, October 5
Eminent environmentalist Sundarlal Bahuguna has appreciated the state government for its efforts towards environment conservation. Bahuguna, who met Chief Minister Harish Rawat in Dehradun yesterday, appreciated the latter for the number of schemes started by his government for water and forest conservation. He said it was good that the state government was serious towards conservation issues.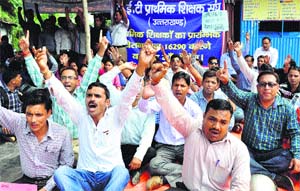 TET union holds protest
Dehradun, October 5
The TET Primary Teachers Union held a protest at Parade Ground in support their demands here today. TET teachers across the state participated in the protest and raised slogans against the state government. The protesters were demanding regularisation of their services.
TET primary teachers protest at Parade Ground in Dehradun on Sunday. Tribune photo: Abhyudaya Kotnala

Damaged roads spell trouble for Johar valley villagers
Pithoragarh, October 5
Over 6,000 residents of 50 villages in the lower Johar valley are facing trouble as four main roads in the area are closed for the last four months after they were damaged due to heavy rain.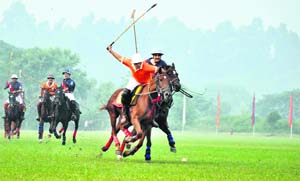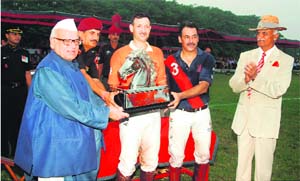 (From top) Players in action during a polo match at the Indian Military Academy in Dehradun on Sunday; Governor Aziz Qureshi gives away trophy to the winning team. Tribune photos: Abhyudaya Kotnala
Polo match organised at IMA
Dehradun, October 5
A friendly exhibition polo match was played as part of the IMA Foundation Day celebrations at Polo Ground, Indian Military Academy (IMA) campus, here today. Governor Aziz Qureshi was the chief guest on the occasion. He inaugurated the exhibition match by throwing ball in the ground. The team from IMA and mixed team comprising players from Presidents Bodyguard and other services player exhibited their skills. The Governor applauded efforts of the IMA administration for imparting training to gentlemen cadets. He said training schedule at the IMA was best in the world. Qureshi said Defence personnel should always participate in sports and adventure activities. Dr Qureshi praised both teams. The match ended in a draw. IMA Commandant Lt Gen Manvendra Singh, Lt Gen TPS Rawat (retd) and others were present on the occasion. TNS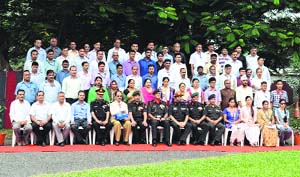 Civilain staff of the Indian Military Academy with Commandant Lt Gen Manvendra Singh at the 82nd Raising Day of the academy in Dehradun on Sunday. A Tribune photograph
IMA celebrates 82nd Raising Day
Dehradun, October 5
The Indian Military Academy (IMA) celebrated its 82nd Raising Day here today. Lt General Manvender Singh, Commandant, Indian Military Academy, conveyed his appreciation to the IMA fraternity for their dedication and contribution towards transforming the academy into a world class military institution. He said the IMA had rendered outstanding service to the nation by nurturing thousands of well trained officers. He urged the service and civilian employees to work with same zeal to bring laurels to the academy. Various activities were organised as part of the celebrations from September 29 to October 1. TNS



MAD volunteers help an inmate in drawing a sketch at Raphael Home in Dehradun on Sunday. A Tribune photograph
MAD volunteers visit Raphael Home
Dehradun, October 5
Making a Difference by Being the Difference (MAD), a student's activists, organised a fun-filled entertainment programme for residents of Raphael Home here today. Over 40 volunteers of MAD reached Raphael Home with balloons, roses, sweets, gifts and drawing files. The students organised drawing and painting competitions on the occasion. Later, participants were taken for refreshments. A dance session was also organised for Raphael Home residents. A lunch was organised for specially-abled children and senior citizens. Prizes were distributed to winners at the end. TNS
Guv calls on ND Tewari
Dehradun, October 5
Governor Aziz Qureshi made a courtesy call on veteran leader and former Uttar Pradesh and Uttarakhand Chief Minister ND Tewari at his residence here today. During the meeting, which was held in a very friendly atmosphere, the two leaders discussed personal, political and development issues related to the state and the country. Tewari's wife, Ujjwala, was also present. The Governor wished Tewari a long and healthy life. He said the country would always need Tewari's guidance. TNS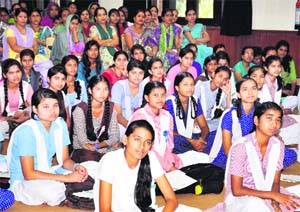 Girl students present during the Udayan Shalini Fellowship programme at Welham Girls' School in Dehradun on Sunday. Tribune photo: Abhyudaya Kotnala
Eradicate social evils: Social activist
Dehradun, October 5
Dr S Farooq, a social activist, has urged students to come forward to eradicate social evils from society. He awarded the Udayan Shalini Fellowship to 40 girls at a function held here today. Speaking on the occasion, Dr Kiran Modi, managing trustee, Udayan Shalini Fellowship, said the fellowship programme was started in New Delhi in 2002 and the first batch of 72 girls were awarded the fellowships. Dr Daljeet Kaur, Sheel Agarwal, Jagdish, Usha Mohan, Monika, Neelu Khanna, Meena Rajan were also present. TNS
BP Ed, MP Ed unemployed youths call off agitation
Dehradun, October 5
Members of the MP Ed and BP Ed Trained Association have decided to call off their agitation against the government after meeting the Chief Minister Harish Rawat at his residence in Bijapur guest house yesterday. A delegation of the association met the CM regarding their one-point demand of getting appointment in the state government school as physical training teachers. During the meeting, the CM said the state government was serious about meeting their demand. He also urged the delegation to call off their agitation. TNS
Guv greetings on Eid-ul-Zuha
Dehradun, October 5
Governor Aziz Qureshi has greeted people of the state and the country on the occasion of Eid-ul-Zuha. The Governor said the festival signifies sacrifice, compassion and brotherhood. "It enhances the feeling of love and compassion for others and builds harmony in society. It inspires us, through our remembrance of the great works done by Hazrat Ibrahim for humanity, to help others." TNS