Muslim women's struggle for equality
The concept of modern citizenry is based on equality of genders. For Muslim women asserting their right to equality is fraught with challenges within the framework of shariya, which controls their personal lives and is often interpreted by men of questionable competence
Vandana Shukla
Winds of change somehow fail to touch the lives of Muslim women, a minority within a minority in India. At the receiving end of all kinds of injustices inflicted by the family and community, they do not know which door to knock to get justice. Not covered under the SC /ST Act, they fail to receive any help from the Minority Commission because largely their issues relate to domestic violence, divorce, alimony, maintenance of children, inheritance etc, which fall under the shariya, the legal framework within which the public and private aspects of life are regulated for followers of Islam in India.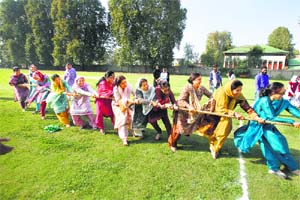 Tug of war: Muslim women are trying hard to break identity stereotypes. Photo: Mohammad Amin War
Governed by the Muslim Personal Law (shariya) Application Act 1937, which has no specific provisions to be followed, it leaves every qazi (cleric) free to interpret law as per his understanding of the shariya. The Dissolution of Muslim Marriages Act 1939 lays down grounds on which a woman can approach the court, but few can afford to do so. And the memory of Shah Bano case is a real dampener.
Interpretation of the shariya, at times, borders on the bizarre. The absurdity of two such major incidents in the past was highlighted when women became victims of the very laws that were meant to safeguard their position in society. In 2005, Imrana, 28, of Muzaffarnagar district, Uttar Pradesh, was allegedly raped by her 70-year-old father-in-law, Mohammed. She was directed to leave her husband by a fatwa (edict) issued by the panchayat of the village, which said she had become the mother of her husband because she had slept with her husband's father. The issue was treated as adultery and not rape by the clerics. Later, Darul Uloom Deoband, India's largest Islamic seminary, gave a fatwa similar to the panchayat's order, though after the issue became a national debate, they denied it.
The second case involved Gudiya, a 26-year-old Muslim woman whose life was tragically affected by the Kargil War. Her husband of barely ten days, Arif, did not return from war. Thinking him to be dead, the family remarried Gudiya. Initially Arif was declared to be an Army deserter, until the Army realised he was taken a prisoner of war. When Arif returned, he found his wife married to Taufiq. The Muslim clergy declared Gudiya's second marriage illegal and she was pressured to return to her first husband. Gudiya's will remained inconsequential in the drama that led to her untimely death.
Stirrings of aspiration
Why no one can touch it

In India, the Shariat Act was drafted and enacted by the British. The sharia is based on the Quran, it is not the Quran.

Reformists such as the late Asghar Ali Engineer campaigned for years for the need to codify Muslim personal Law as per Quranic injunctions, which grant women more rights than any other religion does.

All Islamic countries have put in place modern personal laws.

In India, the move has been resisted on three grounds: 1. The sharia can't be touched; it is divine. 2.It will be impossible to decide which of the four schools of Islamic jurisprudence should be followed in codification. 3.This will be the first step towards enacting a Uniform Civil Code (UCC).
These cases were not aberrations, a majority of women suffer in silence because they do not have the means to take on the clergy, whose edicts are biased against woman. Nor do they get legal help. The wall of religious sanction is too strong and sacrosanct to be challenged by even the existing legal framework.
Muslim women thus decided to help themselves and Bharatiya Muslim Mahila Andolan (BMMA), an initiative of the Muslim women came into being in January 2007 as a mass organisation of women from across the country to stress upon an alternative progressive voice of the community. This feminine voice with a difference raised the socio-political and economic concerns of Muslim women who find themselves defenceless in the present system. Though initiated by the urban, educated women, who, despite the advantage of education felt equally helpless before the law delivered by semi-literate qazis, the BMMA grew into a movement with the support of women — mostly rural and illiterate.
Challenges of modernity
The issue largely deals with the aspirations and challenges of becoming a citizen of a modern society as against managing the complexities of a traditional society's taboos, which are more pronounced for Muslim women. The concept of modern citizenry is participatory by nature which is fundamentally opposed to the traditional belief of man being the master and woman being subservient to him. Both strands of the social fabric being strong tend to pull at each other and women fail to find points of negotiation in this scenario. The upbeat, aspirational sentiment of Indian women in general also leaves its mark on the lives of Muslim women.
Beyond the faulty interpretations of shariya that provide a powerful tool to Muslim society to control the domestic lives of their women, BMMA and other Muslim women's organisation are fighting for the citizenship rights of the women within the framework of shariya, by engaging experts on theology to interpret shariya, in its right spirit, as it was meant to be when the laws were framed to guarantee rights of equality to women. After cadre building they also plan to conduct a national study on dreams and aspirations of young Muslim girls and stress for implementation of the Sachar Committee recommendations
In June this year, BMMA came up with a draft law called the Muslim Marriage and Divorce Act, after seven years of extensive work of gathering information and opinion from mostly poor, uneducated Muslim women, who live in ghettos. They came to realise that it was these women who were desperate for a change, urging them to speed up the process, unlike the middle class women, who were expected to be the pioneer for reform.
The Shah Bano case

A 60-year-old woman Shah Bano went to court asking for maintenance from her husband who had divorced her.

The court ruled in her favour. Shah Bano was entitled to maintenance under Section 125 of the Criminal Procedure Code like any other Indian woman.

But a voluble orthodoxy deemed the verdict an attack on Islam.

The Congress Government, under the pressure of the orthodoxy enacted the Muslim Women (Protection of Rights on Divorce) Act, 1986. The most controversial provision of the Act was that it gave a Muslim woman the right to maintenance for the period of iddat (about three months) after the divorce, and shifted the onus of maintaining her to her relatives or the Wakf Board.

The Act was seen as discriminatory as it denied divorced Muslim women the right to basic maintenance which women of other faiths had recourse to under secular law.
Daring authority
For the first time the draft law has codified Islamic laws pertaining to marriage, divorce, maintenance and inheritance, hoping the government will use this draft law to improve the condition of Muslim women.
The draft stipulates the age of the bride to be 18 and of the bridegroom not less than 21, and neither of the two should have a living spouse, thus ensuring that polygamy is stopped. It virtually abolishes oral divorce and triple talaq and states the minimum amount of mehr should not be less than one years' income of the groom.
For non-compliance, the draft law also stipulates punishment; if the stipulated mehr is not paid within six months of marriage, the groom should pay double the amount. The draft also proposes heavy penalty on offenders, including cancellation of a qazi's licence for repeat offences in failing to ensure fulfilment of all the stipulated conditions for marriage. It calls for action under the Criminal Procedure Code for all those who fail to pay maintenance.
In July this year, the Supreme Court said shariya courts have no legal authority and their decisions are not legally binding, and fatwas must not violate rights of individuals guaranteed by law, at the same time the court also refused to declare Dar-ul-Qazas (Islamic courts) or practice of issuing fatwas as illegal, saying it was for the persons concerned to accept, ignore or reject it. Women, dependent on the closely-knit community for survival, often have no choice but to respect the fatwa, as was shown in Gudiya's case.
These little mutinies of women face stiff opposition from the unified force of the clergy. Imam Umer Ahmed Ilyasi, Chief Imam, All India Imam organisation, a representative body of half a million imams of India says, "All-India Muslim Personal Law Board (AIMPLB) has representatives of all the four schools of thoughts, and all the laws that govern Muslims in India are given clarity by them, so, where is the scope or confusion about sharia codification or a new interpretation?" As such, AIMPLB has called the demand for a common code "tantamount to tampering with the shariya."
Keeping a brave front
Challenging the authority of AIMPLB, which is still considered an apex decision-making body of the community and continues to ignore and isolate problems of the Muslim women, in 2005 All India Muslim Women Personal Law Board (AIMWPLB) began working extensively with women of the community in states across Uttar Pradesh, Bihar, Orissa, Gujarat, Tamil Nadu, Maharashtra, Karnataka, Madhya Pradesh, Rajasthan, Delhi, and Jharkhand, with the help of lawyers, religious clergies and experts to help women get justice. They came up with a Shariya Nikahnama in 2008, that offers equal rights to women, if they choose to demand a divorce on the grounds of husband's adultery etc. "We framed the new nikahnama strictly in accordance with the tenets of Islam, which clearly prohibit any kind of harassment or oppression of a married woman by her husband," says Shaista Amber, AIMWPLB president, who has the unique distinction of building and maintaining a mosque in Lucknow, a first by an Indian woman.
Through their rigorous field work they found that when it comes to legal concerns of Muslim women, all discussions are shunned by the clergy. That forces the Muslim women to initiate and sustain the process of change. AIMWPLB is flooded with many unresolved cases, caught in the web of theological interpretations and the basic need for human dignity, which, they say, does not entail demands of modernity. They have also opposed misuse of Islam for marriage as in the case of 'Chand and Fiza'. When a Madarsa board issued a directive that co-education would not be permitted from classes I to VIII, the AIMWPLB opposed it, stating it is the responsibility of the parents and not the clergy to see that their children behave properly. "We are against all Talibani farmans" adds Shaista. Some of the cases are so critical of the existing law that the women contesting them say, "We know, we are playing with fire." It is easy to be disgruntled when one is denied rights one feels entitled to, demands of a modern society also entail responsibilities and adopting new practices which may not find religious sanction. Ayaan Hirsi Ali, a Somalian Muslim who took political asylum in Holland, confesses about the complexities of adjusting in a society where managing money is a crucial part of survival in her book Nomad. For a woman raised in traditional Muslim society, coping with loans, credit cards and banking required re-negotiation with her old beliefs. In her quest for liberation and equality she annoyed many.