Every human being needs safe water for drinking, cooking and other domestic use. This can be ensured if there is a sustainable source of water, quality delivery service and its robust operation and maintenance, and a self-sustainable institutional framework.
As public awareness spreads about the poor quality of drinking water in Punjab, the RO system is now gaining ground in the state, particularly in the rural areas. As is well known, the RO system is used for the purification of drinking water.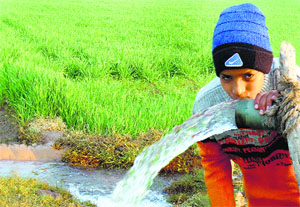 The present cost of domestic tube wells is Rs 22.23 crore. Public tube wells can easily meet the water needs of the villagers and save the expense of setting up individual connections. But community-based use of water and other resources is not encouraged. Tribune photo: Malkiat Singh
Policymakers should take cognisance of the increasing dependence on purified water, which is expensive and detrimental to human health. Such is the drinking water situation in villages that if not corrected villagers would be forced to fetch drinking water from water ATMs.
Water auditing has been done by the support organisation headed by the author under the Pilot Project of National Rural Drinking Water Security in 42 villages of Dhuri development block of Punjab's Sangrur district, covering 14,063 households comprising a population 82,791(Census 2011) and 40,156 livestock. There are 36 public water supply tube wells to cater to the needs of these villages. If public tube wells are run 24x7, they can meet the water requirements of these villages. There are also 7,410 individual-owned tube wells fitted with electric submersible pumps of 2HP and are run at least for an hour a day for domestic use. The present cost of these individual domestic tube wells has been worked at Rs 22.23 crore
Sources of drinking water
Surface and subsurface water is rather plenty for irrigation as well as drinking purposes. The subsurface or ground water, however, is the main source for drinking water. Individuals in about 60 per cent households use RO water in villages. The Water Supply and Sanitation Department of Punjab has also installed the RO system in villages where quality drinking water is unavailable and these provide artificially purified water at a low tariff of say 10 paise a litre. The RO system has now become a symbol of higher socio-economic status in these villages.
An easy access to groundwater in Indus-Ganga plains has made it vulnerable to over-exploitation. Thus the role of groundwater as supplementary irrigation has been converted into the main source of irrigation in states like Haryana and Punjab. Only 30 per cent of the total cultivated area is irrigated by canals, while 70 per cent of the area is irrigated by tube wells in Punjab.
Costly irrigation
The prolonged yearly growing of wheat-paddy has made irrigation costlier in Punjab, where the water table has depleted to an alarming level. Wherever shallow water is available, it has become polluted due to an irrational use of chemicals and fertilisers together with faulty sanitation. Water in village ponds used by cattle is also polluted. It is a major issue and it cannot be easily corrected.
Water, of course, is available in plenty. However, there is no guarantee about its quality, whether it is fit for human use. The ground water is the main source of drinking water. Safe drinking water is going beyond the reach of less privileged communities in villages. Commercialisation of the priceless commodity cannot be overlooked. Artificially purified water has reached every strata of society. Villagers are disillusioned with the public water supply services and the quality of water. At public and private functions artificially purified water is finding a place on the table.
The domestic and livestock waste (a concentrate of manure and urine) is drained into village ponds. Chemical fertilisers and pesticides applied for plant growth and faulty sanitation are polluting the shallow ground water. In the audited 42 villages of Dhuri block shallow ground water up to a depth of 200ft has become unfit for human consumption.
Harming the aquifers
Groundwater pumping is very commonly done through domestic tube wells in the villages. These tube wells are locally known as submersible pumps. Domestic tube wells are 200 ft to 250 ft deep. A domestic tube well costs about Rs 30,000 to an individual and its installation takes a day. There is no control on the unplanned installation of such domestic tube wells, which cause irreparable harm to the aquifer -- a store house of fresh ground water for the present and future generations.
Villages are getting urbanised fast. People tend to have a lavish lifestyle with all modern facilities. This has put tremendous pressure on natural resources like soil and water. The marketing strategies of multinational companies focus on cashing in on the lavish lifestyle of the Punjabi community which is receptive to new products and inventions.
There is, however, a consolation that women in general in villages do not have to go far or store water for meeting their domestic needs. The RO system for domestic use can be installed for a few hundred to thousand rupees, depending on the water requirements of the individual household. Media reports and motivated publicity have caused confusion in the minds of people and given the impression that RO water is like mineral water. Artificially purified water (RO water) is actually "demineralised". The human body needs fresh and potable water which contains essential minerals. Thus the consumption of naturally available fresh water is the cheapest source of essential minerals required for the human body. RO water is recommended only in the areas where the occurrence of minerals in natural water is more than the permissible limit; however, it does not mean that purified water has minerals.
Public water supply services are erratic. A substandard service, inconvenient supply timings, poor quality, operation and maintenance problems are other factors that turn people away from the public supply system in villages. It is observed that a large number of village households do not opt for the public water supply system and make their own individual arrangements for drinking water. Those who cannot afford expensive pump sets are bound to depend on the public water supply or buy artificially purified water for drinking.
Community-based management
Community water management, through associations of water users, is a difficult and probably a less viable option. Farmers have developed very individual farming systems and shied away from community-based water management. The communities have also developed individual systems to procure water for domestic needs.
The state institutions, including key water agencies, the departments of irrigation, potable water supply, agriculture, horticulture, groundwater and power and panchayati raj institutions (PRIs), have to integrate their efforts for better and balanced rural development. Coordination in their activities to develop holistic planning and strategies is required. The upscaling of resource conservation technologies has to be ensured. Surface water conservation, particularly during the kharif season (March to May), and the use of canal water can provide ample opportunities to promote recharge of groundwater in villages.
Managing village waste
Livestock is an integral part of agricultural activities and farmers use their cattle wealth for enhancing their incomes. Cattle waste (manure & urine) should be used for soil improvement, saving the expenditure on chemical fertilisers. The state departments in collaboration with the local community can plan technologies to manage village waste.
Every drop of water counts. An assured supply of water can save every individual household the cost of installing tube wells and expenses on power apart from time. More importantly, there is a check on the wastage of natural resources. Social-economic degradation and adverse effects on public health can be stopped. The wasteful expenditure on having domestic tube wells is averted and the money thus saved can be utilised for other development work by the village communities. The state government can save its expenditure incurred on public health. The health of the aquifer is in danger in the villages and the generation to come will be deprived of fresh water which is essentially for human life.Public water supply services should be run 24x7 and provide adequate quantity of quality water to the public. The government should restore the trust of the villagers in the public water supply. Gram panchayats should shoulder the responsibility for the safety of their own water resources. Panchayats can run their own village water supply systems for which they can take technical and financial support from the government. There should be a statutory body in each village to look after the safety of local natural resources. After all the communities are the collective owners and users of these resources.
The writer is a former Senior Hydrogeologist, Central Ground Water Board and a consultant on the National Drinking Water Security Pilot Project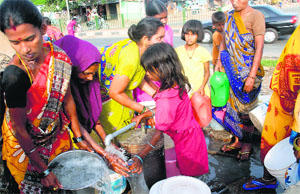 Assured and regular supply of potable water would make life a lot easier for the less privileged in rural as well as urban areas
In troubled waters
* Safe drinking water is beyond the reach of less privileged communities in villages.
* Commercialisation of this pricelss commodity cannot be overlooked.
* Artifically purified water has reached every strata of society. Villagers are disillusioned with the public water supply services and the quality of water.
* A domestic tube well costs about Rs 30,00 to an individual and its installation takes a day.
* The role of groundwater as supplementary irrigation has been converted into the main source of irrigation in Haryana and Punjab.
* Marketing strategies of multinational companies focus on cashing in on the lavish lifestyle of the Punjabi community.
Punjab's groundwater issues must be a priority
* Punjab is a major contributor to India's food security, and is paying a heavy price for this.
* The over-exploitation of natural resources like soil and water has harmed the viability of agriculture and profitability of the farmer.
* The application of chemical fertilisers, pesticides, insecticides etc for keeping up agriculture production and the leaching of harmful substances from septic tanks, cattle sheds and domestic discharges coupled with the hydro-geological characteristics of the area have affected the quality of the shallow ground water.
* When there were less pollutants, groundwater was once commonly used for meeting the drinking and other household needs of people as well as for irrigation purposes.