A historical view of Indian manuscripts
Collecting and preserving old manuscripts is important for the rediscovery of knowledge systems now lost. Evidence of written word also dispels myths about the backward status of certain communities and tribes
Jasvinder Kaur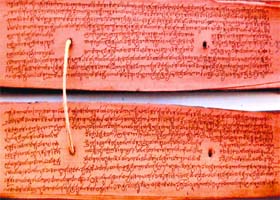 A palm leaf manuscript found in Andhra Pradesh of Kalidasa's Sanskrit play Kumarsambhava




Mantrasastram, a manuscript in Bengali, on birch bark. Photo Courtesy DAV College manuscript collection, Sector-10, Chandigarh.



An illustrated manuscript on birch bark
IN the days of high-speed dissemination of knowledge on the Internet, it is hard to imagine a time when knowledge and literature was passed on orally, by word of mouth. Many centuries later this was done through hand-written manuscripts.
The story of the written word in India is long and a bit complicated. People of the Indus Valley civilisation were literate and the Harrappan scripts are considered to be the oldest in the subcontinent. However, this script has still not been deciphered. After the decline of the Harrappan civilisation around 1900 BCE, a gap is found in our knowledge of the writing material used till we come to the 4th century BCE. Brahmi, known to have developed around this time, is the oldest deciphered script.
The Asokan inscriptions found across the Indian subcontinent are mostly in the early Magadhan Prakrit language or a dialect written in Brahmi. In northwest India, the Kharosthi script was used not only for administrative and commercial work but also for writing Buddhist texts.
By word of mouth
There was a strong tradition of pursuit of knowledge in our country and it is hard to imagine that the profound knowledge base was developed in a purely oral environment. Religious texts were learnt, recited and heard by people. They were passed on from one generation to another by word of mouth. The Vedas, the Ramayana and the Mahabharata survived oral narration for many centuries before they were written down. Oral tradition was followed by Buddhist and Jain religions too. There are indications that Buddhist texts were written several centuries after the passing away of Buddha.
The oral learning and memorising is so important in the Indian context that when Chinese Buddhist monk Fa Xian (Fa-Hsien 400 CE) set out to search for manuscripts of the Vinaya, (which deals with internal order) he found that wherever he went it was only orally transmitted. Finally, he obtained a written text in Central India, in a monastery in Patliputra. Two centuries later, another Chinese monk Yi jing (I-Tsing) had a similar experience during his travels to India. Writing about his travels, he says that the scriptures that the Brahmins revere are the four Vedas, which contain about 100,000 verses. These are taught from person to person and are not transcribed on paper or leaves.
When oral texts were transmitted almost entirely by oral communication, some changes in the content took place by the process of either forgetting or transforming the parts that people thought were not necessary or relevant. This is apparent from Chinese translations of the Buddhist texts, which bear the same title but in every one or two centuries variations have sneaked in the text.
But the highly evolved knowledge systems in mathematics, astronomy, medicine, town planning etc indicate presence of skills in documentation. Libraries existed in the 6th to 5th century BCE, in Takshila, now in Pakistan and Nalanda, founded in 427 CE and considered as "one of the first great universities in recorded history." Western scholars who had a chance to stay in India reported impressive feats of memorisation by traditionally educated Indians. In many regions of India, the oral narrations still run strong like narrations of the Rajasthan epic of P`ab`uj`I. It tells the story of medieval warrior prince P'ab'uj'I and his ultimate and final feud with Jindr'av Khich'i.
Early writings
From the Asokan period (third century BCE), writings are available and these developed gradually over several centuries. Around this time manuscripts of religious texts were available. Yet along with it the older recitations stayed. For around two millennia, India transmitted its knowledge and culture through manuscripts. Because of limitations of India's climatic conditions, manuscripts older than 300 or 400 years are rare to find.
Manuscripts to the north of the Indian subcontinent as in Central Asia have a better chance of survival due to dryness of the climate. The oldest birch bark and palm-leaf manuscripts are those discovered around Turfan in and around Tarim Basin (Chinese province of Xinjiang) and in Gilgit (Northern Pakistan). Manuscripts were sent to China, Japan, and Tibet for propagation of Buddhist religion. The Chinese monk Fa-hsian, who visited India, returned with 700 manuscripts.
Early manuscripts were written on palm leaf. Paper was invented in China in the 3rd century BCE and a hundred years later it came into regular use. Traditional writing materials and methods continued to be used for many centuries even after the invention of paper.
Palm-leaf documents found in Central Asia were apparently made on palm leaves imported from South India or Sri Lanka where the Corypha Umbraculifera Linn, used for writing, grows in abundance. Palm leaves need to go through extensive treatment before they are ready for writing. They must have been rather precious in the north as they were reused multiple times, as is evident by the texture of a few manuscripts.
The writing on palm leaf was done by engraving letters with a pointed pen-like object called stylus. After the engraving was complete, the leaf was smeared with soot or powdered charcoal mixed with a thinner to make the writing more visible. The tradition of manuscripts was kept alive by repeatedly making copies of old manuscripts. This is the reason why manuscripts with the same theme could be dated several centuries apart. Many of these were illuminated, where the text was supplemented by the addition of decoration and miniature illustrations. Manuscripts now available are in languages like Sanskrit, Gujarati, Tibetan, Persian, Hindi, Punjabi, Urdu, Arabic, Pali, Prakrit and Brahmi.
Popular subjects
The list of subjects covered by the manuscripts is long and exhaustive. One of the interesting themes found in the manuscripts deals with the life and feats of Alexander the Great. This theme survived for many centuries and many manuscripts were made keeping the interest of readers in mind. There is little mention of Alexander in Indian records though prior to the arrival of the Turks. Afghans, Turks, Persians, and Arabs introduced oral and written legends of the Macedonian conqueror and assumed the name 'Sikandar'. Such was the influence of these manuscripts that several rulers assumed his name in official and unofficial titles. During the years of the Delhi Sultanate, Ala-ud-din Khilji (1296-1316) assumed the title of a second Alexander. Nizam Khan (1489-1517) of the Lodhi dynasty took the name of Sikandar and is better known as Sikandar Lodhi.
Just the way cult books are reprinted, a few manuscripts inspired other works. Firdausi's Shahnama and Nizami's Khamsah (one part of which was the Iskandarnama) were a source of inspiration for artists and poets and were frequently copied in the Sultanate and Mughal periods. During the Mughal period, illustrated manuscripts of Firdausi, Nizami and Amir Khusrau continued to proliferate, as did other sources on life of 'Sikandar'. The fourth book of Amir Khusrau — A'inah-i-Iskandari (Mirror of Alexander) gave accounts of the life of Alexander.
Even after the decline of the Mughal era, illustrated manuscripts of Shahnama and Iskandarnama were produced well into the 19th century. In the years 1819-1825, when William Moorcroft made his survey of the crafts of Kashmir, he noted that some 700 to 800 artists were working under the patronage of Maharaja Ranjit Singh to transcribe the Quran, Firdausi's Shahnama, and a number of other books.
The decline
The highly labour-intensive tradition of writing manuscripts started to decline around the 19th century with the coming of the printing press. Manuscripts lost their importance but efforts were made to collect, store and preserve them. In the second half of the 19th century the Government of India supported these efforts and allocated funds for research and collection of manuscripts, which were often privately owned.
In the early 1980s, the Indira Gandhi National Centre of Arts catalogued and microfilmed about 100,000 manuscripts around the country. The DAV College in Chandigarh houses around 10,000 manuscripts. This collection was a part of the Lalchand Library, Lahore, that was set up in 1917. At the time of the Partition, the manuscripts were first brought to Amritsar and then to Hoshiarpur to reach their final destination at Chandigarh. The entire collection has been digitised now.
The National Mission for Manuscripts was established in February 2003 by the Ministry of Tourism and Culture. This unique project was set up to unearth and preserve the vast manuscript wealth of the country. The Mission estimated that India possesses close to five million manuscripts. These manuscripts are scattered across the country, in numerous institutions as well as private collections, in families of priests, traditional scholars, in monasteries, temples, libraries, gurudwaras, and palaces. The Mission aimed to locate, document, preserve and render these accessible. To achieve this, resource centres and conservation centres were set up all over the country which worked in tandem with the panchayats and district authorities to identify the manuscripts. They have been able to make a database of about 3.5 million manuscripts. Though it seemed a mammoth task at one time, each step they take brings them closer to achieving their ultimate goal. One only hopes that a similar kind of documentation and preservation drive is planned for textiles, paintings and frescoes to leave behind a rich heritage for our future generations.
Haloed writing
In Assam, manuscripts writing or copying manuscript is considered to earn spiritual merit in satras (monasteries established by the great Bhakti Saints Mahapurusha Srimanta Sankardeva -1449-1568 CE), they are virtually worshipped among the followers of neo-Vaishnavite faith.
In Majuli, the largest inhabited river island of the world, devotees engage in the practice of worshipping sastric manuscripts. Majuli is a storehouse of a large number of manuscripts. Despite the frequency and the overwhelming nature of floods in Assam as well as the insurgency factor, it is the devotion of its inhabitants that has saved these rich cultural inheritances.
In Buddhist monasteries too writing manuscripts is considered holy.
The National Mission for Manuscripts stumbled upon texts detailing the indigenous medical practices of Mizoram's Chakma tribe and Tripura's Mog tribe, useful to present day medicine.
Apart from religious testimonies the sanchipat manuscripts of Assam contain important historical documents and treatises on ayurveda, mathematics, astrology, science, literature and politics.
Bark to bytes
The earliest representations of writing depict wooden planks, which were coated with wax. Wax-coated wooden planks were also the main writing material in the West.
Many early texts were the work of not one but many authors.
After invention of paper, new techniques led to its increasing use and by the 4th century BCE paper had replaced bamboo strips as standard material for writing.
Wood block printing probably began in China during the Sui dynasty (581-618 CE) and became popular during the Tang period (618-907 CE).
The writer is a textile researcher who has worked at the National Museum, New Delhi, and Musee d'art et d'histoire, Geneva.