Ex-SGPC member Barapind acquitted
Jalandhar, September 29
Apprehended by the Jalandhar Rural police in 2012 on the charge of plotting terrorist activities in the state, former SGPC member Kulbir Singh Barapind was today acquitted by the local District and Sessions Court. With the police failing to prove the charges, the court of Additional District and Sessions Judge Mandeep Singh Dhillon set him free, defence counsel Darshan Singh Dayal told The Tribune.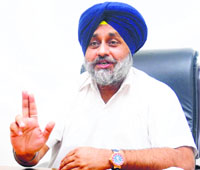 Mid-term review of SAD-BJP government
Government will now turn focus on executing projects: Sukhbir
Chandigarh, September 29
Deputy Chief Minister Sukhbir Singh Badal is a man in a hurry. Having sorted out all "back-end operations" to fulfil promises of better power, road connectivity, urban infrastructure and big ticket investments, Sukhbir says that the next two-and-a-half years will be spent on execution of works.

Deputy CM Sukhbir Singh Badal at his residence in Chandigarh. Tribune Photo: Pradeep Tewari

Bhagat Singh's sister dies in Canada


Chandigarh, September 29
Bibi Parkash Kaur, the last surviving sibling of Shaheed Bhagat Singh, passed away in Toronto, Canada, yesterday. She was 95. She died on a day when people across the country were busy celebrating the birth anniversary of her legendry brother. She was living with her son Rupinder Singh in Toronto. Chief Minister Parkash Singh Badal, PPPC chief Partap Singh Bajwa, PPP chief Manpreet Singh Badal, AAP MPs Bhagwant Singh Mann and Dr Dharamvir Gandhi, Congress leader Jagmeet Singh Brar, CPI leaders Bant Brar and Dr Joginder Dayal, CPM leaders Charan Singh Virdi and Prof Chaman Lal expressed grief over Parkash Kaur's death.

SAD chief allots duty for Haryana elections
Badal (Muktsar), September 29
Akali Dal chief Sukhbir Badal today held a meeting with his core group members at his Badal village residence to mobilise the party cadre to work for the SAD candidates in the Haryana Assembly elections.
Badal residents play spoilsport at Sukhbir's function
Badal (Muktsar), September 29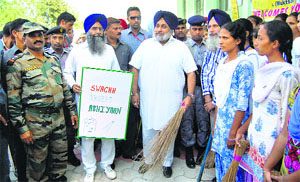 The residents of Badal village, home to the state's first political family, today played spoilsport at a function that was to be presided over by Deputy Chief Minister Sukhbir Badal. The Deputy Chief Minister was scheduled to lay the stone of the village pond's renovation work and a park along the Badal-Bathinda highway.

Deputy Chief Minister Sukhbir Singh Badal inaugurates 'Swachh Bharat Abhiyan' at Badal village sports stadium on Monday. A Tribune photograph

DGP orders probe into custodial death
Abohar, September 29
The Rajasthan Director General of Police (DGP) has directed the crime branch to reinvestigate a case wherein Amit Adlakha had allegedly committed suicide at Purani Abadi police station in Sriganganagar on May 6, 2002. Nohar police station Station House Officer (SHO) Bhanwer Lal Meghwal, the then SHO of Purani Abadi police station, is now under scanner.
Suspend SHO for 'twin murders', says Verka
Ludhiana, September 29
The controversy surrounding the killing of two brothers from Bohapur village near Machhiwara on Saturday refuses to die down. Belonging to the Dalit community, Harinder (25) and Jatinder (23) were active Aam Aadmi Party members. The father of the deceased, Satpal Singh, had yesterday claimed his sons fell victim of political rivalry.


National Commission for Scheduled Castes vice-chairman Raj Kumar Verka with the victims' parents in Ludhiana. Tribune photo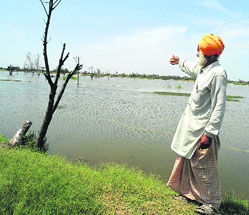 Assess damage accurately, revenue officials told
Muktsar, September 29
The state government has this year warned the revenue officials to accurately assess the damage caused to crops and property in waterlogged areas. Last year, several people had been awarded meagre compensation.


A file photo of a waterlogged field in Muktsar.

PPCC kisan cell holds dharna at DC's office
Sangrur, September 29
In protest against alleged "anti-farmer" policies of the Centre and the state government and in support of farmers' demands, members and activists of the Kisan and Khet Mazdoor Cell of Punjab Pradesh Congress Committee (PPCC) staged a dharna outside district administrative complex (DC office) here today.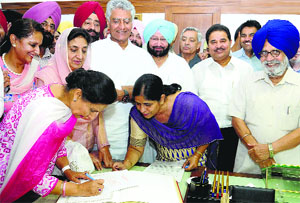 Assuming new role: Preneet Kaur signs the register after taking the oath of secrecy as an MLA at the Vidhan Sabha in Chandigarh on Monday. She had won the byelections from Patiala recently. Former Chief Minister Rajinder Kaur Bhattal, CLP Leader Sunil Jakhar, Capt Amarinder Singh (Amritsar MP) and Vidhan Sabha Speaker Charanjit Atwal are also seen. Tribune photo: Manoj Mahajan

Minister orders speedy lifting of paddy, timely payment
Moga, September 29
Reviewing arrangements for paddy procurement in Moga district, Agriculture Minister Tota Singh today asked the authorities concerned to ensure speedy lifting and timely payment to farmers. The official procurement of paddy is scheduled to begin from October 1. The foodgrain arrival is likely to get delayed by at least 10 days due to adverse weather conditions that prevailed at the time of maturity of the grains.
Anganwari workers gherao admn complex
Fatehgarh Sahib, September 29
Anganwari workers laid siege to the district administrative complex here today. They closed all entry gates of the complex and did not allow anyone to come out or go in. Even the SP(D), the SP(H) and the SDM faced difficulty in getting in and out of the complex.
Massive protest against 'black law'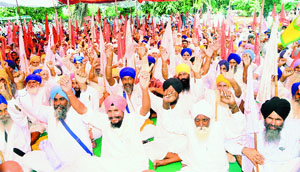 Amritsar, September 29
Activists of more than 40 organisations today staged a protest against the Punjab Prevention of Damage to Public and Private Property Bill, 2014, terming it as an attack on the fundamental rights of the people. They demanded that the Bill be immediately withdrawn.


Activists of various farmer and labour organisations protest in Amritsar on Monday. Tribune photo: Vishal Kumar

Local Bodies Dept delaying works, alleges Mittal
Ropar, September 29


Industries Minister and senior BJP leader Madan Mohan Mittal today lashed out at officers of the Local Bodies Department blaming them for creating hurdles in the development of the state. He said the government was trying hard for the state's progress, but the officials were working against it. It is worth mentioning that his party colleague Anil Joshi is Local Bodies Minister.
Need for peace memorial: Manpreet
Chandigarh, September 29
People's Party of Punjab (PPP) chief Manpreet Singh Badal has advocated the setting up of a peace memorial in the state.
State bags best rural tourism initiative award
Chandigarh, September 29
Punjab has bagged the "Best Rural Tourism Initiative Award for the Farm Tourism" at the International Tourism Conclave & Travel Awards held in Shimla to mark the World Tourism Day.
SGPC to honour Asiad medallists
Amritsar, September 29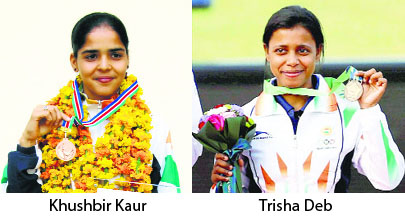 The Sikh Gurdwara Parbandhak Committee (SGPC) today announced that it would felicitate Amritsar's Khushbir Kaur and Patiala's Trisha Deb for bringing laurels to the country in the ongoing Asian Games. Avtar Singh Makkar, SGPC president, said that the duo had made India proud by winning a silver and a bronze medal in the mega sports event.
PRTC contractual employees call off strike
Patiala, September 29
Contractual employees of the Pepsu Road Transport Corporation (PRTC) who have been holding a protest for the past 29 days for the regularisation of their services ended their strike today. The decision came after the district administration assured them of a meeting with the Transport Secretary before October 10.
CM inaugurates 3D Digital Orthopaedic Suite of Mohali hospital
Chandigarh, September 29
A Mohali-based hospital today launched a Digital Orthopaedic Suite. The system adds precision to surgeries as it measures the size of implants required in knee and hip joint replacement and carries out virtual implantation ahead of the actual implantation. It also reflects images of the surgery to check correct angles of incision.
Funds released for repair of roads in Abohar
Abohar, September 29
The state government has released the first instalment of Rs 79 lakh of the Rs 2 crore sanctioned for the repair of roads in Abohar town and its development. Deputy Commissioner Manjit Singh Brar today said the Municipal Council officials had been directed to prepare estimates and call tenders to take up the work soon. He said Chief Minister Parkash Singh Badal would release Rs 1.58 crore from the disaster relief fund for the repair of the roads damaged by the heavy rain early this month. Almost all the main roads in the sub-divisional town and the roads that link the cremation grounds with the town would be repaired. Brar said the survey of houses and crops damaged by the rain had been completed. OC


Notice to state on amending police Act
Chandigarh, September 29
The Punjab and Haryana High Court today issued notice of motion to the Punjab Government and its Home Secretary on a petition for quashing recent amendments made by the state Assembly to the Punjab Police Act 2007, regarding appointment of police complaints authorities' chairmen.
HC comes to aid of differently abled workers
Chandigarh, September 29
The Punjab and Haryana High Court has made it clear that the government is required accommodate them in "other areas", if they are unable to meet the rigours of duties. The government is also required to create a "supernumerary post", if a suitable post is unavailable.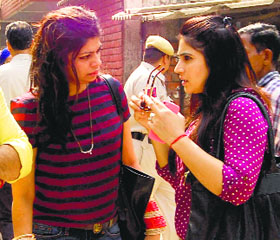 Mohali court turns down Cheema's bail petitions
Mohali, September 29
Mohali Additional District and Sessions Judge Tarsem Mangla today turned down suspended Inspector-General Gautam Cheema's anticipatory bail applications in the Kricpy molestation case and a kidnapping case. Cheema is accused of taking away Sumedh Gulati, a proclaimed offender, from the police lockup.


'Conman' Devinder Gill's wife Kricpy (left) at District Courts Complex in Mohali on Monday. A Tribune photograph

Daduwal gets bail in another case
Mansa, September 29
The court of Additional Sessions Judge, Mansa, today granted bail to Sikh preacher Baljit Singh Daduwal in a case registered by the Bhikhi police on January 2, 2011. His cousel HS Tiwana told the court that his client was "falsely implicated" in a case which was "politically motivated". He claimed the Punjab Police had reopened the case at "behest" of politicians after three years. On January 2, 2011, the Bhikhi police had arrested Daduwal and his supporters following a clash with the police. Daduwal is lodged in a Faridkot Jail in a case registered under various sections of the IPC and the Arms Act at the Jaitu police station on March 16, 2009. TNS


Out on parole, gangster shot dead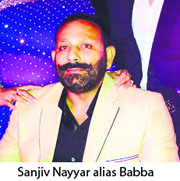 Amritsar, September 29
In what appears to be a gang war, four unidentified assailants gunned down notorious gangster Sanjiv Nayyar alias Babba near the Majitha Road bypass when he, his wife and son were returning home after attending a wedding late last night. Babba sustained four bullet injuries. He was rushed to a nearby private hospital where doctors declared him "brought dead". On his son Raghav's statement, the Sadar police have registered a case under Sections 302 and 34 of the IPC and the Arms Act against unknown persons. A local court had in February sentenced Babba and another gangster Ankur Likhari to life imprisonment for the murder of gangster Raju Chikna. The latter was a member of the Jagtar Boxer gang. Babba was on a 28-day parole.
'Harassed' by professors, medical student commits suicide
Ludhiana, September 29
A student of Dayanand Medical College and Hospital allegedly committed suicide by hanging herself from a ceiling fan at the women's hostel located on the hospital premises today. The victim has been identified Supriya (25), daughter of Balwinder Kumar, District Health Officer, who is posted in Jalandhar. Supriya was a final-year student of MD (paediatric).
4 held for killing infant
Abohar, September 29
Four relatives of a woman Meera Meghwal were nabbed for allegedly killing her newborn baby. The police had recovered the body of the baby girl from a canal near 22RB village on Friday. The police said the four accused killed the infant since Meera's in-laws were upset that she had given birth barely four months after marriage. The in-laws of Meera, who had married Bhim Sain of 67RB village, asked her parents to take Meera and the infant away.