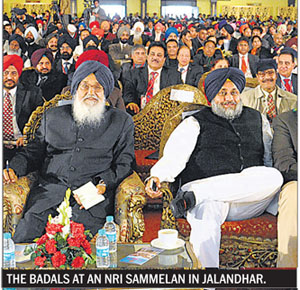 Mid-term review of SAD-BJP government: NRI Affairs
NRI sammelans yield nothing
Chandigarh, September 28
Despite the much-hyped "NRI Sammelans", the government has not been unable to attract NRI investment in the state. Also, the many problems faced by NRI's, such as property disputes and fraud by banks and insurance companies, are yet to be addressed. Of the 6,000 complaints received by the NRI wing of the Punjab Police, 70 per cent pertain to 'usurpation' of properties by relatives and friends. The rest are mostly matrimonial disputes.

The Badals at an nri Sammelan in Jalandhar.

Potholed roads: CM's grant fails to spur Abohar MC into action
Abohar, September 28
The local Municipal Council has not deputed any engineer to conduct a survey of the damaged roads in the town even though Chief Minister Parkash Singh Badal had agreed to sanction Rs 2 crore for the repair of the roads. Badal had sanctioned the amount at a public darbar in Rajiv Nagar on September 15. He had directed the administration to submit estimates for the work within seven days.
'Political rivalry' led to killing of two brothers in Ludhiana
Ludhiana, September 28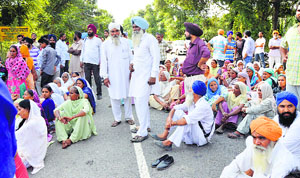 The cold-blooded gunning down of two young brothers, Harinder Singh and Jatinder Singh, allegedly by an Akali leader in connivance with a police party yesterday at Jamalpur near here was reportedly a case of political rivalry. Hailing from Bhopur village near Machhiwara, the youths were active supporters of the Aam Aadmi Party (AAP).
Protesters stage a dharna at Neelon Bridge. Photo: Inderjit Verma

Bajwa not invited for Preneet's lunch
Chandigarh, September 28
Partap Singh Bajwa, Punjab Pradesh Congress Committee (PPCC) chief, has not been invited for Congress MLA Preneet Kaur's lunch at The Taj ahead of her oath-taking ceremony at 3 pm in the Vidhan Sabha tomorrow. Capt Amarinder Singh is among the invitees. The lunch has been arranged by Congress Legislature Party (CLP) Leader Sunil Jakhar.
PPP to stitch alliance for civic body poll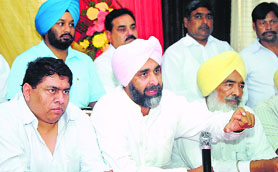 Jalandhar, September 28
In what may be termed as a significant political development ahead of the civic body elections in the state, People's Party of Punjab (PPP) president Manpreet Singh Badal has announced that he will make efforts to bring all political parties on a common platform to pose a formidable challenge to the ruling Akali-BJP combine.


People's Party of Punjab president Manpreet Singh Badal addresses mediapersons in Jalandhar on Sunday. Tribune photo: Sarabjit Singh
SAD factions spar over union elections
Muktsar, September 28
Two factions of the ruling SAD are in dispute with each other over the elections held for the post of president, vice-president of the District Sarpanches' Union in Chief Minister Parkash Singh Badal's home district of Muktsar. Last week, a large number of sarpanches had gathered at the Bhai Maha Singh Hall and formed the District Sarpanches' Union by unanimously electing its president and vice-president. Neela Mann, sarpanch of Giljewala village, was declared the president of the union, under the leadership of state president Hardev Singh.
Jakhar taking credit for central schemes: BJP
Abohar, September 28
BJP workers today criticised Congress Legislature Party Leader Sunil Jakhar for taking credit for a scheme funded by the Centre. The local BJP leaders spoke at a function held at Arorvansh Dharamshala to distribute sewing machines to 435 women.


Six months on, Samana resident awaits his son's autopsy report
Patiala, September 28
Six months after the death of his 10-year-old son, a Samana resident, Ram Kumar, has been running from pillar to post to get his post-mortem report. A Class V student, Ankit had allegedly died after being administered an anti-rabies vaccine at the Civil Hospital in Samana. Ankit was given his fifth dose of anti-rabies vaccine on March 5 along with four others. Soon after, all of them complained of drowsiness and nausea.

Sukhpal's family won't give up fight for justice
Batala, September 28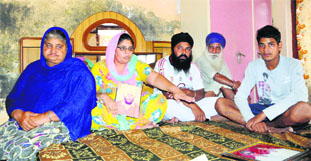 Two decades after Gurdaspur resident Sukhpal Singh was eliminated by the Punjab Police in a "stage-managed" encounter in 1994, his family says they will not give up their fight for justice. Sukhpal's widow Dalbir Kaur, his father Jagir Singh and son Jugraj Singh are living in penury.


Dalbir Kaur (extreme left) with her family members in Batala. Tribune photo: vishal kumar

No faith in police, says rights panel chairman
Chandigarh, September 28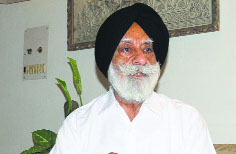 In order to claim award, a police team allegedly killed a youth in a fake encounter in Ropar in 1994 and declared that the body was that of dreaded terrorist Gurnam Singh Bandala. Claiming that the deceased was Sukhpal Singh of Kala Afghana village in Gurdaspur, his family and the Majha Ex-Servicemen Human Rights Front are struggling to get justice for Sukhpal.


Col GS Sandhu in Panchkula. Tribune Photo: S Chandan
Asiad silver medallist does family, village proud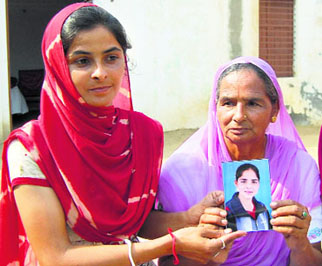 Amritsar, September 28
Family members of Khushbir Kaur and residents of Rusulpur Kalan village, 20 km from here, today erupted in joy as soon as they heard the news that Khushbir has made the nation proud by becoming the first Indian woman to win a silver medal in the women's 20-km race walk in the 17th Asian Games.


Family members of Khushbir Kaur show her photograph at their house in Rusulpur Kalan village, about 20 km from Amritsar, on Sunday. Khushbir Kaur won a silver medal in women's 20-km race walk in the 17th Asian Games at Incheon in South Korea earlier during the day. A Tribune photograph

Fivefold increase in area under direct seeded rice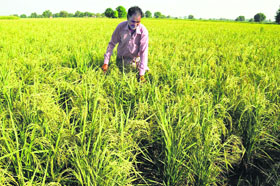 Mehraj (Bathinda), Sept 28
The land under direct seeded rice (DSR) has increased more than five times as compared with the figure recorded last year. This is a clear indication of the increased acceptability of the water-saving technique in comparison with the traditional mode of paddy transplantation.


A farmer in his paddy fields in Bathinda . Tribune photo: Pawan Sharma

Basmati growers look to CM for support price
Chandigarh, September 28
While paddy procurement by government agencies would begin on October 1, there has been no reprieve for basmati growers who have been facing losses due to the sudden dip in the crop's prices.
Sukhbir claims credit for popularising kabaddi
Faridkot, September 28
After rediscovering the pan-Indian popularity of kabaddi over the past four years, the state government has now embarked on a mission to make it the fastest-growing game. This was stated by Deputy Chief Minister Sukhbir Singh Badal at Dhimawali village this evening. He was presiding over the closing ceremony of an annual rural sports event here.
At Khatkar Kalan, AAP vows to wage war against corruption
Khatkar Kalan, September 28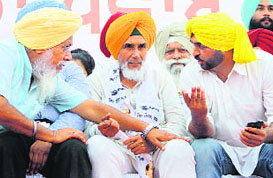 Terming the SAD-BJP regime in Punjab nothing but "mafia raj", the Aam Aadmi Party (AAP) leadership today vowed to wipe out the corrupt from the state in the 2017 Assembly elections. Addressing a function organised by the party to pay tributes to Shaheed Bhagat Singh on his birth anniversary at his native village here, the AAP leadership dwelt upon having a corruption-free government in Punjab.


Aam Aadmi Party leaders Bhagwant Mann (R), Sucha Singh Chhotepur and Harinder Singh Khalsa (L) at Khatkar Kalan in Nawanshahr on Sunday. Tribune photo: Sarabjit Singh

Retired cops miffed at security cut
Chandigarh, September 28
Upset over the scaling down or complete withdrawal of security, several retired senior police officials have decided to raise the issue with Chief Minister Parkash Singh Badal. These officials have served the Punjab Police when militancy was at its peak in the state.
Three injured in firing at Bhawanigarh
Sangrur, September 28
Three persons were injured in firing near the bus stand at Bhawanigarh, about 22 km from here, today. The injured were taken to the government hospital at Bhawanigarh from where they were shifted to Government Rajindra Hospital, Patiala. One of them was later referred to the PGI, Chandigarh.
Medical colleges warned against diluting norms
Faridkot, September 28
A day after some private medical and dental colleges allegedly changed the eligibility criteria, the state Department of Medical Education and Research (DMER) today warned the students that such admissions would not be accepted. As many as 205 seats for MBBS and 455 seats for BDS have remained vacant in the state after the final counselling.
Talwandi's widow gets minister's status
Raikot, September 28
The Punjab Government has announced to confer the status of a minister on Mohinder Kaur, widow of Akali stalwart and former Shiromani Gurdwara Parbandhak Committee president late Jathedar Jagdev Singh Talwandi. The announcement was made by Chief Minister Parkash Singh Badal during Talwandi's bhog ceremony at his native village Talwandi Rai near here today. Badal said Talwandi was a fearless leader. "Throughout his political and social carrier, he had been a lighthouse and a motivating force for a majority of our contemporary leaders," he said. The Chief Minister said Talwandi's life would continue to inspire the coming generations. Deputy CM Sukhbir Badal said it was a matter of pride for every Akali worker that a leader like Talwandi had once headed the party. OC
Teachers burn govt's effigy
Ropar, September 28
Despite tight security in place and hundreds of arrests made as a preventive measure to foil a stir by the Computer Teachers Joint Front, teachers managed to reach the middle of town and burnt an effigy of the state government today. The protesters raised anti-government slogans and dispersed before the police could reach the spot. The front has been holding protests for the past several months demanding to bring computer teachers under the Education Department and regularising the services of the non-teaching staff. The front had given a call for a rally at Ropar for today. The police had arrested front members to foil the protest, but teachers gathered in front of the Civil hospital and protested. TNS


BJP leader among six killed in road accidents
Abohar, September 28
Six persons, including a BJP leader, were killed in various road accidents in the region in the past 24 hours. Gharsana BJP unit president Jaspal Singh (40) and his friend Amarjit Singh (43) of Chak 6DD village were killed as their Bolero van collided with a truck on the Anoopgarh Road near Patroda village. The injured persons were sarpanch Sewak Singh, Pawan Rajput and security guard Harnek Singh. They have been shifted to Civil Hospital, Gharsana.
5 killed in road mishaps
Fazilka, September 28
Five persons died and three others got hurt in various road accidents in the district in the past 24 hours. Four persons, including three of a family, died when a mini bus collided with two motorcycles near Saidoke village in Fazilka district. The deceased persons were Gurcharan Singh (29) of Bahmniwala village, his sister Swarna (30), her six-month-old daughter Nooran and Malkeet Singh (22) of Lakheke Musahib village in the district.
5 booked for attack on dera leader
Sangrur, September 28
The police have booked five persons in the case, wherein dera leader Sham Sunder Dass was shot at in Dera Baba Rukhar Dass in Namol village near Sunam yesterday. Baljit Singh, Station House Officer (SHO) of Cheema police station, said the accused had been identified as Gagandeep Singh, Gurpreet Singh, Randhir Singh, Bhola Singh and Makhan Singh, all residents of Namol village. No one has been arrested so far. Gagandeep Singh had allegedly fired at Sham Sunder Dass with a .32 bore pistol yesterday. The dera leader sustained bullet injury on his thigh. He was admitted to a hospital in Patiala. Thereafter, Gagandeep had consumed poison. He was admitted to Sunam Civil Hospital. TNS

Seven held for impersonation in examination
Sangrur, September 28
Seven persons were arrested for allegedly impersonating other candidates during the BA I (English) paper at Shaheed Udham Singh Government College, Sunam, yesterday. The examination was being conducted by Punjabi University, Patiala. Following a complaint by centre superintendent Satinder Singh, the Sunam police registered a case under Sections 419 and 120-B of the IPC against eight persons. Seven of them, Binder Singh, Sumer Singh, Gurnaib Singh, Sujinder Dass, Balwinder Singh, Ravi Kumar and Sikander Singh, were arrested. They were granted bail by the police as the offence was bailable. The eighth unidentified accused could not be arrested so far. TNS