PUDA complex damaged by Dasehra committee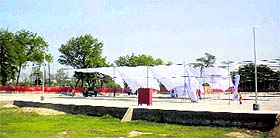 Malout, October 1
The Dasehra committee, Malout, has damaged the concrete floor of a shopping complex under construction on a four-acre land of the Punjab Urban Planning & Development Authority (PUDA) on the Malout-Bathinda highway. The committee is making arrangements for the festival.

A tent being put up at the PUDA's upcoming shopping complex in Malout on Wednesday. Tribune photo
Moisture trouble for paddy farmers
Khanna, October 1
Baldev Singh of Dhrera village arrived at Khanna, Asia's biggest grain market, on the first day of procurement today, hoping to sell the produce at the earliest. Much to his disappointment, he will have to wait for days for the produce to dry.
AAP seeks CBI inquiry into Jamalpur killings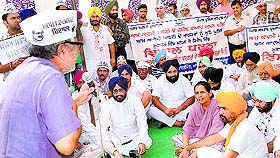 Ludhiana, October 1
Accusing the Akali Dal of unleashing "goonda raj", Aam Aadmi Party (AAP) leaders today demanded the resignation of Deputy Chief Minister Sukhbir Badal. They sought a CBI enquiry into the Jamalpur killings. Party's state convener Sucha Singh Chhotepur alleged framing innocent citizens in false cases and threatening them had become a common practice for the Akalis.

Patiala MP Dharamvira Gandhi leads a protest, demanding a CBI probe into Jamalpur killings, in Patiala on Wednesday. Tribune photo

CM to lead 'clean India' campaign
Chandigarh, October 1
Chief Minister Parkash Singh Badal would lead the state-wide "Mission Swachh Bharat" at a state-level function to be held at Talwandi Sabo tomorrow. An official spokesperson said all government employees would report at their offices at 9 am and after taking an oath on cleanliness, they would participate in the campaign.
Website on blood availability soon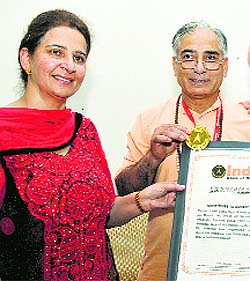 Kapurthala, October 1
The Department of Health and Family Welfare is in the process of maintaining a database of voluntary blood donors and availability of blood with all 85 registered blood banks across the state. At a function organised to mark the National Voluntary Blood Donation Day here, Chief Parliamentary Secretary Dr Navjot Kaur Sidhu said the facility would help attendants of patients save time in getting blood. They could directly head towards the blood bank concerned on the basis of information available on the website, she said.





Dr Navjot Kaur Sidhu honours Kamal Kishore, who donated blood for the 126th time, in Kapurthala on Wednesday.
Haryana poll fever grips border village

Lambi, October 1
The area bordering Haryana is witnessing hectic political activities ahead of the Assembly elections in the neighbouring state scheduled for October 15. Several political parties have installed hoardings related to Haryana elections in the area. The poll fever can be witnessed in Mandi Killianwali village located on the Fazilka-Delhi national highway. The main bus stand of the village is dotted with huge hoardings of the BJP, seeking votes in the name of Prime Minister Narendra Modi.





A hoarding put up by BJP workers outside the bus stand at Mandi Killianwali village in Muktsar district. Tribune photograph
Basmati prices fall globally
Chandigarh, October 1
High import duty imposed by Iran, the largest market for Indian basmati, and the alleged market manipulation by certain rice exporters in Punjab is responsible for the fall in the prices of Indian basmati in the international market. In the past one month, the price of all varieties have fallen from $1400 per tonnes to $950 per tonnes.
Army unearths fake certificate scandal
Ferozepur, October 1
The military authorities have unearthed a fake certificate scam. Thirty-eight youths selected as sepoys have been found to have fudged their date of birth for recruitment in the armed forces.
Tanker explodes at ICP; probe on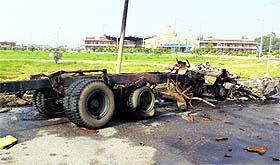 Amritsar, October 1
Panic gripped the Integrated Check Post ICP) at Attari after an Indian tanker, that was carrying hydrogen peroxide, exploded this morning, strewing debris 2,000 yards away. No loss of life was reported. A major part of the ICP's boundary wall, electricity poles and CCTV cameras installed 250 metres from the blast site were damaged. The tanker was gutted.



The remains of the tanker that exploded at the Attari ICP on Wednesday. A tribune photograph
Bajwa faces revolt on home turf, Ashwani backs Capt
Gurdaspur, October 1
Punjab Pradesh Congress Committee PPCC chief Partap Singh Bajwa finds himself cornered on his home turf of Gurdaspur with Rajya Sabha Member of Parliament (MP) backing former Chief Minister Capt Amarinder Singh.





rich in faith:

A devotee from Agra on Wednesday presented a palanquin made of 3-kg gold worth Rs 1 crore at the Golden Temple, Amritsar. Tribune photo: vishal kumar
Phagwara lawyers end agitation
Phagwara, October 1
Lawyers ended their strike on the tenth day of their agitation in Phagwara today. The decision was taken after Additional Deputy Commissioner (ADC) Iqbal Singh Sandhu intervened in the tussle between lawyers and the local SDM on the orders of Kapurthala Deputy Comissioner DS Mangat.
Heroin worth Rs 30 cr seized
Ferozepur, October 1
The BSF today seized five packets of heroin worth Rs 30 crore, besides a mobile phone and three Pakistani SIM cards from near the Mohamdiwala border outpost in the Ferozepur sector.
Labourers protest demolition of dwellings, block rail traffic
Abohar, October 1
Rail services on the Anoopgarh-Suratgarh-Sriganganagar section remained suspended as hundreds of labourers, including women and children, staged a dharna last evening in front of a passenger train in the border town Anoopgarh in Sriganganagar district, Rajasthan.
Probe sought into doc's death
Hoshiarpur, October 1
The Punjab Civil Medical Services ( PCMS) and the PCMS Welfare Association today demanded a probe by an independent agency to ascertain the reasons which compelled 25-year-old doctor, Supriya, to commit suicide.
Cattle rescued, truck set afire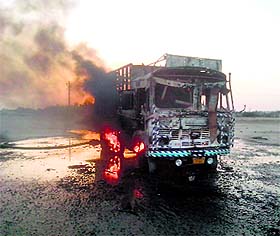 Abohar, October 1
Some unidentified persons intercepted a truck to rescue cattle that was reportedly being smuggled to Uttar Pradesh, near Suratgarh (Sriganganagar) on the national highway today. The group then reportedly set the truck afire near a petrol pump. The men in the truck managed to flee from the spot. Local police station in charge Ranveer Sai said they had received a call about the incident at 10.30 am. Local fire tenders were joined by military station fire brigade in dousing the flames.


Some unknown persons set a truck on fire near Suratgarh on Wednesday. Tribune Photo
Villagers block traffic, seek repair of link road
Ropar, October 1
Residents of more than six villages, including Majri Thekdaran, Majari Jattan, Akbarpur, Fatehpur and Bagwali, held a protest over the dilapidated condition of the link road of their villages here today. The villagers squatted on the national highway at Nangal Chowk blocking the traffic for nearly half an hour.
BBMB exceeds CEA target
Nangal, October 1
The Bhakra Beas Management Board (BBMB) powerhouses have surpassed the target of power generation fixed by the Central Electricity Authority (CEA) for the first six months of the current fiscal. The CEA had fixed a target of producing 5,627 million units at three plants run by BBMB at Bhakra, Dehar and Pong for six months ending September 30.
Policy to strengthen de-addiction centres soon, state tells High Court
Chandigarh, October 1
Nearly five years after the Punjab and Haryana High Court asserted that Punjab was "awash" with narcotics, the government is in the process of formulating a policy for providing financial and infrastructure support to de-addiction and rehabilitation centres run by the Red Cross Society.
HC seeks information on lifting
Chandigarh, October 1
Less than a week after the states of Punjab and Haryana were directed to come up with a mechanism for smooth lifting of crops, including paddy, the Punjab and Haryana High Court today asked the state governments to specify the price at which paddy was being lifted in the region.
IGP Cheema moves HC
Chandigarh, October 1
Two days after a Mohali court dismissed his anticipatory bail plea, suspended Inspector-General of Police Gautam Cheema today moved the Punjab and Haryana High Court. He is accused of kidnapping a proclaimed offender from police custody.
3 drug peddlers awarded 10-year RI
Bathinda, October 1
Sentencing three persons to 10 years' of rigorous imprisonment each under the Narcotic Drugs and Psychotropic Substances Act, 1985, in three different judgments, Judge (Special Court) JS Bhinder has said that the drug menace will not end in the country till the police went after themain suppliers and broke the supply chain.
Murdered woman's relative arrested
Gurdaspur, October 1
The Gurdaspur police claimed to have solved the Babbehali murder case, in which a middle-aged woman was done to death with a hammer in broad daylight on September 22. They arrested a relative of the victim today.