Inundated fields still a worry for farmers
Muktsar, October 6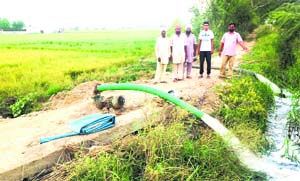 One month after rains wreaked havoc in the region, fields in Muktsar district still lie inundated. Farmers say Chief Minister Parkash Singh Badal, during his Sangat Darshan, assured them that a 24-hour power supply for tube well connections would be provided till October 10 to drain out water from fields. However, they complain that the Power Department has curtailed the supply to just six hours.

Residents of Gandhar village in Muktsar show the drainage work being carried out by them. A Tribune photograph


Sidhu to canvass in Ambala, Kalanwali
Amritsar, October 6
Though former Amritsar MP Navjot Singh Sidhu has been maintaining a low-profile in Punjab politics, the cricketer-turned-politician will campaign for the BJP in Haryana that goes to the polls on October 15. A star campaigner, Sidhu will hold a series of public meetings at Jagadhri, Guhla, Pehowa, Safidon, Dabwali, Kalanwali and Tohana over the next three days.
Shanta Kumar slams Badal govt for failure to mobilise resources
Chandigarh, October 6
Chinks in the SAD-BJP alliance have surfaced yet again with senior BJP leader and in charge of Punjab affairs Shanta Kumar slamming the Badal government for failing to mobilise resources and curtail administrative expenditure.
Most Punjabi girls still shy away from donning the khaki
Chandigarh, October 6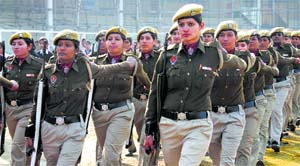 Joining the police force still seems to be the last career option for most of the Punjabi girls. Nearly 60 per cent of the over 20,000 applicants for the 110 posts of woman sub-inspector did not turn up for the physical test, organised at Fatehgarh Sahib, Jalandhar and Ferozepur recently. About 12,250 applicants of the nearly 20,600 were found absent. This is despite the fact that the post entails Rs 40,000 salary, plus allowances. The recruitment committee headed by Additional Director General of Police Iqbalpreet Singh Sahota sent an SMS to the absentee applicants at the last minute, after which hundred more candidates turned up.
Harassed by traders, farmers block highway in Abohar
Abohar, October 6
A powerful lobby of businessmen today refused to purchase cotton unless the produce was unloaded on yards. The cotton arrivals have picked up with 1,500 quintals arriving in the market today.
Reverse tax recovery
Grain, cotton traders observe strike
Abohar, October 6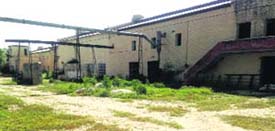 Responding to the call given by Rajasthan Cotton Ginning and Factories Association, business activities in all the grain/cotton markets and factories in Sriganganagar and Hanumangarh districts were suspended on Monday.
A cotton factory wears a deserted look in Sriganganagar on Monday. Tribune Photo

Govt targeting gun lovers
Bathinda, October 6
Cashing in on the Punjabis' craze for guns, deputy commissioners in several Punjab districts have devised an ingenious way of enriching Suwidha Centres that have been set up to provide essential services to citizens. The arms licence fee is just Rs 100 and the Suwidha Centre takes Rs 700 as processing charges. The arms licence application form is priced at a mere Rs 20. But it is available at an exorbitant price of Rs 10,000 in Bathinda.
Central team to submit report today
Jalandhar, October 6
A team of the Supplies and Disposal Department, responsible for procuring and supplying bags to state governments for storing paddy, visited various mandis in the state in the past two days.
Chintpurni college students meet SC panel chairman
Jalandhar, October 6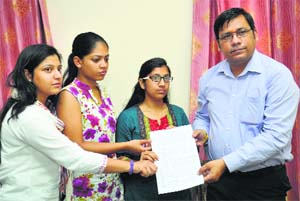 The protesting Scheduled Caste (SC) students of the Chintpurni Medical College and Hospital (CMCH), Pathankot, today met Rajesh Bagha, chairman of the State Commission for Scheduled Castes, here today. The students demanded that they be shifted to a recognised medical college. Bagha said he would ask the government to take prompt action and shift the students to another institute within a week.

Students of Chintpurni Medical College and Hospital submit their demands to Rajesh Bagha, chairman of the state SC Commission, in Jalandhar on Monday. Tribune photo: Malkiat Singh

Unpaid PRTC pensioners seek aid from NGOs
Patiala, October 6
Pepsu Road Transport Corporation (PRTC) pensioners, who have not received their pensions for the past four months, are now approaching various NGOs to seek financial aid.
Cotton glut
Farmers block traffic as they sit on a dharna on the national highway outside the grain market in Abohar on Monday; and (below) a glut of cotton in Abohar mandi has put farmers at a disadvantage with traders dictating terms for purchase. Tribune Photographs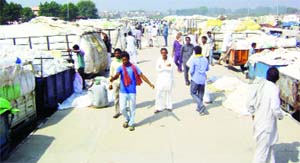 Peace back in Nagpur, four detained youths let off
Chandigarh, October 6
Peace has been finally restored in Nagpur (Maharashtra) where curfew was imposed in the periphery of a shrine following a clash between the members of two communities. The clashes erupted after a brawl between two groups of youngsters.
Ropar plant has coal only for a day
Ropar, October 6
With two of the six units already shut due to coal shortage, Guru Gobind Singh Super Thermal Plant here is on the verge of closure.
50% rain deficit puts state farmers under fiscal stress
Chandigarh, October 6
The state this year witnessed a deficit monsoon to the tune of 50 per cent. Since most of the irrigation in the state is dependent on rains, farmers have come under enormous fiscal stress owing to poor rainfall.
Atwal leaves for Cameroon
Chandigarh, October 6
State Assembly Speaker Charanjit Singh Atwal has left to attend the 60th Commonwealth Parliamentary Association's annual conference in Cameroon.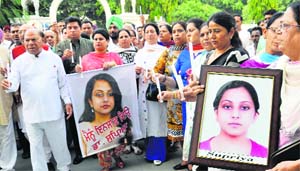 raising voice: Congress leaders hold a candlelight march to seek justice for Dr Supriya, who committed suicide at DMC, Ludhiana a few days ago, in Jalandhar on Monday. Tribune Photo :Malkiat Singh

11,800 ETT teachers under Education Dept


Chandigarh, October 6
Over 11,800 ETT teachers, who were serving in 5,752 schools under zila parishads under the Rural Development and Panchayat Department, have been absorbed in the Education Department. They will be joining their duties on October 7, 2014.

Health teams visit cancer-prone village


Abohar, October 6
Officials of Health and Water Resources departments today visited Shergarh village that witnessed three deaths due to cancer in less than a week.

Rail officials work on draft to bifurcate Ferozepur division
Moga, October 6
The railway authorities are working on a draft proposal to create a new railway division based at Jammu by breaking up the Ferozepur division, which is also likely to result in the restructuring of the Delhi and Ambala divisions in the Northern Railways.

Ludhiana man in US shot dead


Ludhiana, October 6
A 34-year-old NRI from Ludhiana was shot dead in Ohio, US, on Sunday. A pall of gloom descended on Sachin Rana house in Madhopuri area here. The deceased's 64-year-old father Charanji Lal said his daughter Sonia, who lived in California, called up his second daughter Rashmi in Hoshiarpur to inform her about the death.
Seize CCTV footage in Cheema case, state told
Chandigarh, October 6
For disentangling the controversy shrouding the alleged kidnapping of a proclaimed offender by Punjab Inspector-General of Police (IGP) Gautam Cheema, the Punjab and Haryana High Court today directed the state government to take into possession the CCTV footage of the police station and hospital from where the alleged abduction took place.
Police assault on Tarn Taran woman
Approach apex court for withdrawing security: HC
Chandigarh, October 6
More than a year after a young woman was allegedly beaten up by the Punjab Police in Tarn Taran, the Punjab and Haryana High Court today verbally made it clear that the security provided to the victim and her family could be withdrawn only after obtaining orders from the Supreme Court.
Man gets life term for murder
Ropar, October 6
District and Sessions judge Amarjot Bhatti awarded life term to Gurmit Singh of Sihon Majra village for murdering his wife here today. The deceased, Kulwinder Kaur, died of burn injures at PGI, Chandigarh, last year.
May reconsider stand on land to Major's widow, state tells HC
Chandigarh, October 6
More than 40 years after Shaurya Chakra awardee Major Kanwaljit Singh went missing during the 1971 Indo-Pak war, the Punjab Government today told the Punjab and Haryana High Court that it would consider reviewing its earlier stand against allotting land to his widow.
Theft at gun house sends Faridkot cops in a tizzy
Faridkot, October 6
The district police have swung into action following the theft of 34 fire weapons from a gun house in Kotkapura town last night. At least 23 pistols, seven rifles, four guns and 1,243 cartridges were stolen.