120 guest houses in villages under MC limits face closure
Chandigarh, October 6

As many as 120 guest houses, being run from villages under the Municipal Corporation (MC), are facing closure. The MC has issued notices to these guest houses as there are violations pertaining to the building bylaws and fire-safety arrangements. According to the draft notification of the building bylaws in villages, the minimum plot size to run a guest house should be 500 sq yards (one kanal). At present, a majority of the guest houses are functioning from plots of sizes ranging from five marlas to seven marlas.

Several hotels in villages falling under the MC limits have come up in violation of the building bylaws. Tribune photo: Parvesh Chauhan




Punjab owes Rs 86.53 lakh to UT
Chandigarh, October 6
The Punjab Government owes over Rs 86.53 lakh to the Chandigarh Police for the supply of fuel that run the security vehicles of the Punjab Governor who also happens to be the UT Administrator. The recovery is pending for the past 16 years.
Tricity residents take to 'Swachh Bharat Abhiyan'
Chandigarh, October 6
The " Swachh Bharat Abhiyaan " that started in various government and private associations across the city on October 2 also inspired city residents. The Shivalik Enclave Market Association carried out the campaign in the NAC Market , Mani Majra.
PGI staff pledge to clean campus
Chandigarh, October 6
More than 200 officers and staff members of PGIMER and the Municipal Corporation, Chandigarh, gathered in the residential area of the PGI campus for a cleanliness drive.
It's all about praying, feasting and Eidi
Chandigarh, October 6
The city bustled with activity as Eid-ul-Zuha, also known as 'bakrid' was celebrated today. Residents celebrated the festival by offering special Eid prayers at "id-gahs" and mosques and exchanged warm greetings.



Muslims outside the Sector 20 mosque on the occasion of Eid-ul-Zuha in Chandigarh on Monday. (left) and Muslims offer prayers outside the Sector 20 mosque on the occasion of Eid-ul-Zuha in Chandigarh on Monday. Tribune photos: Manoj Mahajan
New CTU buses with major changes to hit city roads
Chandigarh, October 6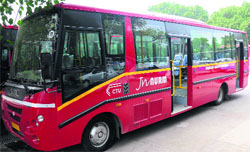 The Chandigarh Transport Undertaking (CTU) has gone in for major changes in seating arrangement of the 24-seater midi buses that are all set to run on city roads. Against traditional design of putting chairs in consecutive rows, the seating arrangement has been changed to give more space for standing and keeping luggage in the aisle.

A low-floor 24-seater midi bus of the Chandigarh Transport Undertaking will be seen on Chandigarh roads soon. Tribune photos: Manoj Mahajan
Women conductors get training in combat
Chandigarh, October 6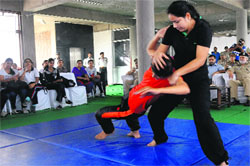 A eight-day training session for the newly-inducted women conductors of the CTU began at the Sector 43 ISBT here today. The training was aimed at educating the women in combat techniques.





The UT police impart training to women staff of the CTU at the ISBT, Sector 43, Chandigarh, on Monday. Tribune Photo: S Chandan
Footprints are an important source of evidence, says expert
Chandigarh, October 6
To solve cases of crime, footprints can be an important source of evidence. This was established in a research conducted by Dr Kewal Krishan, Senior Assistant Professor, Department of Anthropology, Panjab University.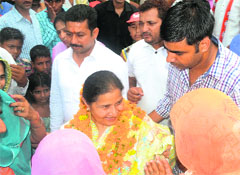 Shakti Rani doles out promises
Kalka, October 6
Promising a sub-division status for Raipur Rani and exemption from the New Capital (Periphery) Control Act, HJC-HJCP candidate Shakti Rani Sharma addressed over two dozen public meetings in the area here today.



Shakti Rani Sharma, HJCP-HJC candidate from the Kalka seat, interacts with supporters at Raipur Rani on Monday. A Tribune Photograph
BJP nominee seeks blessings of the elderly in Raipur Rani
Kalka, October 6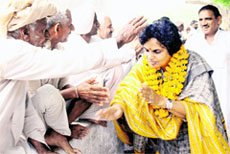 Seeking votes, BJP candidate Latika Sharma tried to attract voters by touching feet of the elderly persons at a number of villages in the Raipur Rani area where she addressed public meetings today.




BJP candidate Latika Sharma during her campaign at Hangoli village near Raipur Rani on Monday. A Tribune photograph
MLA alleges free flow of money
Kalka, October 6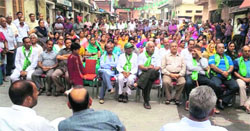 Indian National Lok Dal (INLD) candidate and sitting MLA Pradeep Chaudhary today accused the Congress, BJP and the HJC-HJCP alliance of fielding "outsiders" on the Kalka Vidhan Sabha seat.
INLD candidate and sitting MLA Kalka Pradeep Chaudhary (extreme left, facing the crowd) at a public meeting at Kona village near Pinjore on Monday. A Tribune Photograph
Vehicles used sans nod to be impounded
Kalka, October 6
Coming down heavily on the violators of the Model Code of Conduct, the general observer for the Kalka constituency, Deepak Anand, today visited the area and directed the officers concerned to impound vehicles engaged by political parties without obtaining permission for election campaign.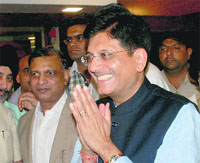 Union Minister campaigns for Gupta
Panchkula, October 6
Union Minister Piyush Goyal campaigned "alone" for Bharatiya Janata Party (BJP) candidate Gian Chand Gupta in Panchkula as the latter remained absent during the entire function held at Sector 5.



Union Minister Piyush Goyal meets BJP leaders and workers during a function in Panchkula on Monday. Tribune photo: Nitin Mittal
Five candidates served notice
Panchkula, October 6
Five candidates of major parties contesting the Assembly poll from Panchkula were issued notices for making wrong entries while declaring the campaign expenditure to the Election Expenditure Observer.
Sec 26 market committee chief returns to BJP fold
Chandigarh, October 6
Dinesh Mahajan, the chairman of Sector 26 market committee, returned to the BJP fold after remaining with the Congress for over two years.
Kirron gets govt house
Chandigarh, October 6
The UT Administration has allotted a Type VI house in Sector 7 to MP Kirron Kher.
CHB found deficient in services
Chandigarh, October 6
The Chandigarh Housing Board (CHB) has been penalised for returning a cheque much later than the cancellation of scheme that resulted into expiry of the cheques' validity. The District Consumer Disputes Redressal Forum has directed the CHB to pay Rs 1,644 and interest on Rs 11,820 (cheque value) and Rs 5000 as compensation for mental agony caused to the complainant, SR Sainbhi, of Mani Majra.
Lt Gen KJ Singh visits paraplegic centre
Chandigarh, October 6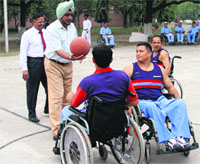 Lt Gen KJ Singh, General Officer Commanding-in-Chief, Western Command, along with his wife, Anita Singh, the regional president of Army Wives Welfare Association (Western Command), visited the Paraplegic Rehabilitation Centre, Mohali, today.




Lt Gen KJ Singh, GOC-in-C, Western Command, with inmates of the Paraplegic Rehabilitation Centre in Mohali on Monday. A Tribune photograph
Kathak brings alive poet Kabir's life
Chandigarh, October 6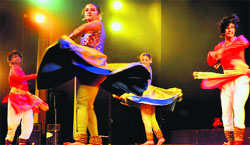 Chandigarh Sangeet Natak Akademi and Sanjh Jagori organised a Kathak presentation 'Men engage towards creative equality' on the life of Kabir at Tagore Theatre today. The rendition was staged by the Delhi-based group, Bharti Dang's Subha Dance Company. The seven-member performance depicted the Kabir's journey right from his birth.
Artistes from Bharti Dang's Subha Dance Company perform at Tagore Theatre in Chandigarh on Monday. Tribune Photo: Vicky Gharu
Dept to provide winter uniform on time
Chandigarh, October 6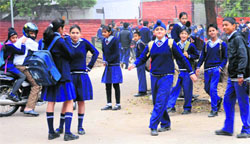 Learning from last year's bitter experience of providing winter uniforms to students of government schools at the fag end of the season, the Education Department has claimed that students would receive their uniforms on time this year.


As many as 70,000 students in government schools are eligible to receive the school uniform free of cost under the Right to Education Act, 2009. A file photo
Fund crunch hits PU widow pension scheme
Chandigarh, October 6
The financial crunch plaguing Panjab University is inordinately delaying the implementation of the widow pension scheme approved by the authorities about two years ago.
Blood donation rally organised
Chandigarh, October 6
The sixth day of the NSS camp organised by Dev Samaj College of Education, Sector 36, saw a blood donation rally being held at Kajehri village today.
Students set up camp for J&K flood-hit
Mohali, October 6
On the occasion of Eid, students hailing from Jammu and Kashmir and studying at the Aryans Group of Colleges organised a flood relief camp in Srinagar today.
52 teachers on deputation or temporary duty elsewhere: RTI
Mohali, October 6
As many as 52 teachers from various government schools in Mohali district are working on deputation with the offices of the Director-General, School Education (DGSE), and the Director of Public Instructions ( Senior Secondary) or are on temporary duty in schools.