Boost brain health to reduce dementia risk
The recently published World Alzheimer Report 2014 by the Alzheimer's Disease International reports dementia, including Alzheimer's disease, remains one of the biggest global public health challenges facing our generation
Mala Kapur Shankardass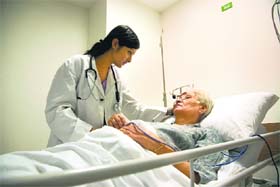 It is essential to have diagnostic provisions for testing memory loss as these can help detect dementia at an early stage
The number of people living with dementia worldwide is estimated at 44 million and it is set to almost double by 2030 and more than triple by 2050. The global cost of dementia was estimated in 2010 at US $604 billion. This is only set to rise. Based on current estimates, this figure is expected to rise to US $1trillion by 2030. It is estimated that there is somewhere in the world a new case of dementia every 4 seconds and 7.7 million new cases every year.
There is yet no known cure for the disease but we can reduce the risk or delay the onset of developing the disease. Dementia is not a normal part of ageing but focused attention on staying healthy can make a difference. It is time to make Alzheimer's disease and other forms of dementia a national public health priority. In India, it is projected that about 4 million people are affected by Alzheimer's disease. But, because of the stigma attached to it and lack of awareness about the disease many cases go undiagnosed. Some epidemiological studies indicate that only about 10 per cent of those affected get a diagnosis. People in general do not know of ways to deal with the debilitating condition of the disease.
Indian scenario
Also there are negative attitudes of the people towards the disease and its treatment. There are very few medical setups and non-government organisations specialising in dealing with the problem, which not only affects the patient but family members as caregivers too. The Alzheimer's and Related Disorders Society of India (ARDSI), established in 1992 and now with 20 chapters across the country, is one such establishment dedicated to the cause. It is a voluntary organisation involved with dementia care, support to patients and their families and with research for better quality of life of people affected by the disease. The neurological departments in big hospitals across the country involved with the diagnosis and treatment of the disease are becoming conscious of doing more on preventive strategies as a way to delay the onset of the disease.
Reducing the risk
As public health measures world over it is observed that five simple things can help with reducing the risk of getting the disease. Doctors recommend looking after the heart, being physically active, following a healthy diet, challenging the brain and enjoying social activity. While these are important steps, what are also needed are diagnostic provisions for testing memory loss as these can help diagnose the disease at an early stage and help perform interventions. Checking on the progression of the disease is an important step for monitoring it. What also needs to be prioritised is including older adults in prevention programmes. Studies across the globe indicate improvements in access to secondary and tertiary education reduce the incidence of dementia.
In India, as elsewhere in developing countries, where public health awareness is low and prevalence of dementia increasing, symptoms of dementia, including Alzheimer's disease such as memory loss, irritation, depression are seen as natural impact of ageing. It is time to raise awareness about the disease and while the medical community works towards finding a cure, a lot needs to be done to reduce the risks.
As the latest World Alzheimer Report states there is evidence to show that population risk of dementia can be modified through reduction in tobacco use and increased physical activity, alongside better treatment for hypertension, high cholesterol and diabetes. Countries need to focus on brain health-promotion strategies and adopt good public health measures as modifiable risk factors for dementia. While many middle income countries have adopted heart disease, stroke and cancer as preventable non-communicable diseases, they also need to have national dementia strategy to reduce the risk of this epidemic. Continuous efforts to improve public health, along with tackling the burden of non-communicable diseases can be a cost- effective method.
Why wait till tomorrow and why not make changes from today in maintaining healthy lifestyles to reduce the risk of dementia and Alzheimer's disease? Adopting a life course perspective to preventive strategies can reduce the number of people living with the disease, the costs to our health systems and the impact on the affected families and society. If we can enter old age with healthier brains we are likely to live longer, independent lives with reduced risk of developing dementia. Adopt brain-healthy living and enjoy happy ageing.
Warning signs to watch out for
Forgetfulness of recently acquired information
Disorientation of time, place and, at a later stage, of persons
Poor self care & inappropriate dressing up
Problem with logical thinking and reasoning
Difficulty in performing routine tasks
Difficulty with speech and written language recognition
Difficulty reading, judging distance, unable to recognise mirror image
Misplacement of objects
Changes in moods, becoming more irritable, fearful, confused, suspicious
Loss of initiatives and social withdrawal.
What are the risk factors
Research indicates a close relationship between lifestyles and dementia risk. Lifestyles are modifiable and thus important links for preventive programmes and interventions. In relation to dementia, a common term in practice is "use it or lose it". Research evidence indicates beneficial effects of intellectually stimulating activities on brain health.
A number of studies suggest tobacco use could increase dementia incidence or progression. Current smokers and ex-smokers, compared to non-smokers, have a higher risk for the incidence of dementia, including Alzheimer's disease.
Heavy drinkers too are at higher risk. Deleterious effects of alcohol on brain health are well known.
Physical activity entailing social and psychological engagements and interactions increases mental fitness. Neurodegenerative diseases reduce physical capability and bring about isolation. Physical activity is seen to be beneficial for the cerebrovascular system and shows encouraging results on cognitive functions. Cognitively stimulating activities are seen to have positive effects on the brain.
There is insufficient evidence to show benefits of intakes of certain diets and vitamins on improved cognitive functions and brain health. Studies do indicate positive results of use of micro and macro nutrients.
Studies report the association of stroke in developing dementia. It is observed that those who experience a stroke are at approximately twice the risk of dementia. Studies have also found a specific association of heart disease with the risk of Alzheimer's disease.
There is strong evidence for association of midlife hypertension and incidence of dementia in late life. There is consistent association between high midlife total cholesterol and increased risk of dementia. Evidence also indicates association between diabetes in late-life and subsequent onset of dementia.
— The writer is a Gerontologist and Chair, Asia International Network for Prevention of Elder Abuse