Record voting throws up rural-urban divide
Chandigarh, October 16
Even as Haryana recorded the highest-ever voter turnout at 76.20% in yesterday's polling , the rural-urban divide was clearly visible in the voting pattern with urban areas lagging far behind their rural counterparts in the voting percentage.
Day after elections, candidates relax
Jhajjar, October 16
After days of hectic campaigning, prominent candidates in Jhajjar, Rewari and Mahendragarh districts on Thursday spent their time relaxing, discussing polling

trends, and assessing the ground reality by meeting their supporters and party workers.

Education Minister Geeta Bhukkal with her husband at their house in Jhajjar on Thursday and INLD's nominee Manoj Wadhwa (right) with his family in Karnal. Tribune PHOTOs: Sumit Tharan/RAVI KUMAR

Multiple plot allotment case
HC directs HUDA to place on record its policies
Chandigarh, October 16
The Punjab and Haryana High Court today called for the existing and previous policies of the Haryana Urban Development Authority (HUDA) on the allotment of multiple plots. Besides, Justice Daya Chaudhary asked for the submission of a fresh status report on the FIRs and other related issue. Details were also sought on the action against two estate officers in the matter.
Illegal mining: HC raps authorities
Seeks report from Rohtak Divisional Commissioner, Karnal DC
Chandigarh, October 16
Just a month after the Haryana Government was told to look into land grab and illegal mining along the banks of the Yamuna in Karnal district, the Punjab and Haryana High Court has asserted that collusion between authorities concerned and "affluent persons" was apparent.
CBI willing to probe Haryana forest scam
Chandigarh, October 16
The CBI has expressed willingness to take over investigation into the alleged multi-crore forest scam unearthed by whistleblower Indian Forest Service(IFS) officer Sanjiv Chaturvedi during his stint in the state.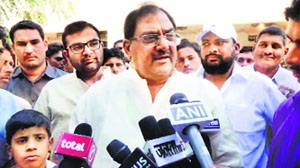 Exit polls wrong, INLD will form govt: Abhay
Sirsa, October 16
Senior INLD leader Abhay Singh Chautala today dismissed various exit polls showing the BJP as the single largest party - with or without a clear majority - and said such surveys had been wrong in the past.

INLD leader Abhay Singh Chautala addresses the media in Sirsa on Thursday. A Tribune photograph
CISF, state police maintain vigil over EVMs in Panipat
Panipat, October 16
Strong rooms where electronic voting machines (EVMs) of the four Assembly segments in this district have been kept are under tight security of the Central Industrial Security Force (CISF) and Haryana Police. The EVMs of the Panipat City segment are kept at SD Senior Secondary School on the GT Road, those of Panipat Rural at SD Vidya Mandir Junior Wing, those of Israna at Sports Complex Arya College and EVMs of the Samalkha segment are at Arya College Auditorium.
Sirsa does it once again, tops in turnout
Sirsa, October 16
With 84.34 per cent voters choosing to come out of the cozy confines of their homes, Sirsa once again recorded the highest poll percentage in the state in yesterday's Assembly poll. Fatehabad finished second with 82.4 per cent voter participation while Kaithal with 82 per cent turnout and Yamunanagar with 81.9 per cent finished third and fourth. Sirsa had achieved first position in turnout in the 2009 Assembly poll as well with 84.1 per cent votes, while Fatehabad stood second with 81 per cent polling.
Mewat admn recommends repoll in five Ferozepur Jhirka booths
Gurgaon, October 16
Following reports of rampant bogus voting in several booths, the Mewat administration has recommended re-polls in five booths of Ferozepur Jhirka. Though official sources said re-polling had been finalised for October 18, the DC said he was yet to get a written confirmation.
BJP demands repoll at four Hisar booths
Hisar, October 16
The local BJP candidate has demanded a re-poll at four booths in the Industrial area and the ITI alleging large scale rigging and bogus polling by the Congress in conveyance of the district authorities.
poll-related violence
Miscreants attack Keorak sarpanch's house
Kaithal, October 16
A group of miscreants allegedly threw stones at Keorak village sarpanch Mohan Lal Sharma's house late last night. Cabinet Minister Randeep Singh Surjewala said the assailants threw stones at Sharma's house. The police was summoned, who rescued Sharma and his family.
Three-tier security for safety of EVMs
Karnal, October 16
The EVMs of all the 877 polling booths of the five Assembly segments of Karnal district were brought here late last night. The district administration has in place a three-tier security system and the machines have been stored in sealed strong rooms at the counting centres having CCTV surveillance.
High turnout
Different parties, numerous theories
Kurukshetra October 16
A day after voters came out in large numbers to get inked, parties offered their own explanations for the high turnout. Kurukshetra district recorded 80.64 per cent turnout, which is 3.4 per cent higher than the 2009 Assembly election. As per data provided by the Election Department, 5,18,603 of the 6,43,107 eligible voters exercised their franchise at 691 booths. State INLD chief and Thanesar candidate Ashok Arora said, "The support from all quarters and the anti-Congress wave led to the heavy turnout. The party will score a comprehensive win in Haryana and emerge the largest party." Arora, who met party chief Om Prakash Chautala in Tihar Jail today, said, "The exit polls will be proved wrong and the party is confident of victory." TNS
Low turnout: Thanesar let down K'shetra
Kurukshetra October 16
The Thanesar segment has let down Kuruksehtra district and the parliamentary constituency in the Assembly elections. While eight out of the nine segments of the Kuruksehtra LS seat witnessed above 80 per cent voter turnout, Thanesar recorded just above 75 per cent polling. As per the data, out of 1,70,126 eligible, 1,28,312 exercised their franchise at 1,72 polling booths. Even though the turnout improved by 1.98 per cent over the 2009 Assembly polls, it was still below the percentage recorded in 1967 (77.57 per cent), 1972 (75.91 per cent) and 1996 (76.35 per cent). Low voter turnout in the urban areas is the prime reason behind this decreased percentage. The LS constituency comprises nine constituencies, four in Kurukshetra district , four in Kaithal district, and one (Radaur) in Yamunanagar district. TNS
Mandis receive 14.15 lakh MT of paddy
Chandigarh, October 16
More than 14.15 lakh metric tonnes of paddy has so far arrived in the mandis of Haryana of which over 12.78 lakh metric tonnes has been purchased by the government procuring agencies. An official spokesman said over 1.36 metric tonnes of paddy had been purchased by millers and dealers. He said a maximum of over 4.04 lakh metric tonnes of paddy had arrived in the mandis of Kurukshetra, followed by over 3.81 lakh metric tonnes in Karnal and over 2.01 lakh metric tonnes in Kaithal. Similarly, over 1.83 lakh metric tonnes of paddy had arrived in Ambala, 81,478 metric tonnes in Fatehabad, 69,430 metric tonnes in Yamunanagar, 47,268 metric tonnes in Panchkula, 18,279 metric tonnes in Jind, 11,493 metric tonnes in Sirsa, 8245 metric tonnes in Panipat, 7417 metric tonnes in Sonepat and 701 metric tonnes in Palwal. TNS
In Karnal, efforts to raise women participation pay
Karnal, October 16
At 76.1%, Karnal district surpassed the turnout of the last Assembly and parliamentary elections. The efforts of the district administration to raise the involvement of women in voting bore fruit as 74.93% of women voters exercised their franchise in comparison to 69.10% in the parliamentary elections held early this year. As per the data of the Election Commission, around one-fourth of the total electorate remained absent from voting as 76.1% voters used their right of vote this time. The voting percentage was 71.5% in the 2009 Assembly elections, while it was 72.25% in the parliamentary elections held this year. TNS
Two held for casting bogus votes
Sonepat, October 16
Two persons were caught red-handed by the presiding officers while they were casting bogus votes at different polling booths set up in Janki Dass Public School, last evening. Suresh of Ramnagar was caught at booth no. 28 and Balram of Sector-14 was nabbed at polling booth no. 31 in the school by the booth presiding officers. On the complaint of the presiding officers, the police arrested the alleged accused and separate cases were registered against the duo. Both were produced in court, which released them on bail today. OC
Youth stabbed to death
SONEPAT, OCTOBER 16
Happy (23) of Sisana village was stabbed to death allegedly by Krishan of the same village late last night. The victim was standing at a bus queue shelter in the village along with his friends when the accused attacked him with a knife. He was taken to the civil hospital, Kharkhoda, where the doctors declared him as brought dead. On the complaint of the victim's father, Balwan Singh, a case of murder was registered against the accused who was arrested today. — TNS
8 taken ill after consuming tea
Sirsa, October 16
Eight members of a family were taken ill after consuming poisonous tea at Ellenabad town of Sirsa. They have been shifted to the Sirsa General Hospital. The condition of one of the members is said to be critical. They said they had taken tea in the morning. It is believed that some poisonous substance could have accidently fallen in it. — OC