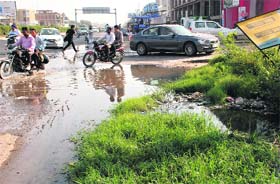 Big Stink: Motorists had to put up with the stench of sewage-laced water at Zirakpur on the Ambala-Chandigarh highway on Monday. Tribune photo: Nitin Mittal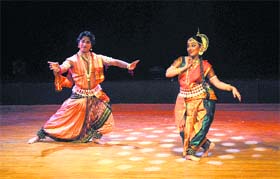 Classical act: Artistes present Rabindranath Tagore's dance-drama, 'Chitrangada', in Odissi at Tagore Theatre in Chandigarh on Monday. Padma Shri recipient Ranjana Gauhar and Group directed and choreographed the event. Tribune photo: Pradeep Tewari
child labour
Two tea vendors sentenced till the rising of the court
Chandigarh, October 20
Coming down heavily on those indulging in child labour, the court of Chief Judicial Magistrate Anubhav Sharma sentenced two tea vendors till the rising of the court and fined them Rs 10,000 each for deploying children for work.
Worm-infested ration for 5,000 families
Panchkula, October 20
In a clear case of insensitivity on the part of the Panchkula administration, worm-infested and fungus-laden ration has been provided by it to low income group families in Kharag Mangoli. The ration, which is unfit for human consumption, was meant for 5,000 families.
Over 1,000 vehicles set to be delivered on Dhanteras today
Chandigarh, October 20
As the festive fervour reaches its crescendo on Dhanteras tomorrow, the month-long wait for more than 1,000 families in the tricity will be over and they will own their brand new vehicles.
SDO booked on charge of rape
Panchkula, October 20
A Sub-Divisional Officer (SDO) with the Electricity Department was booked on a charge of raping a 22-year-old girl by the Sector 20 police here today. According to the SHO of the Sector 20 police station, the accused SDO, Anil Kumar, had befriended the girl when she had gone to the office to pay her electricity bill.


Open House response
Spurious sweets: Go for zero-tolerance policy

Harsher punishment for violators needed
Adulteration of material is result of difference between demand and supply, and quantum of profit margin. The legislators and Parliamentarians need to enact laws for harsher punishments to those indulging in adulteration and playing with people's lives.

Health officials destroy sweets after a fly was found in it during a surprise check at the Industrial Area, Phase II, Chandigarh. A file photograph
comment
Unaware consumers equally responsible
For local health authorities, food is adulterated only during the festival season, if the number of raids conducted by the authorities during this time of the year is an indication.

festive woes
City Beautiful caught in traffic snarls on the eve of Dhanteras
Chandigarh, October 20
In the run up to the Diwali festival, commuters have been witnessing traffic snarls with the traffic moving from bumper-to-bumper over the last few days.
Ahead of Dhanteras, city roads and markets were full as residents were out shopping. Traffic jams were witnessed on most roads. Tribune photos: Manoj Mahajan, Parvesh Chauhan and S Chandan



Sector 18 market parking lot at 1.50 pm
| | |
| --- | --- |
| Tribune light point at 5.15 pm | Sector 26/27 roundabout at 5.15 pm |
| Sector 19/20 roundabout at 2.10 pm | Transport chowk light point at 5.15 pm |
Guest houses to be sealed
Chandigarh, October 20
The municipal corporation is all set to seal 120 guest houses running in villages under the civic body's jurisdiction. MC officials in a meeting held this week have decided to seal these guest houses.


New CTU buses hit city roads
Chandigarh, October 20
After a gap of over four years, new low-floor midi buses of the Chandigarh Transport Undertaking (CTU) today hit the roads. The first lot of 20 ac and non-ac buses were flagged off by Bhawana Garg, Secretary, Transport, and Director, Transport, TPS Phoolka, from the Sector 43 Inter-state bus terminus (ISBT).

NOW, TRAVEL IN STYLE: New CTU midi buses that were launched at the ISBT, Sector 43, in Chandigarh on Monday. The 24-seater buses have come with major changes in the seating arrangements. Tribune photo: Vicky Gharu

2052 Flight is best flying outfit
Chandigarh, October 20
The 2052 Utility Helicopter Flight of 205 Army Aviation Squadron has bagged the Command Flight Safety Trophy for 2013-14. The trophy was received by the Flight Commander Lt Col Vikram Khatri from the General Officer Commanding-in-Chief, Western Command, Lt Gen KJ Singh, during the Western Command Flight Safety Conference held at Chandimandir today.




The GOC-in-C, Western Command, Lt Gen KJ Singh (second from right), hands over the Command Flight Safety Trophy to Lt Col Vikram Khatri of the 2052 Helicopter Flight at Chandimandir in Panchkula on Monday. A Tribune photograph
UT Adviser KK Sharma not to go to Goa, to take charge as Addl Secy at Delhi
Chandigarh, October 20
After a tenure of three and a half years in the city, UT Adviser KK Sharma has been transferred to Union Ministry of Urban Development (MoUD) as the Additional Secretary today.
Urban areas riding high on Modi wave
Panchkula, October 20
Kulbhushan Goyal, Indian National Lok Dal (INLD) candidate, got three times less votes in his own VIP Sector 6 than the BJP candidate Gian Chand Gupta. However, Kulbhushan fared well in comparision of other candidates and gave tough fight to Gupta in many other booths where the others got just 1 vote.
Panchkula residents want to erase 'parasite on Chandigarh' tag
Panchkula, October 20
Panchkula which was termed as 'Paris of Haryana' has always remained a parasite for Chandigarh. Be it an emergency medical case or any major fire, the township always has to seek help from Chandigarh.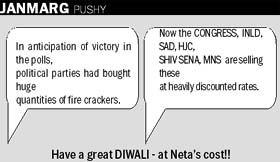 Scrap SSA, says former CBI chief
Mohali, October 20
The Sarva Shiksha Abhiyan (SSA) of the Central Government should be scrapped as under that system students fail to get proper education. This was stated by Joginder Singh, former Director of the CBI, while launching admissions to the January 2015 batch of the Aryans Group of Colleges, here today.
Majithia opens sub-tehsil office in Zirakpur
Zirakpur, October 20
The Punjab government opened office of sub-tehsil in Zirakpur today, providing a big relief to 34 nearby villages falling in its jurisdiction. The Shiromani Akali Dal (SAD) has fulfilled the pre-election promise committed by the SAD, claimed Bikram Singh Majithia, revenue minister, Punjab.
Acupressure slippers a hit at CII consumer fair
Chandigarh, October 20
Those aged above 40 and needing lifestyle modifications having been thronging to take trials of the acupressure slippers available at one of the stalls at the CII Consumer Fair at the Sector 17 Parade Ground.
Allottees hold protest against realtor
Chandigarh, October 20
Around 50 members of the Unitech Allottees Welfare Society, Mohali, gathered in front of Unicity, the Unitech office site in Sector 97, to protest against non-allotment of floors and flats to the allottees.
PGI to have nutrition division
Chandigarh, October 20
With the PGIMER Advanced Pediatrics Centre reporting cases of malnourishment in a majority of children coming for treatment for various ailments, the Union Ministry of Health and Family Welfare has approved the proposal to set up a nutrition division as a solution.
Sweets destroyed
Chandigarh, October 20
A team consisting of the Food Safety Cell inspected a unit in Gobindpura,Mani Majra and a unit in Raipur Kalan village,Chandigarh, preparing 'patasha' and 'khilona'. As many as 5 quintals of patasha and khilona were destroyed under the Epidemic Diseases Act, which were found exposed to dust and flies.


Principal, 2 teachers summoned
Chandigarh, October 20
The Chandigarh Commission for Protection of Child Rights (CCPCR) summoned the Principal of the KBDAV School, Sector 7, and two teachers on the complaint of a parent for allegedly thrashing their child, time and again, at the school and taking no action against the faculty for the same.


PU youth fest concludes on high note
Chandigarh, October 20
Panjab University Zonal Youth and Heritage Festival 2014 Chandigarh (Zone A) concluded today at Sri Guru Gobind Singh College, Sector 26, Chandigarh. On the final day of the event, teams from different colleges competed for the coveted positions in group dance, classical dance, giddha and bhangra.

Girls perform during the Panjab University Zonal Youth and Heritage Festival - 2014 at SGGS College, Sector 26, in Chandigarh on Monday. Tribune photo: Manoj Mahajan
Fund Crunch
PU to scrap dental hospital project
Chandigarh, October 20
Panjab University has decided to scrap the prestigious 100-bedded Dr Harvansh Singh Judge institute of Dental Hospital project. The proposal to re-model the existing infrastructure constructed for the hospital will be tabled in the Syndicate meeting scheduled for October 26 for its final approval.
Dr SS Bhatti's book on the growth of city released
Chandigarh, October 20
Former principal, Chandigarh College of Architecture, Dr SS Bhatti's book 'Chandigarh: An Irony of History' focuses on evaluation of actual Chandigarh that grew out of the Le Corbusier's planning theories and their realisation on ground.
From PU & Colleges
Prof Sandhu gets lifetime achievement award
Honouring his contribution in the field of sports psychology, the Sports Psychology Association of India, during the International Congress of Sports Psychology at Delhi University, honoured Prof Gurbaksh Singh Sandhu, a leading sports scientist of Panjab University, with a lifetime achievement award for 2010-2011.


From schools
Diwali celebrations
Mothers and grandmothers of Kindergarten children spent some special moments with their little ones while decorating diyas, candles, making rangoli and decorating thali at Tribune Model School during Diwali celebrations. Principal Vandana Saxena encouraged the grandmothers and mothers for taking part in the anti-cracker campaign that was carried out by the eco club of the school.

Parents and mothers along with students take part in rangoli-making during the Diwali celebrations at Tribune Model School, Sector 29, in Chandigarh on Monday. Tribune photo: Manoj Mahajan