India may sell BrahMos missiles to Vietnam
With focus on defence cooperation, Vietnamese PM Nguyen Tan Dung to meet Modi today
Ajay Banerjee
Tribune News Service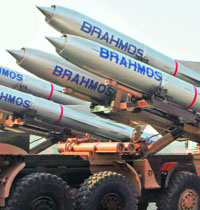 BrahMos is a short-range supersonic cruise missile that can be launched from submarines, ships, aircraft or land

India to accept more oil blocks in South China Sea
New Delhi: India and Vietnam will sign an agreement here on Tuesday for oil exploration in South China Sea with the visiting Vietnamese Prime Minister Nguyen Tan Dung declaring that Indian ships would be allowed into the area despite Chinese protestations. According to sources, India has decided to accept two to three Vietnamese oil blocks in the South China Sea. pti
New Delhi, October 27
India may decide to sell supersonic BrahMos missiles to the Vietnamese navy, which may have implications in the disputed waters of the South China.
Vietnamís Prime Minister Nguyen Tan Dung today reached New Delhi on a two-day visit here. He will hold talks on a range of issues with Prime Minister Narendra Modi tomorrow.
As India widens its arc of influence, Vietnam has emerged as pillar of New Delhi's 'Look East Policy'. New age missiles, warships and additional training of Navy personnel will be on the agenda during Dung's visit.
The policy entails long-term strategic engagement with countries that are located east of it. If India decides to sell BrahMos missiles to the Vietnamese navy, this could change the dynamics in the disputed waters of the South China Sea where India has interests in freedom of navigation for cargo carrying ships through the waters and oil exploration blocks.
Vietnam is one of the six countries along with China which dispute each other's territorial limits at sea and the matter is pending in the United Nations for a final decision. India, has stated a target of achieving a $100 billon trade with the ASEAN - all located east of India - by 2015 and needs free shipping rights.
Defence equipment supplies and military training are on the agenda tomorrow. India has extended a $100 million (approx Rs 600 crore) line of credit to Vietnam for the purchase of military hardware. This money could go for acquisition of BrahMos missiles and for four off-shore patrol vessels. A few Indian naval warships are equipped with these missiles which are produced under a joint India-Russia venture. A land-fired version has been inducted into the Indian Army while the air-use version is being retro-fitted onto the Sukhoi-30-MKI fighter jets.
Indian Navy for the past three years has been training their Vietnamese counterparts in operating the Russian-origin Kilo-class of submarines which Hanoi has procured from Moscow. Over 500 personnel have been trained and Vietnam wants more. Vietnam has two-of the Kilo class vessels and third is expected to reach there by November and the fleet of six will be completed by next year. Indian Navy also operates the Russian submarine, hence was the ideal trainer for Vietnam. New Delhi could also allow transfer four naval offshore patrol vessels to Vietnam.
Though the $100 million credit line was first announced in 2013, the first hint that India could be open up exports was in June this year. Prime Minister Narendra Modi while on a visit to the Aircraft carrier INS Vikramaditya said the country should export indigenously made weapons to smaller countries.
There is a prospect of India launching Vietnam's satellites into space and this is among the long-list of items identified as 'expansion of bilateral relations'.