Book untrained midwives for murder, Muktsar cops told
Muktsar, October 27
To promote institutional deliveries, Muktsar District Magistrate has directed the police to register a case of murder against an untrained midwife if any casualty takes place at the time of delivery.



Congress block chiefs in Delhi, demand PPCC chief's ouster
New Delhi, October 27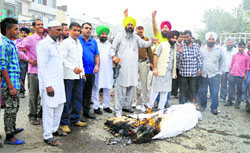 Despite Congress vice-president Rahul Gandhi's appeal to party's Punjab leaders to remain united, block presidents from the state have landed in Delhi to demand the removal of Punjab Pradesh Congress Committee president (PPCC) Partap Singh Bajwa.

A section of angry Congress workers burn an effigy of PPCC president Partap Singh Bajwa in Ludhiana on Monday. Accusing Bajwa of encouraging groupism, the workers are demanding that he be immediately removed from his post. Tribune photo

NDA biased against state, alleges Cong
Chandigarh, October 27
With Chief Minister Parkash Singh Badal reportedly being cold-shouldered by the Narendra Modi-led NDA government, senior Congress MLA Sukhjinder Singh Randhawa today said it was time that Badal made a public confession that former Prime Minister Dr Manmohan Singh was more sympathetic with Punjab than Modi.
Bhagwant Mann hears people's grievances
Sangrur, October 27
Aam Aadmi Party (AAP) MP from Sangrur Bhagwant Mann heard grievances and problems of the people of his parliamentary constituency at his office here today. He received about 70 cases relating to jobs on compassionate grounds, corruption in offices, poor condition of streets, drains and sewerage, lack of health and education facilities.
Youth Congress, AAP protest poor rail connectivity
Ferozepur, October 27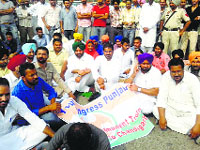 The activists of several political parties protested the Railway Ministry's failure to commence the Ferozepur-Chandigarh Express train here today. Union Railway Minister Sadananda Gowda had announced the train in the 2014 Rail Budget in July.





Youth Congress workers on a dharna outside the DRM's office in Ferozepur on Monday. Tribune photo

Harsimrat must quit, says Bajwa
Ludhiana, October 27
Punjab Pradesh Congress Committee (PPCC) chief Partap Singh Bajwa today said Union Minister Harsimrat Kaur Badal should resign in protest against the "humiliating treatment" meted out to Chief Minister Parkash Singh Badal at the swearing-in ceremony of Manohar Lal Khattar in Panchkula yesterday.
Raje Govt inducts ministers from border districts
Abohar, October 27

While adding 14 members to her Cabinet, Rajasthan Chief Minister Vasundhara Raje today gave representation to the remote twin districts of Sriganganagar and Hanumangarh. Ram Pratap Sahu of Hanumangarh and Surinderpal Singh TT of Sriganganagar were sworn in.

BJP workers celebrate the induction of Ram Pratap Sadhu as Cabinet Minister in Hanumangarh on Monday. Tribune Photo

More babus opting for central posting
Chandigarh, October 27
Punjab no longer seems to be an attractive place of posting for some senior IAS and IPS officers belonging to the state cadre. A rise has been witnessed in the number of officers opting for deputation at the Centre.
Rice millers oppose cut in paddy milling charges
Chandigarh, October 27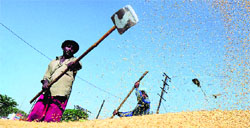 Rice millers in Punjab are up in arms against the Food Corporation of India (FCI) for reducing transportation and milling charges for the rice meant for the central pool.



The Food Corporation of India has reduced the milling charges from Rs 15 to Rs 10 per quintal. A tribune photograph


Brig Arora is Defence Welfare chief
Chandigarh, October 27
Brig JS Arora (Retd) has been appointed Director, Defence Services Welfare, Punjab. He takes over from Brig Manjit Singh (Retd), whose term of engagement ended last month.
Police probing accused Pannu's political links
Chandigarh, October 27
The Punjab Police is investigating Gurtej Singh Pannu's links with politicians. A resident of Sector 9 here, he is among 12 persons booked in an alleged arms smuggling racket.
AISSF calls for statewide bandh on Nov 1
Jalandhar, October 27

The All-India Sikh Students Federation (AISSF) and the Sikh Students Federation Mehta (SSF) today gave a call for a statewide bandh on November 1 to protest the 1984 anti-Sikh riots following the assassination of then Prime Minister Indira Gandhi.
Members of the AISSF and Sikh Student federation (Mehta) give a call for Punjab bandh on November 1 in protest against the 1984 riots in Jalandhar on Monday. Tribune Photo: Sarabjit Singh

Differently abled seek jobs, threaten protest
Chandigarh, October 27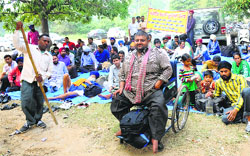 The Handicapped Welfare Union, Punjab, today alleged the government had recruited about 9,000 persons in municipal committees under the Mohalla Sudhar Scheme without following the proper procedure.



Members of the Handicapped Welfare Union protest outside Chief Minister's house in Chandigarh on Monday. Tribune Photo: Manoj Mahajan

Vet pharmacist on fast shifted to hospital
Fatehgarh Sahib, October 27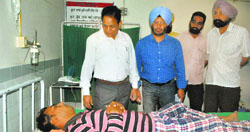 The police this evening shifted rural veterinary pharmacist Manish Garg, who had been on an indefinite fast in front of the Fatehgarh Sahib administrative complex for the past many days, to the civil hospital and arrested his four associates.

Veterinary pharmacist Munish Garg at the Civil Hospital, Fatehgarh Sahib. A Tribune Photograph

Motorists using loud horns to be penalised
Chandigarh, October 27
Motorists using loud horns will have to pay heavy penalties and their driving licence could be cancelled under new guidelines issued by the Punjab government.
BBMB posts to be filled
Ropar, October 27
The staff crunch at the Bhakra Beas Management Board is likely to ease out soon as the state government has decided to fill the vacancies under its quota. Thirty per cent seats in the board have been vacant as the partner states of Punjab, Haryana and Rajasthan have failed to fill vacancies under their respective quotas for long.
Dalits resent delay in auction of village panchayat land
Sangrur, October 27
The kharif season has ended, but six acres of cultivable panchayat land (reserved for SCs) of Mirza Patti Namol village, near Sunam, have not been auctioned by the authorities concerned to allow Dalits to cultivate it during the rabi season.
Jyani conducts surprise check at Rajpura hospital
Patiala, October 27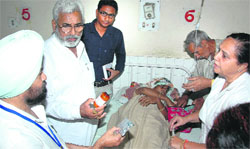 Health and Family Welfare Minister Surjit Kumar Jyani conducted a surprise check at the Civil Hospital, Rajpura, today. He remained there for about three hours, visited wards, checked attendance registers and other documents.


Health Minister Surjit Kumar Jyani at the Rajpura Civil Hospital on Monday. Tribune Photo: JS Virdi

Keen to revive ropeway project: Minister
Chandigarh, October 27
The Punjab Government has decided to revive the Anandpur Sahib-Naina Devi ropeway project as part of its tourism promotion policy.
Cattle fair ground fails to serve the purpose
Nabipur (Fatehgarh Sahib), October 27
The lackadaisical approach of the authorities has come to the fore as not a single cattle fair has been organised at the cattle fair ground located at Nabipur village in the district since its inauguration in December 2012.



The cattle fair ground at Nabipur village in Fatehgarh Sahib. A Tribune photograph
Asha workers protest poor wages
Fazilka, October 27
Several activists of the Asha Workers Union, Fazilka district unit, protested poor wages outside the office of the Civil Surgeon here today. Asha workers take care of pregnant women and infants at civil hospitals of the state.
Amogh Division celebrates Infantry Day in Abohar
Abohar, October 27
The Amogh Division celebrated the 68th Infantry Day at Sriganganagar Military Station today. Senior Army officers honoured the soldiers, who made the supreme sacrifice, during a wreath laying ceremony.
23 days on, no clue to missing boy
Hoshiarpur, October 27
The police have failed to locate a 13-year-old boy, Sonu Kumar, who went missing from Bhim Nagar area on the out skirts of the city 23 days ago.


Hefty power bill complaints flood consumer forum
Bathinda, October 27
A large number of residents in Bathinda have been knocking the doors of the Consumer Forum against hefty power bills amounting up to Rs 1.5 lakh.
Matter must be taken to its logical end: HC
Chandigarh, October 27
The Punjab and Haryana High Court today made it clear that the case regarding the selection of medical officers in Punjab could not be simply disposed of after submission of report by a special investigating team (SIT).


No to pay ransom costs migrant life
Batala, October 27
A migrant labourer, Pappu Patel, was killed allegedly by two members of a gang after he refused to pay them extortion money. He used to live in Cinema Road area here.
Day after accident, bus driver booked
Tarn Taran, October 27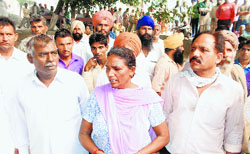 The police today booked the driver of the bus carrying a marriage party that fell into a gorge near Mianpur village yesterday, leaving six persons dead. The driver, Kishan Singh of Jammu, was booked under various sections of the IPC.



Relatives of the victims killed in the bus accident in Tarn Taran. tribune photo: Gurbax Puri

Minor raped in Sangrur
Sangrur, October 27
A 13-year-old student of Class VIII was allegedly raped by a 23-year-old man at Sheron village (near Sunam) last night. A case has been registered under Sections 363, 366-A, 376, 458 and 34 of the IPC and Section 4 of the Protection of Children from Sexual Offences Act.
Akali sarpanch shot dead in Faridkot
Faridkot, October 27
An Akali sarpanch was shot dead in Faridkot today. Allegedly involved in several controversies and land disputes, Baldev Singh alias Tanny (40), sarpanch of Behlewala village in Faridkot, was shot dead at point blank range by two persons near his house in a posh residential area.
Cops arrest five youths to prevent gunfight
Hoshiarpur, October 27
Apprehending a gunfight between two groups, the Mukerian police have arrested 5 members with a pistol, a .12 bore gun and sharp-edged weapons. The police also booked 21 members of the other group of youths under the Arms Act. They are still at large. The police had received a tip-off that two armed groups could get into a scuffle at a Kabaddi tournament at Chakk Alla Baksh village near Mukerian. Thereafter, separate police parties were sent to the spot.