Cotton prices plummet 20% on low demand
Faridkot, October 22
With low demand for cotton from China, the world's largest consumer of cotton and yarn, the cotton prices have touched an all-time low in the local markets.
Badal village road caves in, residents seek probe
Badal (Muktsar), October 22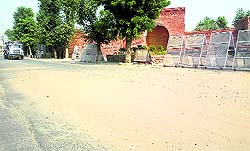 Despite recent repair, the road linking Chief Minister Parkash Singh Badal's private residence in Badal village to other areas has caved in at several places. This has raised doubts over the quality of the work carried out by contractors. Villagers seek an independent probe into the matter.


The road that recently got damaged in Badal village. Tribune photo

BJP must rethink ties with SAD, says Gosain
Ludhiana, October 22
Veteran BJP leader and former Health Minister Satpal Gosain has said the BJP alliance with the Akali Dal in the state needs a rethink.
Capt, Ramoowalia back BJP demand on Chandigarh
Chandigarh, October 22
Congress Deputy Leader in the Lok Sabha Capt Amarinder Singh today welcomed the Punjab BJP's demand for transfer of Chandigarh to Punjab and its support for the Rajiv-Longowal accord.
farmers' Suicides
MP seeks new policy on aid
Chandigarh, October 22
BJP Member of Parliament Avinash Rai Khanna has asked Chief Minister Parkash Singh Badal to frame a policy for extending financial assistance to the families of farmers who committed suicide because of debt.
SAD (A) to hold protest tomorrow
Fatehgarh Sahib, October 22
The Shiromani Akali Dal (Amritsar) will hold a protest rally in Fazilka on October 24 against the raking up of Rajiv-Longowal accord by the BJP which "aims at annexing some areas from the state".
Union seeks PTU VC's resignation
Jalandhar, October 22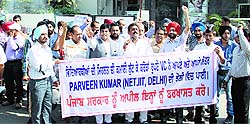 Members of the PTU Learning Centre Association have sought the resignation of Vice Chancellor Rajneesh Arora. They burnt an effigy of the VC and held a dharna in front of his residence yesterday. The members had announced that the sit-in protest would continue till October 31.

Activists of PTU Learning Centre Association protest in Jalandhar on Wednesday. Photo: Sarabjit Singh

SGPC to stick to 12-minute fireworks display
Amritsar, October 22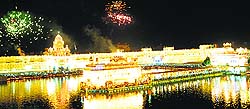 Unable to zero in on a "pollution-free alternative", the SGPC is left with no option but to curtail the timing of fireworks at the Golden Temple complex on the occasion of Diwali and Bandi Chhor Diwas.


Firecracker show at the Golden Temple in Amritsar on Diwali. A Trbune file photo

BSF not to offer sweets to Pakistan Rangers on Diwali
Amritsar, October 22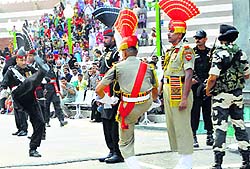 In what seems to be a tit-for-tat response, the BSF has decided not to offer sweets to the Pakistan Rangers at the Attari-Wagah Border in Punjab on Diwali tomorrow. The Pakistan Rangers did not offer sweets to the BSF on Eid earlier this month. Talking to The Tribune, BSF IG (Punjab Frontier) Ashok Kumar said they would not offer sweets to the Pakistan Rangers this Diwali.


The Retreat ceremony at the Attari border check-post. File photo

Curtail list of holidays, demands PSU
Chandigarh, October 22
Strange but true, students have raised their voice against the increasing number of holidays in schools and colleges.
Duty-bound? not really: Policemen lay a mat for the inaugural ceremony of the Golden Temple Entrance Plaza in Amritsar on Wednesday. Photo: Vishal Kumar

Anti-cracker drive
Chandigarh, October 22
The Punjab Sikhiya Vikas Manch has launched a campaign to celebrate cracker and pollution-free Diwali in some villages of Nabha. Dr Supreet Kaur Mann, who is posted as a doctor at Madour village and activists of the manch, lead school students to hold marches in villages to education people against the busting of crackers to keep environment clean.
National award for Dr Dhillon
Chandigarh, October 22
The National Academy of Agricultural Sciences has selected Dr Baldev Singh Dhillon, Vice Chancellor of Punjab Agricultural University ( PAU), Ludhiana, for Dr BP Pal Memorial Award for his outstanding contribution to agricultural research and development.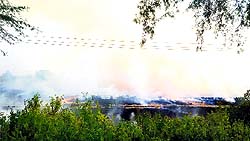 Stubble trouble: Despite a ban, farmers in Muktsar continue to burn paddy straw. A Tribune photograph

219 school headmasters get job letters
Chandigarh, October 22
The Education Department today handed over appointment letters to 219 headmasters appointed under the Rashtriya Madhyamik Shiksha Abhiyan.
Belgium gurdwara closed for 'harbouring' illegal migrants
London, October 22
A gurdwara in Belgium would be shut for a month for allegedly harbouring 11 illegal Indian immigrants, including a minor, the authorities said while ordering their deportation. During a recent police raid, 11 illegal immigrants were found in the cellars of an empty building in the town of Vilvoorde.
Couple with a passion for motorbikes
Bathinda, October 22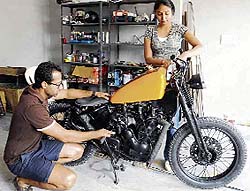 Preferring to use the word "customising" rather than "modifying" for giving a different look to motorbikes, architect-designer Tarun Sidhu justifies his choice of words saying he employs artists from as far as Turkey to do the job. Having returned from Australia after doing post-graduation in architecture along with his wife Aman Laungia, Sidhu is an expert in customising Royal Enfield (Bullet) and Yamaha motorbikes.


Tarun Sidhu with his wife AmanLaungia at their workshop in Bathinda

Schoolkids celebrate Diwali with slum children
Abohar, October 22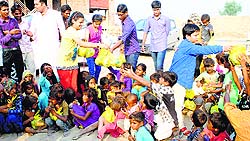 Students of Saraswati Convent School in Hanumangarh, 65 km from here, today distributed sweets to children in slums. The children had bought the sweets with their pocket money. The motivator of the children, Rajesh Dadri, escorted them to the slums located near the Excel industrial unit and Dholi Basti on Gurusar Road.


Model school students distribute sweets to children in a slum in Hanumangarh on Wednesday. Tribune photo


Sriganganagar Brigade celebrates Raising Day


Abohar, October 22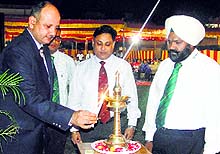 The Sriganganagar Brigade, founded during the Indo-Pak War on October 22, 1971, celebrated its 43th Raising Day near Sriganganagar today. Brigadier Virender Singh Dalal inaugurated the daylong celebrations. The participants at the Sainik Sammelan recalled the brigade's contribution in the Indo-Pak War, Operations Blue Star, Albert, Cactus Lilly, Vijay and Prakarm.

Brigadier Virender Singh Dalal at the Raising Day function near Sriganganagar on Wednesday. Tribune photo





Act against dishonest travel agents, NGO tells NRI panel
Hoshiarpur, October 22
The Centre for Human Rights Initiative, Training and Research Association (CHITRA) filed a petition with the Punjab NRI Commission, seeking action against unscrupulous travel agents. Rights activist Kulwant Singh Nagra from CHITRA brought to the notice of the commission the news item "100 youths duped of Rs 90 lakh" published in The Tribune on October 7, 2014.




High Court declines pay protection to govt employee
Chandigarh, October 22
The Punjab and Haryana High Court has come out with a judgment that will change the way past service is counted in Punjab for the purpose of pay protection, after an employee shifts from another state or UT.

ranbaxy, sun pharma merger
High Court issues notice to official liquidator
Chandigarh, October 22
The merger of pharmaceutical giants Ranbaxy Laboratories Limited and Sun Pharmaceutical Industries Limited has inched further.

Excise Suptd's police remand extended
Ludhiana, October 22
A local court today extended the police remand of Amarjit Singh Dhaliwal, Superintendent, Excise and Taxation, for a day.

Bail to Thapa upheld
Mohali, October 22
Mohali Additional District and Sessions Judge Tarsem Mangla today upheld a lower court's order on granting bail to Davinder Singh Gill alias Davinder Thapa in a land fraud case but rejected bail for his co-accused Sumedh Gulati.

92 truck engines worth Rs 1 cr seized
Patiala, October 22
The district police have busted a gang of vehicle thieves with the arrest of its four members. They have recovered two trucks, 92 engines and other parts worth Rs 1 crore from their possession.