Automated meter reading scheme fails to take off
Jalandhar, October 15
A project of Punjab State Power Corporation Limited (PSPCL) to install automated meter readers (AMRs) on agricultural pumpsets (AP) has failed to take off due to lack of funds.
Against service norms, JE puts up hoardings to thank Badals
Malout/Muktsar, October 15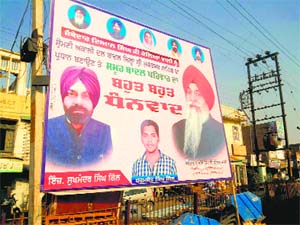 In violation of service rules, a Junior Engineer (JE) of the PWD (B&R), who has the additional charge of Sub-Divisional Officer (SDO), Malout, Sukhmandar Singh Gill, has installed huge hoardings thanking the ruling Badals for making SGPC member Dyal Singh Kolianwali Muktsar SAD district (rural) president. The hoardings on the Malout-Delhi national highway also carry the pictures of Gill and his son.


A hoarding installed in Malout. Tribune photo


Cong questions VAT panel chief's appointment
Chandigarh, October 15
Punjab Congress spokesperson Sukhpal Khaira today alleged the appointment of Justice AN Jindal as chairman of the VAT Tribunal had vindicated the claims of the Congress that he (Justice Jindal) would be rewarded for favouring Akali leader Sikander Singh Maluka in the book scam.—TNS




Sukhbir's claims on central aid false: Cong
Jalandhar, October 15
The Punjab Congress has come down heavily on Deputy Chief Minister Sukhbir Badal for "misguiding" people on claims of getting monetary aid from the NDA Government.




Duped by pvt seed firm, Mansa farmers protest
Bathinda, October 15
A private firm selling basmati seeds has allegedly duped farmers in Mansa district. The firm office is now closed and the owners are absconding. Farmers today held a protest against the private firm—Laxmi Rice Exporters, Jhunir. They demanded that the government should procure their basmati and cotton produce.

Doctors' panel flays govt action
Chandigarh, October 15
Doctors Federation of India (Docsfed) and in-service wing of the Indian Medical Association (IMA) Punjab, have condemned the suspension of Dr Harpoonam, a gynaecologist posted at the Civil Hospital, Tarn Taran, without giving her a chance to submit an explanation. The doctor had allegedly turned away a pregnant woman on the plea that she was overburdened

Revision of poll rolls begins
Fatehgarh Sahib, October 15
The revision of electoral rolls has started in the district as per directions of the Election Commission of India. All those who would attain the age of 18 years on January 1, 2015, will be enrolled, said Arun Sekhri, Deputy Commissioner-cum-District Election Officer. He held a meeting of representatives of different political parties here today.

Pages missing from Supriya's diary: Kin
Jalandhar, October 15
The parents of the deceased final year student, Dr Supriya, today alleged that Supriya's diary that the police recently handed over to them had a page-and-a-half missing.

Tribunal overturns poll outcome


Fatehgarh Sahib, October 15
The Election Tribunal has declared Inderjeet Kaur as the winner of the Kharodi Panchayat election held in 2013. The presiding officer had declared her as the defeated candidate. Gurpreet Singh Saini, counsel for Inderjeet Kaur, said the election was held on July 3, 2013. He said Inderjeet Kaur and Gurmeet Kaur polled 63 votes in Ward no. 3 and Gurmeet was declared the winner after the toss of a coin.

Solar power plant commissioned five months ahead of deadline
Boha (Mansa), October 15

The 4-MW solar power plant of Madhav Solar Private Limited, Vadodra, commissioned here today beat its March deadline by five months. The plant is the first in the chain of 34 such projects announced by Non-Conventional Energy Minister Bikram Majithia in June 2013. It forms part of the 250-MW Grid-Connected Solar Photovoltaic Power Mission scheduled to be completed by March 2015.

Non-Conventional Energy Minister Bikram Majithia inaugurates a 4-MW solar power plant at Boha in Mansa district on Wednesday. Tribune photo: Pawan Sharma

CM asks rice exporters to adopt villages
Chandigarh, October 15
Chief Minister Parkash Singh Badal today asked the Punjab Rice Exporters Association (PREA) to adopt clusters of 8-10 villages for production of quality seed of basmati varieties like 1501, 421. He also asked them to initiate efforts for the revival of traditional basmati variety 386, which is known for its aroma and taste worldwide.
Abohar residents protest non-payment of pension
Abohar, October 15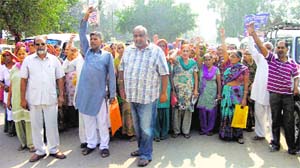 Hundreds of residents today held a protest against the non-payment of pension for six months to widows, differently abled persons and senior citizens under various social welfare schemes. They assembled at Nehru Park here. Samaj Sudhar Sabha president Rajesh Gupta spoke to some sub-divisional officers, one of whom agreed to visit the park to accept the memorandum of demands.


Residents protest in Abohar on Wednesday. Tribune Photo


U-turn over support to colleges triggers stir


Abohar, October 15
The U-turn by the Rajasthan Government over taking over six financially weak private colleges in Sriganganagar and Hanumangarh districts have triggered protests in the towns.

Murder convict flees from hospital
Faridkot, October 15
An inmate of Central Jail in Faridkot today escaped from police custody at the local Civil Hospital. Mewa Singh (35), an accused in a murder case, had been admitted to the hospital two days ago after he claimed he was sick.

Govt staff found absent during inspection


Abohar, October 15
None of the four employees of the Social Welfare Department in Abohar was reportedly present when Sub-Divisional Magistrate (SDM) Rajpal Singh went to inspect the sub-divisional office at 9.05 am.

Ailing Samridhi dead
Jalandhar, October 15
Seven-month-old Samridhi Verma, who was suffering from extrahepatic biliary artesia (EBA), died today because of delay in treatment. Ironically, the aggrieved parents received a cheque for Rs 3 lakh from the Prime Minister's National Relief Fund (PMNRF) for the infant's liver transplant after her death. Taking note of a report published in The Tribune on September 8, Avinash Khanna, BJP Rajya Sabha Member from Hoshiarpur, had in September referred Samridhi's case to the Prime Minister's office.

Seniority of teachers
HC order paves way for teachers' promotions
Chandigarh, October 15
In a significant judgment that will alter the seniority list of teachers in the school cadre and pave the way for countless retrospective promotions in Punjab, the Punjab and Haryana High Court has made it clear that a master would be promoted from the day his juniors in the initially separate list of mistresses were elevated.

4 Ludhiana doctors booked for fraud
Ludhiana, October 15
Four city-based doctors have been booked for fraud and criminal conspiracy following the complaint of Punjab Medical Council (PMC) Registrar Dr Gurdeep Singh.