Seizure of biomedical waste
47 days on, SMO yet to file probe report

Hoshiarpur, October 10
More than one-and-a-half months after biomedical waste was found near a junk shop in Garhdiwala, Senior Medical Officer of the area Sandeep Kharbanda is yet to file an investigation report. He had earlier claimed to do so in four to five days. Moreover, the authorities have not even bothered to dispose of the hazardous waste, which still lies in the police station at Garhdiwala.

A file photo of the waste lying at the junk shop.
RSS march: Congress complains to DC, SSP
Faridkot, October 10
The Congress has submitted a complaint to the police and the district administration demanding legal action against those who flaunted unsheathed fire weapons during a RSS march in Jaitu on October 5. The party claimed police officials were part of the procession.
Will punish truant staff, says Sukhbir
Patiala, October 10
Deputy Chief Minister Sukhbir Singh Badal said the state government would take action against officers who don't provide service on time. The Deputy Chief Minister issued instructions that the grievances of the common man be addressed immediately. Sukhbir met police personnel and Excise Department officials at the Police Sanjh Kendra and the inter-state barrier at Shambhu.
Sand mafia threatens forest officials
Ropar, October 10
Nabbing two members of sand mafia along with loaded tippers proved a nightmare for the district Forest Department officials. Not only were they reportedly warned of dire consequences by a politician in case of repeating the "misadventure", the bosses of the arrested offenders also dared them to stop their tippers in the future.
No news of youths stuck in Iraq, kin worried
Amritsar, October 10
With no breakthrough in facilitating the safe return of their sons from strife-torn Iraq, the families of the youths abducted by ISIS are not only feeling helpless but are also having a tough time eking out their livelihood.
Forest Dept files case against Akali leader
Ropar, October 10
The district forest department has filed a suit against senior Akali leader and former SAD youth president Kiranbir Singh Kang, accusing him of levelling hills in the nearby Khad Bathlor village. In a challan filed in an Anandpur Sahib court against Kang and another landowner Bakhshinderpal Singh Dhindsa, the department has alleged that they had violated the Punjab Land Preservation Act.
Woman thrashed by sister, dead
Fatehgarh Sahib, October 10
Nirmala Devi was beaten up by her sister and niece in Gabda Mohalla of Sirhind. She later died in hospital. The victim's daughter-in-law lodged a complaint with the police, alleging that her mother-in-law was attacked by her sister Vijay Rani and her daughter Aarti, who came to their house on October 1.
Farmer climbs atop water tank over panchayat land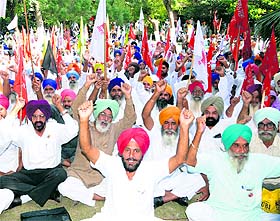 Fatehgarh Sahib, October 10
Police and district administration officials had a tough time persuading a farmer to give up his plan to commit suicide as he climbed atop an overhead water tank at Atahpur village in Sirhind subdivision today. The farmer, Jaswant Singh, was demanding that the district administration should get panchayat land freed from illegal possession.



Farmers protest outside the Deputy Commissioner's office in Amritsar on Friday. Photo: vishal kumar
Farmers protest low basmati prices
Amritsar, October 10
Activists of various farmer organisations staged a protest outside the DC office here today. They were protesting the alleged "fleecing of farmers" in grain markets. Farmers were "being denied remunerative prices" for their basmati and paddy produce, they said.
Capt rubbishes state's claim on power outages
Patiala, October 10
Captain Amarinder Singh, Congress Deputy Leader in the Lok Sabha, today rubbished the state government's claim that various power plants in the state were closed due to low demand. Captain Amarinder asked if the demand for power was low, why were villages and industries in the state subjected to long power cuts on a regular basis.
Pbi varsity VC honoured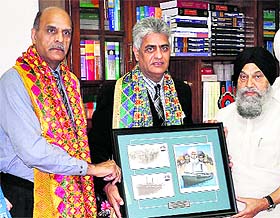 Patiala, October 10
The president of the Komagata Maru Heritage Foundation, Canada, presented a plaque carrying the stamp on the Komagata Maru incident to Punjabi University Vice Chancellor Dr Jaspal Singh here today.





President of Komagata Maru Foundation, Canada, Harbhajan Singh Gill presents a plaque to Vice Chancellor of Punjabi University Dr Jaspal Singh in Patiala on Friday. Tribune photo: Rajesh Sachar
Air Force official to serve life term for killing girl
Chandigarh, October 10
Subroto Dey will serve life term for killing the girl he wanted to marry. Around eight years after the Air Force official fired the fatal shot in the residential quarters of the Pathankot Air Force station, the Punjab and Haryana High Court has upheld his conviction and sentence.
Rs 12 cr spent on schools: DC
Fatehgarh Sahib, October 10
The state government has spent Rs 12.64 crore on the renovation of buildings of various schools besides making available facilities like the Internet, multimedia and modern libraries.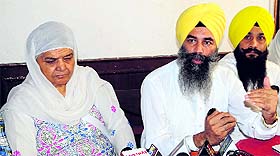 AISSF gives bandh call
Amritsar, October 10
The All-India Sikh Students Federation (AISSF) led by Karnail Singh Peermohammed has given a call for Punjab bandh for November 1 to protest the "injustice" to the anti-Sikh riot victims and the "patronage" given to Congress leaders allegedly involved in the carnage.


All India Sikh Students Federation president Karnail Singh Peer Mohammad (C) addresses mediapersons in Amritsar on Friday. Photo: Vishal Kumar
Martyrs' memorial lies incomplete
Doda (Muktsar), October 10
A police martyrs' memorial gate, which was to be built on the Muktsar-Bathinda highway about 15 years ago, is yet to be completed. Only two pillars have been erected along the highway near a recently built police post.
Missing youth found after 16 days
Gurdaspur, October 10
The teenaged son of a Gurdaspur-based scribe, who had gone missing over two weeks ago, was found in Hazur Sahib (Maharashtra) and brought to his Dinanagar home today.
Draft recruitment rules fail to find HC approval
Chandigarh, October 10
The draft rules for appointment of Punjab State Human Rights Commission staff have failed to find favour with the Punjab and Haryana High Court. Taking up a petition filed in public interest by Dinesh Chadha for directions to the state of Punjab and the PSHRC to frame staff recruitment rules, the High Court had earlier ordered personal appearance of the Principal Secretary, Home Affairs, in case of the government's failure to finalise the same.
Man beaten to death
Fazilka, October 10
A middle-aged man was allegedly beaten to death by nine persons, including three women, in Kerian village of Fazilka district on Thursday night. The reason of the incident is said to be old rivalry. Net Ram in his statement recorded with the Sadar police today said his brother Ram Niwas (40) had some rivalry with the members of the other party. Official sources said both the groups had been involved in court cases pertaining to several disputes.