Protests seem to be mandatory to stir police into action
Ludhiana, October 10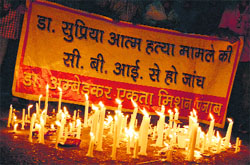 The dilly-delaying attitude of the city police in investigating crime cases has led to a new trend. Aggrieved families resort to pressure tactics, such as holding protests against police and blocking roads. Most families take out a candle march.



Protesters hold a candlelight protest against police inaction in Dr Supriya sucide case in Ludhiana on Friday. Photo: Inderjeet Verma

City soaks in Karva Chauth spirit
Ludhiana, October 10

It was women's day out today as they pampered themselves while doing last-minute shopping for Karva Chauth. Hands with intricate henna design and husbands' helping their better half relish ice-cream or chocolate was a common sight in the city markets today.
A newly married girl gets henna applied on her hand on the eve of Karva Chauth in Ludhiana on Friday; and (right) people buy delicacies meant for the occasion at one of the city markets. Tribune photos: Himanshu Mahajan
CPI, AITUC demand action against policemen at fault
Ludhiana, October 10
The Communist Party of India (CPI) and the All India Trade Union Congress (AITUC) today held a joint rally outside the Raghunath Enclave Police Chowki at Barewal to protest against the attack on vendors, including women, near Barewal village last week.
BKU bats for basmati farmers
Ludhiana, October 10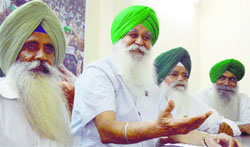 Maintaining that basmati producers were being fleeced and exploited in mandis as a part of deep-rooted conspiracy, the Bharti Kisan Union (BKU) has urged the Centre to announce the minimum support price (MSP) of basmati simultaneously with those of paddy and other crops.

BKU president Ajmer Singh Lakhowal (second from left) addresses mediapersons in Ludhiana on Friday. Photo: Inderjeet Verma
Power to conduct ultrasound, abortion should not lie in same hands: Expert
Ludhiana, October 10
While the International Day of Girl Child will be celebrated tomorrow, the skewed sex ratio in the state warrants the authorities concerned to take steps to curb female foeticide and remove the deep-rooted gender bias.
Newborn girl found abandoned
Ludhiana October 10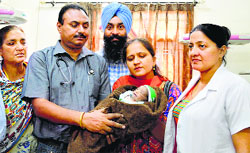 A newborn girl was found abandoned in a vacant plot at Gurmail Nagar of the Daba area here on Thursday. As per details available, Charan Singh, a resident, heard a baby crying at around 9 pm. He came out of his house and found the newborn lying abandoned in a plot. He took the baby and raised an alarm. Later, Charan Singh informed the police.
The abandoned baby girl being handed over to office-bearers of an NGO at the Civil Hospital on Friday. Photo: Inderjeet Verma
Four-day exhibition of printers gets going
Ludhiana, October 10
InterPrint Expo India, a four-day exhibition of printing machines and material, began here today.
Camps held in post offices
Ludhiana, October 10
On the second day of the National Postal Week, camps were held at 11 post offices to motivate officials and visitors to open saving bank accounts with the postal department.
PAU retirees' assn holds general body meet
Ludhiana, October 10
The general body meeting of the PAU Retirees' Welfare Association was held at the Students' Home on the varsity campus here today.
Principal secy to CM visits model schools
Ludhiana, October 10
Ajay Sharma, principal secretary to Chief Minister, today visited various models schools in the district. The main aim behind visit was to check their curriculum and syllabus plus the way of working so that it can be induced in the government schools in the same manner.
Zonal youth fest kicks off amid fanfare
Ludhiana, October 10
Three-day long Zonal Youth Festival of the Punjab Technical University kicked off today at the Guru Nanak Institute of Management and Technology (GNIMT), Gujarkhan Campus, Model Town.



(From left) A student gives final touches to a rangoli; a boy performs during a one-act play; and a girl takes part in a clay modelling competition during the Zonal Youth Fest of Zone-II at the GNIMT in Ludhiana on Friday. Tribune Photos: Himanshu Mahajan
Youth and Heritage Festival concludes
Mandi Ahmedgarh, October 10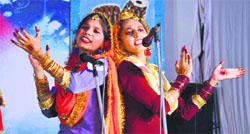 The Youth and Heritage Festival concluded at the Bhutta College of Education at Bhutta village near here today. About 300 students from various colleges of Zone B of Panjab University, Chandigarh, took part in the fest.

Participants perform during the concluding day of the Youth and Heritage Festival at the Bhutta College of Education near Mandi Ahmedgarh on Friday. a tribune photograph
Asiad bronze winner honoured
Ludhiana, October 10
Indian middle-distance runner Orchatteri P Jaisha, who won a bronze medal in the Asian Games held recently was felicitated here today.