Restive BJP not willing to play second fiddle to SAD
Chandigarh, October 9
Come October 19 and the Punjab BJP will get more aggressive, demanding a greater say in matters of policy and governance. The party, expecting to do well at the hustings in neighbouring Haryana, is no longer willing to play second fiddle to the SAD.


Maqboolpura in drug mess as de-addiction centre closed
Amritsar, October 9
The temporary de-addiction centre set up at the Maqboolpura locality, infamous for its high number of deaths due to drug menace, has been lying shut for the last one year. Resultantly, the addicts, who were availing treatment there, are now hooked to drugs again.


The hospital where the de-addiction centre was set up.
AAP seeks CBI probe into Jamalpur killings
Fatehgarh Sahib, October 9
Sucha Singh Chhotepur, Punjab convener of Aam Aadmi Party (AAP), has demanded a CBI inquiry into the allegedly fake encounter of two Dalit brothers at Jamalpur in Ludhiana recently.


Moga man in M'rashtra poll fray
Moga, October 9
Actor-turned-politician Baldev Khosa, who hails from Jhandeana village in Moga district, is contesting the Maharashtra Assembly elections for the 5th consecutive term. He is contesting on a Congress ticket from Versova (Andheri West, Mumbai), the richest Assembly constituency in the country.

Baldev Khosa during election campaign in Versova area of Mumbai. Tribune photo
Bajwa rallies behind Vadra, hits out at PM
Chandigarh, October 9
The Punjab Pradesh Congress Committee (PPCC) president, Partap Singh Bajwa, today said instead of indulging in "small talk", Prime Minister Narendra Modi should act against Pakistan over the frequent ceasefire violations in Jammu and Kashmir.



Mega food park in Fazilka to open in two months
Fazilka, October 9
One of the biggest food parks of the country, being set up in the district, would start functioning in two months, said Union Minister for Food Processing Harsimrat Kaur Badal during her visit to Arniwala block in the district today.

Union Minister Harsimrat Badal hands over a certificate to a woman after completion of her tailoring course in Fazilka. A Tribune photograph


BSP to expand base in state: Karimpuri
Jalandhar, October 9
The Punjab BSP will launch a campaign against the "terror" being unleashed on the people of the state by those close to the SAD-BJP government. Addressing a rally at Garhshankar today to mark party founder Kanshi Ram's "Pre-Nirvan Divas" , the BSP state president, Avtar Singh Karimpuri, said they would make the people aware of the "excesses being committed by the Akali's."
BJP against Kabaddi Cup semifinals in Pak
Patiala, October 9
The escalating tension between India and Pakistan may create fissures between the state BJP and the SAD. Deputy Chief Minister Sukhbir Badal wants to hold the semifinals of the fifth edition of the World Kabaddi Cup in Pakistan's Punjab province. This has irked the state BJP leadership that wants the state government to reconsider the matter.


AAP comes to rescue of sacked employees
Chandigarh, October 9
Accusing the SAD-BJP government of conniving with the management of Panacea Biotec, a pharmaceutical company, Aam Aadmi Party MP from Patiala Dr Dharmvira Gandhi and more than 12 leaders from different political parties today came to the rescue of 317 sacked employees.
Dr Dharmvira Gandhi, Patiala MP, at a press meet in Chandigarh on Thursday. Tribune photo: Manoj Mahajan
Clamour for arms licences at CM's functions led to fee hike
Gurdaspur, October 9
The clamour for recommendation for arms licences during the Chief Minister''''s Sangat Darshan programmes resulted in the deputy commissioners jacking up the licence fee.
Vehicle dealers want road tax hike withdrawn
Hoshiarpur, October 9
Car dealers in the district have decided to protest the government's decision to increase road tax and VAT on diesel. Terming the move as detrimental to the automobile business and anti-people, they have urged the government to rollback the hike or else they would not be forced to stop fresh registration of vehicles.
Tarn Taran leads in paddy procurement
Chandigarh, October 9
Paddy procurement has started gaining momentum with government agencies and private millers procuring more than 3,66,897 tonnes in the state. The state government has set up more than 1,806 procurement centres and activated its entore machinery to ensure smooth procurement.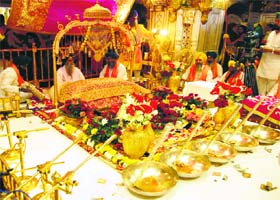 Golden glitter: A view of the 'Jalau' (show of splendour) inside the sanctum sanctorum at the Golden Temple in Amritsar organised to mark the birth anniversary of Guru Ram Das on Thursday. Tribune photo: Vishal Kumar
Stop harassing TET teachers, says Khaira
Chandigarh, October 9
Former Congress MLA and PPCC spokesman Sukhpal Singh Khaira has urged the Punjab Government to stop "harassing" TET qualified teachers and hand over appointment letters to the selected candidates.
Despite crisis, no power cuts in Badal village
Muktsar, October 9
While people in the state are facing long power cuts, Chief Minister Parkash Singh Badal's native village Badal continues to get uninterrupted supply. Except for Bathinda, where no power cuts are imposed as the town houses the Bathinda Thermal Power Plant, these have become a routine affair in other parts of the state.
IMA supports agitating students of Chintpurani Medical College
Hoshiarpur, October 9
The Indian Medical Association, Punjab, has come out in support of agitating students (2011 batch) of Chintpurani Medical College, Pathankot. President of the association Dr Sudhir Raj, senior vice-president Dr Rajender Sharma and vice-president Dr RL Taneja said career of these students was at stake as the college had not been allowed to make admissions by the MCI for the past three years.
Rural pharmacists, Class IV staff in a fix
Patiala, October 9
Resenting non-regularisation of the services of rural pharmacists and Class IV employees working in 1,186 health and 582 veterinary dispensaries across the state, the Rural Health Pharmacists Action Committee is observing a strike for the past over a month. The contracts of these employees will end on November 30.
Sans readers, smart cards of no use in Muktsar dist
Muktsar, October 9
The Muktsar district transport office has been issuing smart cards (with micro-chips) for the registration of motor vehicles and as driving licenses for more than three years, but transport officials, traffic policemen who have the power to issue challans do not have card readers.


MP Bhagwant Mann flays producers using unfair means
Abohar, October 9
Aam Aadmi Party MP from Sangrur Bhagwant Mann said film producers, who were found using unfair means, should be "sued" suitably. Speaking on the sidelines of a function organised by an educational institution along the Seetogunno road in Abohar today, he said ATM thefts by staff of a private security company to help in the production of Punjabi movie was an unfortunate incident that brought bad name to the industry.

MP Bhagwant Mann (right) with a fan in Abohar on Thursday. Tribune photo


Finally, work on rebuilding road begins in Abohar
Abohar, October 9
The reconstruction of a road to link the Old Fazilka road, Bhagwanpura and Idgah Basti with the city bypass started today. It was a long-pending demand of the slum dwellers. Rejoicing over the development, they gathered on the main road to congratulate each other.

Residents rejoice the reconstruction of a damaged road in Abohar on Thursday. Tribune photo

Hailstorm damages cotton, guar crops
Abohar, October 9
A hailstorm coupled with heavy showers that lashed Sriganganagar and Hanumangarh districts of west Rajasthan on Wednesday evening have badly affected the standing guar and cotton crops.
A hailstorm lashed Sriganganagar on Wednesday evening for about 15 minutes, damaging crops. A Tribune photograph


Trainee officer electrocuted in Kerala


Hoshiarpur, October 9
Satbir Singh (20), a trainee naval officer from Hoshiarpur, was electrocuted during training at the Indian Naval Academy in Kerala last evening. Satbir and his three fellow trainees were riding a boat that hit a loading bridge and came in contact with the bridge's high-tension wires.



HC notice on collection by transport body
Chandigarh, October 9
The Punjab and Haryana High Court today issued notice to the Punjab Government, its Principal Secretary, the Transport Department and Punjab State Transport Society Limited in connection with collection of crores of rupees as user charges.

Dasuya court summons MC ex-president, seven others over shoddy civic works
Hoshiarpur, October 9
A Dasuya court has summoned former Municipal Council (MC), Dasuya, president Ravinder Singh and seven others with regard to a complaint under Section 409, 420 and 120B of the IPC.



Bedridden 75-yr-old raped in Tarn Taran
Tarn Taran, October 9
A 75-year-old bedridden woman was allegedly raped at her house in Margindpur village, 35 km from here, yesterday. A case has been registered at Bhikhiwind police station against Sahib Singh (30), a resident of Allowal village in Ferozepur.

Patwari held for taking Rs 50,000 bribe


Abohar, October 9
The Anti-Corruption Bureau (ACB), Sriganganagar, today nabbed a patwari, Daya Ram Godara, for allegedly accepting Rs 50,000 as a bribe from a farmer at his official residence in Padampur.


Two killed as car rams into stationary truck
Fatehgarh Sahib, October 9
Two persons were killed and two seriously injured when their car hit a stationary truck from behind on the Sirhind-Patiala highway near Rurki village this morning. Those killed were Jagjit Singh (55) and Amarjit Singh (50).

Mangled remains of the car that met with an accident near Rurki village in Fatehgarh Sahib on Thursday. Tribune photo
Three killed in accidents
Abohar, October 9
Sandeep Goyal (22), a plumber, died when the motorcycle he was riding on was reportedly hit by a trailer near Dangarkhera village, 8 km from Abohar.