Department to sensitise people to postal schemes
Ludhiana, October 9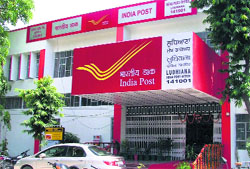 The Department of Posts is celebrating the National Postal Week from October 9 to 15 during which it would carry out several activities, including creating awareness of various benefits and schemes the department is offering.




The Department of Posts is celebrating the National Postal Week. Photo: Inderjeet Verma
Pensioners take part in cleanliness drive
Ludhiana, October 9
The Pensioners (Senior Citizens) Association took part in the Swachh Bharat Abhiyan, an initiative taken by Prime Minister Narendra Modi.
Blank unhealthy habits to blind impairment
Ludhiana, October 9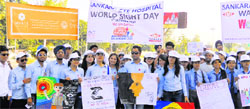 Today is World Sight Day and the theme this year is "No More Avoidable Blindness," which means that eye ailments such as glaucoma, cataract, diabetic retinopathy, macular degeneration and optic neuropathy should be given attention to avoid blindness.
Residents take part in a walkathon on World Sight Day in Ludhiana. A Tribune photograph
Fun and festivities: Bright days, even brighter nights
Ludhiana, October 9
Innovation is the key to success and sweetmeat sellers are following the mantra. Something new is what customers want and they do not mind splurging during the festive season. Designer "mathis" for Karva Chauth are catching the fancy of residents.



(From left) A woman gets henna applied on her palms in Ludhiana on Thursday; A woman shows designer bangles displayed at Karva Mela in Ludhiana; and designer "mathis" have become an essential this Karva Chauth. Tribune photos: Himanshu Mahajan and Inderjeet Verma
Rehabilitation of slum dwellers on MC's mind
Ludhiana October 9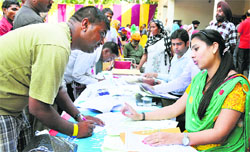 To rehabilitate slum dwellers in areas such as Labour Colony and Jamuna Colony, the Municipal Corporation is organising a two-day camp at Leisure Valley. Loans will be offered to the needy during the camp.



Slum dwellers fill in papers to avail loans at Leisure Valley in Ludhiana. Tribune Photo: Himanshu Mahajan
Police doing little to prevent mishaps
Ludhiana, October 9
The traffic police have done a little to prevent road accidents. The Wednesday's mishap at Aarti Chowk has exposed the slack approach of officials towards checking drunk drivers and traffic rule violators.
Monkey attacks 8-yr-old boy
Ludhiana, October 9
A monkey attacked an eight-year-old boy at Bank Colony in Haibowal today. The victim, identified as Tanishq, was playing in front of his house.
Students enthral visitors to youth fest
Mandi Ahmedgarh, October 9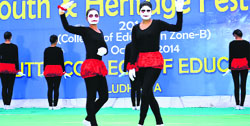 Hundreds of students from colleges under the B Zone enthralled spectators by showcasing their talent on the penultimate day of the Zonal Youth and Heritage Festival being held at Bhutta College of Education at Bhutta village near here today.
Students present an item during the Zonal Youth and Heritage Festival at the Bhutta College of Education in Bhutta village on Thursday. A Tribune photograph
Gang of robbers busted, 7 held
Ludhiana, October 9
The city police claimed to have bust a gang of robbers by arresting seven of its members here today. The police recovered weapons and narcotics from their possession.



The accused in police custody in Ludhiana on Thursday (left) Police officials display weapons and drugs seized from the members of the gang during a press conference. Tribune photos: Himanshu Mahajan
Thieves strike at shop in Model Town
Ludhiana, October 9
Thieves struck at a furniture shop on the Model Town road near the bus stand during the night of Wednesday and decamped with Rs 1.15 lakh, a laptop and silver coins.
81-year-old woman found murdered
Phillaur, October 9
An elderly woman was found murdered at Lehal Kalan village near here this morning.
Truck driver booked
Ludhiana, October 9
The police have booked the driver of the truck that ran over two commuters and injured a rickshaw-puller Aarti Chowk last night.