Voices for rationalising power subsidy get louder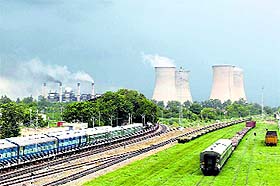 Jalandhar, October 8
With the fiscal health of the state deteriorating, voices for rationalising power subsidy are getting louder. After the BJP leaders spoke against power subsidy to the farming sector, the Aam Aadmi Party and the BSP too say that free power should be given to the poor farmers alone.



The Bathinda Thermal Plant. Tribune file Photo
Fazilka cops recover Rs 44 lakh stolen from ATMs, four held
Fazilka, October 8
The Fazilka police have arrested a gang of four men — two private security personnel and two producers — and recovered Rs 44 lakh out of Rs 1.15 crore stolen from seven ATMs in Fazilka and Muktsar districts. Their fifth accomplice is at large.
Capt, Bajwa like my brothers: Bhattal
Jalandhar, October 8
Despite siding with former Chief Minister Capt Amarinder Singh in his ongoing tussle with PPCC president Partap Singh Bajwa in the recent past, senior Congress leader Rajinder Kaur Bhattal today chose not to express much inclination for the former.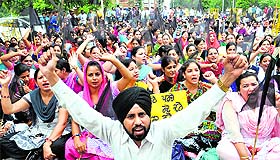 boiling over:

Workers of the Computer Teachers' Union protest in Jalandhar on Wednesday. Tribune photo: Malkiat Singh
Dy CM's view on law and order a joke: AAP
Chandigarh, October 8
The Aam Aadmi Party (AAP) has dubbed the Deputy Chief Minister Sukhbir Badal's statement that maintenance of law and order was the first priority of the state government as an "absurd joke" with the people of the state.
RSS activities highly provocative: Cong
Chandigarh, October 8
Punjab Congress leaders have taken exception to the brandishing of firearms by RSS activists during a "street march" in Jaito. Former Finance Minister Laal Singh and MLAs Parminder Singh Pinki, Brahm Mahindra and Gurkirat Singh Kotli described the RSS activities as "highly provocative."
Punish parties that don't keep word: Mann to EC


Bathinda, October 8
Bhagwant Mann, Aam Aadmi Party (AAP) MP from Sangrur, today demanded that the Election Commission of India (EC) serve notices to political parties for failing to keep the promises they made in their manifestos.

Bhagwant Mann in Bathinda
Issue correct minutes of MC meet: Cong MLA
Patiala, October 8
In separate letters to the Patiala Mayor, the Municipal Commissioner and the Secretary, Local Bodies, Patiala (rural) MLA Brahm Mohindra has objected to the "misleading" minutes of the general house meeting held on September 19 sent under his name by the Patiala Mayor's office.

Motor vehicle tax hiked
Chandigarh, October 8
The state government has raised the motor vehicle tax. More than 50,000 new vehicles are registered in Punjab every month with Ludhiana, Jalandhar and Amritsar topping the list. Car owners will be charged 8 per cent of the cost of the vehicle as motor vehicle tax. For scooter/ bike owners, it will be 6 per cent of the cost.
Daduwal gets bail, security up at Jandalisar gurdwara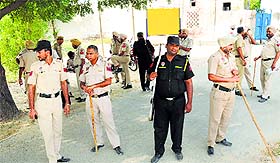 Bathinda, October 8
Security outside the Jandalisar Gurdwara near Kot Shamir village has been tightened following the grant of bail to Sikh preacher Baljit Singh Daduwal by the Punjab and Haryana High Court yesterday.



Security personnel deployed outside Gurdwara Jandalisar in Bathinda on Wednesday. Tribune photo: Pawan Sharma
State govt flouts UGC norms, relaxes recruitment criteria
Patiala, October 8
In violation of the norms of the University Grants Commission (UGC), the state government has issued a notification that allows candidates, who have enrolled for a Doctor of Philosophy (PhD) degree or obtained it prior to December 31, 2009 as per old norms, to apply for the post of lecturer/assistant professor. These aspirants have also been exempted from clearing the National Eligibility Test (NET).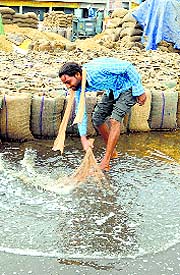 Rain bane:

Water accumulated at the Amritsar grain market after a spell of rain on Wednesday. Tribune photo: Vishal Kumar
Work on Army selection centre to begin soon
Ropar, October 8
Lt Gen V Menon, Chief of Staff, Western Command, visited the site earmarked for establishing a Services Selection Centre (North) at Rupnagar. He interacted with officials at the proposed site and was briefed on the progress made so far.
Water samples collected in cancer-prone village
Abohar, October 8
A team of the Health Department, which is on a visit to the cancer-prone Shergarh village in Abohar, today found dead fish in a tank at the water works. They said no bleaching powder had been used to clean water in the other tank. Samples have been taken for laboratory tests. The team, led by Civil Surgeon Baljit Singh, organised a camp for residents of Shergarh and the neighbouring Pattisadiq village.
2 health centres set up
Fatehgarh Sahib, October 8
Two 30-bed community health centres and 19 sub-centres have been set up by the state government at a cost of Rs 11 crore in rural areas of the district.
3 held for theft of guar bags
Abohar, October 8
Four months after 95 bags of guar were stolen, the police in Sriganganagar on Wednesday arrested three persons. The investigation reportedly indicated that Rohit Khatri, who was a supervisor of the godown, had given its keys to Makhan Singh and Balwinder Singh, who decamped with the bags of guar produce, valued at Rs 5 lakh, in a tractor-trailer. — OC
regularising illegal colonies
Larger Bench to examine if policy was framed to benefit colonisers
Chandigarh, October 8
In an embarrassment for the Punjab Government, the Punjab and Haryana High Court has made it clear that a larger Bench would examine whether the policy of regularising illegal colonies in the state was for providing succour to the residents or to benefit colonisers. The policy was announced ahead of the parliamentary elections.
2 booked in suicide case
Fatehgarh Sahib, October 8
The police have booked the in-laws of Excise Inspector of Banur, Chanderish Kalia, whose body was recovered from the Narwana branch of the Bhakra mainline canal near Ghanaur this afternoon.
5 cops booked for extortion
Batala, October 8
The Batala police have booked one head constable and four constables on the charges of extorting Rs 25,000 from a villager. A case under the Prevention of Corruption Act has been registered against them. The accused have been suspended.
2 girls kidnapped, gang-raped in Moga
Moga, October 8
Two minor girls, who were cousins, were allegedly kidnapped and gang-raped by five youths at Talwandi Mallian village in Moga district on Tuesday.
Man shot at, looted
Abohar, October 8
Four car-borne men this morning intercepted a tractor-trailer near Dungrana village in Bhadra segment of Hanumangarh district, fired at driver Ram Lal Meena (33) and snatched Rs 8,000 and a mobile phone from him.