Safe Diwali: A little care is all you need, say experts
Chandigarh, October 22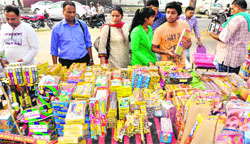 While celebrating Diwali, most people tend to overlook some important things that may prove disastrous for their health, said experts. "The incidence of eye injuries caused by firecrackers rises dramatically on Diwali because a large number of new and unfamiliar firecrackers enter the market every year, which turns this beautiful festival into a nightmare for some families.
Most cracker stalls in Chandigarh are reporting poor sales this year. Tribune photo: Parvesh Chauhan
Khattar's swearing-in venue changed
Panchkula, October 22
Just days before Haryana Chief Minister-designate Manohar Lal Khattar is to take oath in Panchkula, the venue for the function, Tau Devi Lal Stadium, in Sector 3, Panchkula, was changed this afternoon to the Shalimar ground in Sector 5, Panchkula.



The Shalimar ground in Sector 5, Panchkula, being readied for the oath-taking ceremony; and (right) recarpeting work under way at Tau Devi Lal Stadium in Sector 3, where the ceremony was to take place earlier, on Wednesday. Tribune photos: Nitin Mittal
Shoppers fail to make most of parking space in schools
Chandigarh, October 22
The commuters got a some relief from the traffic congestion in market today after the approval of parking of vehicles in the nearby schools of the major markets. Although, the decision came late and due to lack of publicity about the facility handful of visitors were able to avail it.



Cars parked on the roadside at a market in Sector 22 even as the nearby parking of GMSSS-22 (right) wears a deserted look in Chandigarh on Wednesday. Tribune photos: Manoj Mahajan




Centre okays nutrition division for PGI
Chandigarh, October 22
With the Advanced Paediatric Centre (APC) at PGIMER reporting cases of malnourishment in a majority of children coming for treatment for various ailments, the Union Ministry of Health and Family Welfare has approved the proposal to set up a nutrition division as a solution.
Traders challaned for damaging MC property
Chandigarh, October 22
The Municipal Corporation today challaned shopkeepers who had installed pipes for tents in carpeted parking areas across the city.
Cleanliness drive at PGI
Chandigarh, October 22
The School of Public Health, PGIMER, organised a cleanliness drive under the Swachh Bharat Abhiyan today.
GMCH optometrist awarded
Chandigarh, October 22
Vinod Kumar, an optometrist at the Department of Ophthalmology in Government Medical College and Hospital (GMCH), Sector 32, has been awarded Dr MC Nahata Rashtriya Netra Suraksha Puruskar-2014 for his outstanding work in optometry and low vision. Madhya Pradesh Health Minister Dr Narottam Mishra presented the award to Vinod Kumar at Indore on October 18. — TNS
Award for GMCH dept
Chandigarh, October 22 The Department of Transfusion Medicine, Government Medical College and Hospital (GMCH), was conferred the ISBTI Institutional Award-2014 at the 39th Annual National Conference of the Indian Society of Blood Transfusion & Immunohaematology (ISBTI) at Patiala. — TNS
Suspended IG visits Mohali DSP's office to record statement
Moahli, October 22
Five days after joining the police investigations, suspended Punjab Police Inspector General Gautam Cheema was summoned by the Mohali police for the second time to record his statements here this afternoon.
UT relieves Rodney Ralte
Chandigarh, October 22 UT Administrator Shivraj V Patil today issued orders to relieve Rodney L Ralte, CEO, Chandigarh Housing Board (CHB), w.e.f. October 24 to enable him to join his new assignment in Mizoram. Prerna Puri, IAS, was assigned the charge of the CEO, CHB.
Low attendance in offices
Chandigarh, October 22 A day before Diwali, the attendance of employees in the UT Administration and the Municipal Corporation was low as compares to other working days. Though senior officials were present but lower staff, especially after lunch hours, was absent .
Call of duty keeps them away from their loved ones
As city residents celebrate the festival of lights with their families, there are some for whom duty comes first. They will be attending to a fire call, electricity complaint, a patient at a hospital or a call made to the police control room. Chandigarh Tribune reaches out to a cross-section of professionals who will be out on duty on Diwali night to attend to all types of exigencies.
Students sell diyas to light up the smile of the elderly
Chandigarh, October 22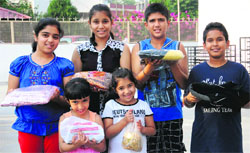 Instead of burning crackers, six students, aged between 7 and 13 years, have decorated "diyas", sold them and the money earned from it they have donated it to old-age home inmates.


The six children with the essentials purchased from the money earned by selling earthen lamps they decorated at Sector 30, Chandigarh, on Wednesday. Tribune photo: Manoj Mahajan
A noble initiative by school students
Chandigarh, October 22
As part of the 'Go Green This Diwali' celebrations organised by Yuvsatta, an NGO, and Department of Environment, around 500 students of RIMT World School decided to open saving bank accounts from the pocket money they will save by not buying crackers this Diwali.
Some cracker sellers give norms the miss
Chandigarh, October 22
Even as a majority of cracker sellers were following all safety measures, few among them are giving the rules a go by. The shops selling crackers in sectors, including Sector 26/ 42/ 29/ 23 were seen following all the norms as sand-sacks, fire extinguisher and water containers were seen in place. While in Sector 43 and the Burail village area the sellers were seen not following the guidelines.
PU to act tough against violators
Chandigarh, October 22
Waking up from its slumber after the yesterday's incident in which 26-year-old Amandeep Singh, who was in an inebriated state, lost his life after falling from the first floor of Hostel No. 4, Panjab University (PU), the authorities have initiated special checking at hostels.
Statements of principal, teachers recorded
Chandigarh, October 22
The Chandigarh Commission for Protection of Child Rights today recorded the statements of the principal of the KBDAV School, Sector 7, and teachers during a hearing on the complaint of the father of a child for thrashing his child time and again at the school and taking no action against the faculty.
PU Prof appointed adjunct faculty by UFV
Chandigarh, October 22
Professor, Panjab University (PU), Department of Public Administration, and former Dean, Faculty of Arts, Prof BS Ghuman has been appointed as adjunct faculty by the University of the Fraser Valley (UFV) Abbotsford, British Columbia, Canada.