State BJP backs Longowal accord
Chandigarh, October 21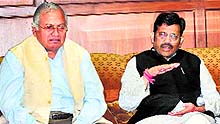 Enthused by its electoral victories in Haryana and Maharashtra, state BJP chief Kamal Sharma today said the party wanted Chandigarh to be transferred to Punjab. It also wanted an amicable solution to the river waters dispute with the neighbouring state. He was talking to a group of mediapersons here.
Kamal Sharma (right), state BJP president, and state minister Madan Mohan Mittal speak to mediapersons at the Punjab Bhawan in Chandigarh on Tuesday. Tribune photo: S Chandan

To ask govt to step up drive against drugs
Chandigarh, October 21
With diesel rates cut, the BJP will ask the Punjab Government to slash bus fares. Describing it as a "diwali gift" from the Modi Government, state BJP chief Kamal Sharma said the BJP would urge the state government to pass on the benefit to commuters.
SAD ally to seek power redistribution
Chandigarh, October 21
It seems, the BJP, buoyed by its successive wins at the hustings, will be demanding redistribution of power in Punjab though it is unlikely to demand more ministerial berths.
Panchayats oppose auditing of accounts by private firms
Patiala, October 21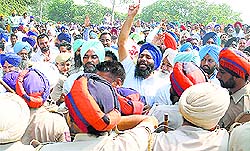 Members of panchayats and rural development officials today staged a massive protest in Rajpura. They were opposing the government's move to get panchayat accounts audited and reviewed by private auditing firms. They blocked the Delhi-Amritsar national highway for about an hour demanding withdrawal of the decision.

Policemen prevent panchayat members from blocking the Rajpura-Patiala road on Tuesday. Photo: JS Virdi

Badal govt letting farmers down, alleges Jakhar
Abohar, October 21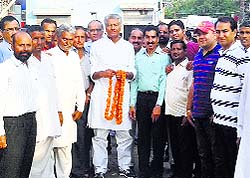 Following family tradition, Congress Legislature Party Leader Sunil Jakhar today walked through the town and greeted local residents in the festive season. His father Bal Ram Jakhar first greeted people during the occasion after winning Vidhan Sabha elections in 1972. CLP Leader's elder brother Sajjan Kumar Jakhar also followed in his father's footsteps when Bal Ram Jakhar entered Parliament in 1980.


CLP Leader Sunil Jakhar in Abohar on Tuesday. Tribune photo

Despite HC order, MC fails to remove encroachments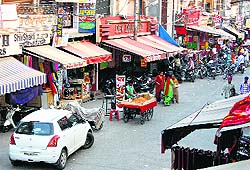 Batala, October 21
Ahead of the local bodies elections, politicians of all major parties are not willing to act against encroachers. Sources said politicians fear losing votes if they crack down on encroachers even though the HC had ordered these be removed.



A crowded street in Batala on Tuesday. Tribune photo

attack on sirhind mc office
Council staff go on strike, want all accused booked
Fatehgarh Sahib, October 21
Employees of the Sirhind Municipal Council today started an indefinite strike against the alleged failure of the police in arresting all accused who had attacked them and ransacked the MC office yesterday.
Not paid, Class IV staff protest in Fazilka
Fazilka, October 21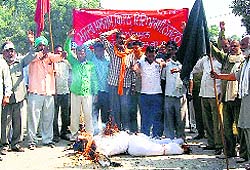 On a call given by the Class IV Government Employees' Union, Punjab, activists of the union led by district president Gian Singh burnt an effigy of state Finance Minister to protest non-payment of their salaries. The demonstration was held at the local Canal Colony. The protesters raised slogans against the state government.



Employees burn an effigy of Finance Minister in Fazilka on Tuesday. Tribune photo

Arrested for graft, excise supdt was due for promotion
Ludhiana, October 21
Amarjit Singh Dhaliwal, superintendent of Central Excise and Service Tax Department who was caught yesterday while allegedly receiving bribe of Rs 20 lakh from Gurdeep Jujhar, a transporter-cum-managing director of Fastway Citizens Cable Network, was due to be promoted shortly.
Minor girls rescued
Jalandhar, October 21
The West Bengal police today busted a human trafficking racket in the city. During the daylong operation, it rescued three minor girls aged 15, 16 and 18 who went missing from Gorubathan in Darjeeling on October 8.
Langah ready for probe into land deals
Gurdaspur, October 21
Former PWD Minister Sucha Singh Langah has sought a time-bound CBI investigation into charges levelled by Gurbachan Singh.
Will seek higher MSP, says Badal
Tarn Taran, October 21
Chief Minister Parkash Singh Badal today said he would soon meet Prime Minister Narendra Modi to seek a remunerative MSP for the farmers.
Ferozepur tops in paddy procurement
Chandigarh October 21
Maintaining its lead, Ferozepur district tops the state in paddy procurement with 4,22,069 tonnes till date.
Basmati prices start to look up
Chandigarh, October 21
The entry of traders and rice millers from outside Punjab has proved a boon for basmati growers.
Muktsar Cong activists freed
Muktsar, October 21
The Congress activists and their Kisan and Khet Mazdoor Cell chairman Inderjit Singh Zira, who were yesterday detained for violating section 144 of the CrPC imposed by the district magistrate, were released today. They had protested outside the CM's residence.
Govt ignoring Komagata Maru martyrs: Canada-based NGO
Jalandhar, October 21

Komagata Maru Heritage Foundation, a Canada-based NGO, has condemned the state government for not organising any state-sponsored event to commemorate the 100th anniversary of Komagata Maru incident. Foundation president Harbhajan Singh Gill said the government had not been doing much to pay tributes to martyrs of the Komagata Maru incident




Harbhajan Singh Gill, ngo president

Ferozepur PGI centre hangs fire
Ferozepur, October 21
Two years after the Centre sanctioned the PGI Satellite Centre project in the border town, the state has failed to acquire land for the project.

Border farmers protest poor water supply


Abohar, October 21
Farmers of border villages Bakayanwala and Haripura today protested the poor availability of canal water for irrigation and drinking.




Govt officials attacked during demolition drive
Abohar, October 21
The mob allegedly thrashed officials of the Revenue and Rural Development Departments as they took action against encroachers on the periphery road in Ludhana village in Hanumangarh (Rajasthan) today afternoon.

Three killed in mishaps
Abohar, October 21
An Army jawan and his brother died in a collision between a tempo and a canter near Rico Udyog Vihar terminal today morning. While Army jawan Neeraj and Dhiraj died, their father Ram Ujiyar was critically injured. The three were travelling in the tempo.