Dispute over power bills halts work at Ropar STPs
Ropar, October 26
A dispute over paying electricity bill for operating pumps to use water from three sewage treatment plants (STP) for irrigation purposes has rendered the machinery, worth Rs 1.5 crore, installed for the purpose useless. It has also led to wastage of millions of litres of water everyday. The water was to be utilised to irrigate more than 600 acres of land.
CM leaves Sangat Darshan in a hurry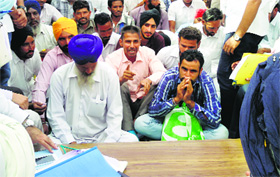 Rattakhera (Muktsar), October 26
Faced with uncomfortable queries, Chief Minister Parkash Singh Badal yesterday walked out of a Sangat Darshan programme at Rattakhera village in the Lambi Assembly segment in a hurry.



An unemployed youth (in pink shirt) argues with Chief Minister Parkash Singh Badal during Sangat Darshan at Ratta Khera village in Muktsar district on Saturday. Tribune photo
Govt must cut needless expenses, say Left parties
Chandigarh, October 26
The Left has urged Chief Minister Parkash Singh Badal to immediately cut unproductive expenditure to revive the state's ailing economy. These parties have also asked the Centre to waive the state's loan and announce a special package for it.
Protest against property Bill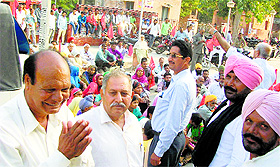 Fazilka, October 26
Activists of Left parties, including the CPI, the CPM and the CPI (ML), organised a rally in the Pratap Bagh area against the alleged "anti-people" policies of the state government.





Left party activists participate in a rally in Fazilka. Photo: Praful Chander Nagpal

SAD, BJP both pursuing divisive agenda: Bajwa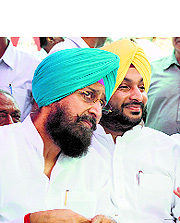 Ludhiana, October 26
Punjab Pradesh Congress Committee (PPCC) chief Partap Singh Bajwa today accused the SAD and its alliance partner in the state (BJP) of trying to "divide" Punjab on communal lines for petty political ends. Bajwa is on a four-day visit to Ludhiana. He attended a party function at which Gurpreet Bassi Gogi took charge as president of the DCC, Ludhiana (urban). Alluding to the "strained" ties between the alliance partners, Bajwa said the state unit of the BJP wanted to dissociate itself from the SAD. He claimed that the SAD and BJP game plan could possibly be to part ways to fight the 2017 Assembly elections on communal lines and then join hands post-elections, on the BJP-Shiv Sena pattern in Maharashtra.

Partap Singh Bajwa, PPCC chief, and Ravneet Singh Bittu, MP, in Ludhiana on Sunday. Tribune Photo: himanshu mahajan
Parliament must condemn 1984 riots: SAD
Chandigarh, October 26
Various parties have urged the Modi government to pass a resolution to express regret over the 1984 anti-Sikh riots during the next session of Parliament. "Sadly, all parties have ignored this issue for 30 years," said BS Ramoowalia, senior vice-president of the SAD. "Parliament has not even observed a two-minute silence in memory of those killed in the riots," he pointed out.
Alliance under strain despite CM's claims: Manpreet
Chandigarh, October 26
People's Party of Punjab president Manpreet Singh Badal today said Chief Minister Parkash Singh Badal was cold-shouldered by BJP leaders during the swearing-in of Manohar Lal Khattar as Haryana Chief Minister. He said this indicated that the BJP had yet to come to terms with SAD's support to the INLD during the Assembly elections.
2,600 brick kilns in state shut, await green clearance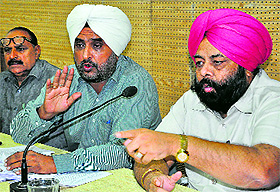 Chandigarh, October 26
More than 1.2 lakh of the total 1.4 lakh brick kilns in the country and around 2,600 of the total 2,700 brick kilns in Punjab have been non-functional for over three months for want of environment clearance certificates from the Union Ministry of Environment and Forests.


Punjab Brick Kiln Owners' Association general secretary Inder Pal Singh Walia (R) and press secretary Sarbjit Singh Dhillon at a press conference in Chandigarh on Sunday. Tribune photo: Parvesh Chauhan
Nihang succumbs to injuries
Amritsar, October 26
Beer Singh, a Nihang who was critically injured in a group clash during the Bandi Chhod Diwas celebrations a couple of days ago, succumbed to his injuries at Guru Nanak Dev Hospital today. He had suffered a gunshot injury.
Convicted Akali leader's aide dies due to 'drug overdose'
Amritsar/Tarn Taran, Oct 26
Mystery shrouds the death of Prabhjit Singh Sohal, a close aide of Ranjit Singh Rana, a former Akali leader who was convicted of killing Assistant Sub-Inspector Ravinder Pal Singh in 2012.
Modi to head appointing panel
New Delhi, October 26
Prime Minister Narendra Modi will head the panel for the final selection of the next chief commissioner for gurdwara elections (read elections to the Shiromani Gurdwara Parbandhak Committee) scheduled to be held in September 2016.
Bittu, Bajwa back different candidates for DCC-rural chief's post
Ludhiana, October 26
Even as the controversy over replacing the president of the District Congress Committee (DCC), Ludhiana (urban), has yet to die down, the race for the post of DCC, Ludhiana (rural) has reportedly intensified. The names of two Congress leaders are being mentioned.
Unemployed teachers burn govt's effigy
Sangrur, October 26
Members of the state TET Pass Unemployed Teachers Union today burnt an effigy of the state government in Sangrur. They were led by the union's state general secretary, Raghbir Singh Bhawanigarh.
Cong protests non-issuance of blue cards
Sangrur, October 26
Congress members today blocked the main road near the Deputy Commissioner's residence in Sangrur to protest the non-issuance of newly prepared blue cards to poor persons, including Dalits, in Sangrur Assembly constituency.
Farmers resent tardy lifting in Patiala
Patiala, October 26
Though the Patiala district administration claims to have purchased paddy worth Rs 380 crore from farmers, they complain that the paddy hasn't been lifted on time. Farmers allege their crop hasn't been lifted for the past four days despite the fact that the state government claimed that they had adequate steps to ensure smooth lifting of paddy.
Goods worth lakhs gutted in Sunam
Sangrur, October 26
Thousands of empty gunny bags worth several lakh rupees were gutted in a fire at a godown in a grain market at Cheema Mandi near Sunam yesterday.
Jaitley, Harsimrat's assets have grown: Watchdog
New Delhi, October 26
Assets of at least three Union Ministers have increased since they assumed office five months ago, according to the National Election Watch and Association of Democratic Reforms.
Kartarpur complex lies neglected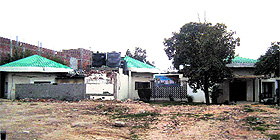 Jalandhar, October 26
The Magnolia Tourism Complex at Kartarpur, which is run by the Punjab Heritage and Tourism Promotion Board, is in a shambles. The complex, where the transborder buses of India and Pakistan halt, is spread on 6 kanals and 19 marlas.


The Magnolia Tourism Complex at Kartarpur in Jalandhar. Tribune Photo: Sarabjit Singh
Private insurance companies mint money under govt scheme
Ropar, October 26
It seems that insurance companies are making handsome profits under the Rashtriya Swasthya Bima Yojna (RSBY). The RSBY is a health insurance scheme launched for Below Poverty Line (BPL) families. While the insurance companies have been receiving several crore rupees insurance premium from the Centre as well as state governments, the number of people benefiting from the scheme is very few. The information was procured under the RTI Act by local advocate Dinesh Chadha.
Jakhar slams state govt for revising atta, dal rates
Abohar, October 26
Congress Legislative Party (CLP) Leader Sunil Jakhar on Sunday slammed the state government for "backtracking" from poll promises on the much-publicised Atta-Dal Scheme.
Urdu poet awarded
Hoshiarpur, October 26
A renowned Urdu poet from Barabanki in Uttar Pradesh, Ustad Rehbar Tabani, was awarded the fourth Prof Mohan Singh Aujla Award here today. The award was given away to him during the All India Mushaira organised by Zila Lekhak Manch. Poets from Rajasthan, Uttar Pradesh, Haryana, Jammu Kashmir, Delhi, Himachal Pradesh, Uttrakhand, Chandigarh, besides Punjab, participated in the mushaira that continued for more than four hours. — OC
Farmers flay govt for 'framing' leader
Tarn Taran, October 26
The state Kisan Sangarash Committee (KSC), in its meeting held today at Lauhka village, 15 km from Tarn Taran, flayed the state government for allegedly registering false cases against the organisation's convener, Kanwalpreet Singh Pannu.
8 feared dead as bus falls into canal
Tarn Taran , October 26
A Jammu and Kashmir bus (JK-02-80-9939) fell into the Upper Bari Doab Canal (UBDC) near Mianpur village this evening. Eight members of a marriage party are feared to have been killed. Twenty-four passengers have been injured in the incident. They have been admitted to the SGPC-run Baba Budha Sahib Charitable Hospital, near Chabaal.
Centre may stop grant for agriculture agency
Bathinda, October 26
The Union Government is planning to discontinue the yearly grant extended to the state for the Agriculture Technology Management Agency (ATMA) in view of the unprecedented delay in utilising the Rs 5.87-crore grant issued earlier.
Five booked for robbing petrol stations at gunpoint
Mansa, October 26
Five unidentified people have been booked by Sardulgarh police of Mansa district for robbing four petrol stations in villages situated near the Punjab-Haryana border. It is the second case of robbery in Mansa district in a month.