CBI interrogates BJD MP, two ex-MLAs
Bhubnaeswar, October 26
The CBI on Sunday interrogated Biju Danta Dal (BJD) MP Ramachandra Hansda and two former legislators in Odisha for their alleged complicity in the multi-crore chit fund scam.
401 LS members yet to declare asset details
New Delhi, October 26
Over 400 incumbent Lok Sabha members, including Rahul Gandhi, Sonia Gandhi, Lal Krishna Advani and Rajnath Singh have not yet declared their assets and liability details, according to an RTI reply.
black money
Govt to seek Hasan Ali's bank details from Swiss
New Delhi, October 26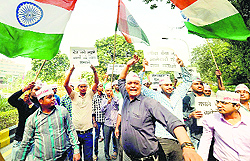 The renewed vigour to unearth suspected black money of Indians in Swiss bank accounts after a recent meeting of top officials on both sides is expected to initiate final prosecution in one of the most prominent tax crime cases related to Pune-based stud farm-owner Hasan Ali Khan.


A protest outside the residence of Finance Minister Arun Jaitley over the black money issue in New Delhi on Sunday. PTI

NSG inducts dog breed that sniffed out Osama's hideout
New Delhi, October 26
A special breed of military canine that is credited to have helped the US navy SEALs in sniffing out al-Qaida chief Osama bin Laden's hideout in Pakistan is now part of the country's elite counter-terror and counter-hijack commando operations force National security Guard (NSG).
burdwan blast case
NIA probe finds TMC-Jamat link
Kolkata, October 26
A National Investigation Agency (NIA) report has established a link between the state's ruling Trinamool Congress (TMC) and Islamist organisation Jamat-e-Islami in the Burdwan blast case.
Gujarat admn braces for cyclone Nilofar
Ahmedabad, October 26
The Gujarat administration is bracing for Cyclone Nilofar, which has developed in the Arabian Sea and is likely to move towards the state's coast, Gujarat meteorological department today said.
Won't allow India to resolve K-issue its own way: Pak


Adviser to the Prime Minister on Foreign Affairs and National Security Sartaj Aziz has blamed India for wanting to resolve the Kashmir dispute in its own way, which he said Pakistan would not allow. "India wants to resolve the Kashmir dispute in its own way and Pakistan will not allow this Indian attempt to succeed," he said while speaking to reporters in Islamabad.

Sartaj Aziz, Adviser to Pakistan PM
'Million March' on Kashmir fizzles out
London, October 26
A protest march by a UK-based pro-Pakistan group on the Kashmir issue in the heart of London today fizzled out as barely a few hundred protesters gathered to wave placards and flags.
'Modi Express' from Melbourne to Sydney
New Delhi, October 26
In appreciation of Narendra Modi's humble beginnings, over 200 fans of the Indian prime minister will travel 870 km by a special train dubbed "Modi Express" from Melbourne to Sydney for a diaspora event November 17.
PM invites ideas on key issues ahead of Aus visit
New Delhi, October 26
Preparing his first visit to Australia, Prime Minister Narendra Modi on Sunday invited ideas and thoughts on important issues from Indians, including those living in that country.
Drug, staff shortage in ECHS polyclinics hitting patients hard
Chandigarh, October 26
Defence veterans in the region are complaining of an acute shortage of medicines, including essential drugs, in polyclinics being run by the Ex-Servicemen Contributory Health Scheme (ECHS).
Navy orders probe into financial irregularities
New Delhi, October 26
The Eastern Naval Command has constituted a Board of Inquiry (BoI) to look into allegations of financial irregularities against some senior naval officers.
Pak couple held with fake documents
Vadodara, October 26
A Sindhi couple hailing from Pakistan was arrested today on charges of buying a flat here on the basis of fake documents.
9 killed, 25 hurt in Assam mishap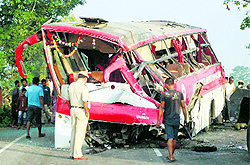 Guwahati, October 26
Nine persons were killed and 25 others injured when a bus they were travelling in plunged into a gorge at Naltoli in Nagaon district of Assam today. Superintendent of Police A Kalita said the bus belonging to Assam State Transport Corporation (ASTC) was coming to Guwahati from Lakhimpur en route some north Indian places of pilgrimage, including Kashi, Gaya and Vrindaban.
A policeman inspects the bus which met with an accident in Nagaon district of Assam on Sunday. PTI

IOC official goes missing in Assam
Guwahati, October 26
Executive Director of Assam Oil Division (AOD) of Indian Oil Corporation Limited (IOC), Kaushik Bora, went missing on Sunday.
Flight delay: Passengers take on AI staff
Mumbai, October 26
A group of Air India's Riyadh-bound passengers had an altercation with the airline's staff at the airport here after their flight got delayed and failed to take-off at rescheduled time. The agitated passengers, however, were later pacified by the airport staff, an airport source said.
Telangana-Andhra war over power, water sharing intensifies
Hyderabad, October 26


Tension has been building up between Telangana and Andhra Pradesh following a dispute over sharing water and power. Brushing aside objections from Andhra Pradesh, Telangana Chief Minister K Chandrasekhar Rao ruled out stoppage of power generation at the Srisailam Hydel Project even as he announced the state government's intention to file a Special Leave Petition (SLP) in the Supreme Court.
K Chandrasekhar Rao, Telangana CM
Gujarat says no to trials of GM crops
Gandhinagar, October 26
Gujarat has become the 11th state in the country to discourage field trials of the genetically modified (GM) food crops though it will continue to allow production of BT Cotton.
Rao Inderjit visits Chandimandir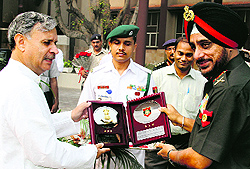 Chandigarh, October 22
Minister of State for Defence Rao Inderjit Singh visited Headquarters Western Command in Chandimandir today. He was given an update on the operational, training and administrative aspects by the General Officer Commanding-in-Chief, Western Command, Lt Gen KJ Singh.


MoS Defence Rao Inderjit Singh (L) at the Western Command headquarters in Chandimandir

India has more youth power than China: Raje
Jaipur, October 26
Attributing the credit to the youth for the change of the guard in the state and at the Centre, Rajasthan Chief Minister Vasundhara Raje on Sunday said India has got better "youth power" than China and the country will lead with it.
Muslim helps cremate Hindu sister
Rampur (UP), October 26
In a heartwarming display of communal harmony, a Muslim man in a village near here made the arrangements for the cremation of a Hindu widow, whom he treated as his sister and had been supporting for a long time.