When society is threatened by love
Inter-communal couples question the authority of family and religious communities in determining their lives, and upset relentless communal polarisation. Construction of a hoax like 'love jihad' is thus based on propaganda rather than the actual experience of people
Charu Gupta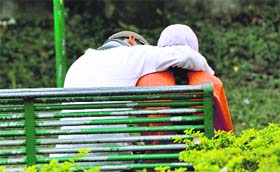 Threat to patriarchy: Inter-caste and inter-religious love, resulting in marriages, has increased in contemporary India.
Love Jihad, which is actually a jihad against love, is a 'delicious' political fantasy, a lethal mobilisation strategy, a vicious crusade, and an emotive mythical campaign. It is an attempt by Hindutva forces for political and communal mobilisation in the name of women. They allege that 'love jihad' is an organised conspiracy and movement, whereby Muslim men are forcefully converting vulnerable Hindu women to Islam through trickery and marriage. Rashtriya Swayam Sevak Sangh's sarkaryawah Suresh Bhayyaji Joshi stated in a press conference as late as October 20, 2014, that the 'Hindu samaj (society) has been facing the 'shame' of 'love jihad' since long, and the Uttar Pradesh government should take a 'serious view' of it, as it 'hurts the dignity of women'.
The September 7, 2014, issues of RSS's mouthpieces, Panchjanya and Organiser, had their cover stories on 'love jihad'. They urged people to raise the slogan 'love ever, love jihad never!' We have witnessed an aggressive campaign around 'love jihad' in various villages, mofussils and towns of western UP in the months of August and September, particularly prior to the recent elections, by Hindutva organisations like the Dharma Jagran Manch, the Vishwa Hindu Parishad and the Bajrang Dal.
The political landscaping of communalism has historically drawn on the figure of woman to carry on such orchestrated campaigns. Besides the politics of vote bank and elections, the issue has multiple layers, as it simultaneously attempts to invoke Hindu male prowess, promote images of a 'licentious' Muslim male, fabricate fears of declining Hindu numbers, construct a homogenous Hindu identity and nation over a sharply caste-class divided society, reinstate familial patriarchies, and above all expose grave anxieties over women's independent and individual expressions of love, desire and intimacy.
Hindu masculinity
Constructions of 'love jihad' are based on carrying an orchestrated propaganda campaign against alleged deceitful romance and conversions of Hindu women by Muslims, whereby Hindu men have been asked to assert their prowess, protect their women and avenge such wrongs. Hindu publicists have also felt that while the Ramjanmabhoomi movement has lost its steam, this issue can be even more emotive, as it enters our most intimate, domestic spaces, and can potentially carry the 'fear' of Muslim into every Hindu home. It is believed that it can also provide a cohesive Hindu unity, camouflaging deeper social tensions around caste. Thus, giving a clarion call to Hindus of western UP, BJP MLA, Sangeet Singh Som recently announced a mahapanchayat to protest against 'love jihad' in his assembly constituency of Sardhana in Meerut district.
The movement perceives rape and conversions of Hindu women as a characteristic Muslim activity. The Uttar Pradesh president of BJP, Laxmikant Bajpai pronounced, 'Have they got certificate to rape girls because they belong to a particular religion? He went on to enunciate that ninety per cent of all rapes were committed by Muslims! It is even professed that Muslim youth are receiving funds from abroad for purchasing designer clothes, vehicles, mobile phones and expensive gifts to woo Hindu women and lure them away. There is an endeavour to move the centre of sexual violence from men in general and Hindu men in particular towards the Muslim male.
Hindu wombs, Muslim progeny
One of the arguments given by Hindu groups has been that forced conversions of Hindu women in the name of love are linked with enhancing Muslim numbers, and this is part of an international conspiracy to increase Muslim population. Numbers game, and constructed fears around it, has been central to the modern politics of Hindutva. RSS thus describes love jihad as a movement to convert vulnerable Hindu girls to Islam, to decrease the population of Hindus and increase Muslim numbers in the country. In a weird arithmetical equation, the Hindutva forces have coined the slogan: hum do, humare do, woh paanch, unke pachees (We two, our two; they five, their twenty-five). However, various surveys have completely debunked such theories, and there has been as much increase in the percentage of Hindus as that of Muslims. What is particularly important here is that how through such arguments, even a dominant majority can represent itself as an 'endangered' minority.
Hindutva forces further claim that while they have 'no objection' to voluntary conversion, they are explicitly opposed to 'forced' conversions. But then how do we describe force? Historically, when Dalits, or others who have been on the margins of Hindu society, be it widows, low caste women and prostitutes, have converted, it is often because they have felt 'lured' by the fact that it can signal some dignity, education, clothing, employment, and roti-beti (food-marriage) ties for them. Conversion can also be a declaration of an altered relationship with the world through the right to inhabit unmarked bodies. Good clothing, footwear and bodily comportment — standing erect while speaking, refusing to contort the body in a submissive fashion — have been critical to Dalit self-fashioning. Can this be called 'luring' or an implicit 'forcing'?
It has also been argued that if one is marrying for love, why should conversion follow? Conversion, however, is a matter of personal choice, and is very much allowed by our constitution. Moreover, the Special Marriage Act, under which such marriages can take place, requires one month notice, which an eloping couple is afraid to give, faced as they already are with deep parental opposition. Patriarchies are so deeply entrenched in our society that Muslim families get equally worried when their daughters marry Hindu men. In fact, inter-religious marriages are opposed by most Hindu and Muslim families, which further expose the bogey of 'love jihad' as being some organised conspiracy. Campaigns like 'love jihad' thus privilege moral panic and public morality over constitutional morality.
Hindu organisations also claim that while Hindu women have married Muslim men, the reverse has not really happened. However, there is a long list of celebrated Hindu husbands with Muslim wives, to name a few: Sunil Dutt-Nargis, Atul Agnihotri-Alvira Khan, Urdu author Krishan Chander-Salma Siddiqui and many others. However, when a Hindu man marries a Muslim woman, it is always portrayed as 'romance' and 'love' by Hindu organisations, while when the reverse happens, it is depicted as 'coercion'.
Regulating women
The Hindu woman has been regarded as an exclusive preserve of the Hindu man, and in the name of protecting her, which she has never asked for, all violence is justified. Even before the term 'love jihad' was coined, the Bajrang Dal ran a 'Bahu Betiyon ki Izzat Bachao' campaign. Ram Sena leader Pramod Muttalik launched a 'Beti Bachao Andolan' in Karnataka, and was also instrumental in coining the term 'love jihad'. More recently, an organisation called Meerut Bachao Manch has been floated in Meerut to fight the 'menace' of love jihad. Such campaigns always represent the woman as foolish, with no mind or heart of her own. Armed with peacock feathers and blessed water, godman Baba Rajakdas has been selling a love 'cure' in Saharanpur to save Hindu girls, who according to him, get easily carried away by Muslim boys as they do not understand that they are being exploited.
The 'love jihad' campaign has attempted to therefore penetrate everyday lives of women. In various meetings, detailed instructions have been given to Hindu women, including 'not to wear green clothes', 'not to go to Muslim tailors and barbers', and 'not to go to any grave of Muslim saints'. Everyday public spaces like schools, colleges, theatres and ice-cream and juice parlours, mobile charge shops and internet cafes have been identified as sites where Hindu girls are 'wooed'. Pramod Muttalik has written a book Love Jihad: Red Alert for Hindu Girls, which devises 'preventive' measures and gives instructions on how to prevent Hindu women from 'becoming victims'. It has instructions like: 'Be cautious about her wearing a head-scarf since it becomes difficult to recognise a girl who wears a headscarf and sits behind a two-wheeler…. Since some cases of love jihad have taken place with help of mobile phones, check incoming calls. Remember that saved numbers may be under a false name…. To get help from Hindus in a difficult situation, apply kumkum on the forehead.' Muslim men have also been banned from garba celebrations, and clarion calls have been issued to patrol all spaces of possible interactions between women and men.
The lies of love jihad
In the 'love jihad' campaign, venomous generalisations and wild claims have been made that 30,000 to 300,000 thousand women have been converted till now. The concrete examples have repeatedly been falsified, exposing the fallacy and fantasy of 'love jihad'. Turning love marriage on its head, the ogre of love jihad became a public citation of Hindu communalists in BJP ruled Karnataka in August 2009 when 18 year old Silija Raj ran away with 24 year old Asgar Nazar. A division bench of the court ordered a CID probe in October 2009. After detailed investigations, the CID DGP D. V. Guruprasad told the high court: "There is no organised attempt by any group of individuals to entice girls/women belonging to Hindu or Christian religions to marry Muslim boys with the aim of converting them to Islam." Not only did the Karnataka high court finally close the investigations into 'love jihad' in November 2013 after no evidence of any such conspiracy was found, the high court said Silija Raj was free to go anywhere she wished. She chose to go with her husband. In 2012, the Kerala police categorically declared that love jihad was a 'campaign with no substance', and instead brought legal proceedings against the website hindujagruti.org for spreading religious hatred and false propaganda.
Anxieties of love
Inter-caste and inter-religious love has increased much more in contemporary India, and has broken all boundaries. Constructed myths like 'love jihad' expose deep seated anxieties against female free will, against the subversive potential of love, and against threat to traditions. Inter-communal couples question the authority of family and religious communities in determining their life, and upset relentless communal polarisation. These localised and embodied practices of women, which require great social courage and also reveal how women have taken control over their lives, have deep social ramifications. The recalcitrance of love, inter-religious marriage, and desires to improve one's position can throw up emancipatory possibilities, and has the potential to become a metaphor for a new vocabulary of body, of interiority, of subjectivity.
The writer teaches at the Department of History, University of Delhi. She is the author of Sexuality, Obscenity, Community: Women, Muslims and the Hindu Public in Colonial India
Fact versus fiction
The notorious Meerut gang-rape and forced conversion case has taken a complete U-turn. Even the case of shooter Tara Sahdev seems a complex family story where her husband has claimed he was born of a Sikh father and a Muslim mother and himself a late convert. In a case reported from Muzaffarnagar the police gave a clean chit to a youth named Pervez on 7 September, 2014, who was accused of kidnapping and forcibly converting an 18 year- old- girl. The girl gave her statement in a local court stating that she had gone with Pervez of her own free will. So far there is no hard empirical evidence of love jihad. If love jihad is really an organised conspiracy, then is it not amazing that the CID, the courts, the police, governments where BJP has been in power, have found no basis for such a planned 'crime'? If there is any conspiracy here, it is a conspiracy of the Hindu Right to polarise communal passions and control women.
Shadows of history
After 1922, as communalism grew rapidly in India forcing the two groups -- Hindu dominated Congress and the All India Muslim League, which began demanding a separate land for Muslims towards 1930, major riots broke out in numerous cities. This triggered major propaganda war between the two communities.
The 1920s in UP( then known as CP) witnessed a flurry of orchestrated propaganda campaigns and popular inflammatory appeals by a section of Hindu publicists against "abductions" and conversions of Hindu women by Muslim goondas.
Pamphlets with provocative titles like Hindu Auraton ki Loot, which denounced Muslim propaganda for proselytising female preys, and Hindu Striyon ki Loot ke Karan, an Arya Samajist tract showing how to save "our" ladies from becoming Muslim, appeared at this time.