last word: Sarita Devi
When justice, not medal, matters more
Manipur boxer Sarita Devi has lived in the shadow of Mary Kom. Believed to be better in skill, Sarita's refusal of the bronze medal at Incheon has set her apart.
By Rohit Mahajan
Food scarcity affects those people most who desperately need a good diet—the people who do hard physical work. This irony, this reality of India affected Laishram Sarita Devi too, when she was a teenage boxer in need of nutritious food in Imphal. Sarita Devi was the sixth among eight siblings in a poor agricultural household. It was a tough life—going to school, working in the fields, foraging for firewood, helping her mother in household chores.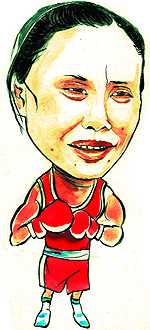 Sandeep Joshi
Then, barely into her teens, Sarita Devi decided to become a boxer. Manipur's Dingko Singh won a gold medal in the 1998 Asian Games; boxing's popularity soared, and his coach Leishangthem Ibomcha Singh acquired sudden and extreme popularity. Sarita Devi was one of the kids who became Ibomcha's trainees.
Rich kids play for recreation; poor kids get into sports to get a job or food. Getting good food was one reason Sarita became a boxer. At the Sports Authority of India hostel in Imphal, Sarita was assured of going to bed with her stomach full.
Ibomcha coached in idyllic surroundings—the hills, the greenery, the pond made it a beautiful setting. But he demanded blood and sweat and tears of his wards. At the stadium where he trained kids, he had written: "Give me sincerity, I give you future". Sarita, though slight of build, was physically tough because of the hard work she'd put in the fields. She worked hard and became a champion boxer—she won several titles, including the World Championship. She got a job with the Manipur Police. Food was no longer a problem.
Sarita never really got her due. She's always lived in the shadow of Mary Kom, another Manipur boxer with whom she trained under Ibomcha. Mary is a multiple world champion who also won a bronze medal at the 2012 Olympic Games. Experts believe that Sarita is the more skilful boxer of the two—but she's not been blessed with good luck. Sarita fights in the 60 kg category, but before she put on weight, she was a 51 kg boxer. Mary was a 47 kg or lighter boxer. For the 2010 Asian Games in Guangzhou, there was no 47 kg class—Mary decided to move up to the 51 kg class, in which Sarita was the then Asian champion. They had to fight it out for the one berth available in the Indian team. They fought, and both believed they'd won. Mary was declared the winner, Sarita was forced to miss the Asian Games. The two had been long-time friends, they used to share a room in Imphal, and during boxing competitions. The trials for the Asian Games were a trial on their friendship—they drifted apart. To this day, Sarita believes that she'd won that trial fight. They're friends again, and in Incheon during the Asian Games, Sarita and Mary shared a room at the athletes' village. Both of them were going for gold—Mary in the 51 kg class, Sarita in the 60 kg class. Both are mothers, and that created a new bond between them. "I'm happy that two of the three boxers are mummy," Sarita would say after winning her bouts.
Sarita had announced in August that she would retire after the 2016 Rio de Janeiro Olympic Games. She had won a silver medal at the Commonwealth Games in Glasgow, and she is aware that gold would be nearly impossible to win in the Olympic Games in 2016, when she would be 31. Thus, the Asian Games was probably her last opportunity to win a gold medal in a multi-sport, multi-nation games.
Boxing is cruel, it involves trying to beating your opponent senseless, it involves taking punches on your nose and head and face and body. But it's very common to find boxers who are friendly and genuinely nice to each other. Sarita Devi is a jolly, cheery boxer who's forever willing to smile and laugh; even when she's lost a bout, she's not morose or petulant, unlike many boxers who, after losing a bout, storm away angrily.
It was out of character for Sarita to act the way she did in Incheon, but the provocation was extreme. She had clearly beaten Jina Park of South Korea in their semifinal bout—a more one-sided bout, short of a knockout, is difficult to conceive of. Yet, Park was declared the winner. It was clearly an unjust, and very possibly corrupt, verdict. Boxing is known for allegedly 'fixed' decisions in favour of host countries, or in favour of countries to which senior world boxing officials belong.
After she'd 'lost', Sarita was disconsolate. But her husband, coaches and officials had managed to persuade her not to protest during the medal ceremony, which was scheduled the next day. But when the moment arrived, when she saw what she believed was her gold medal on a salver ready to be given to another boxer, she snapped. Memories of years of training, of not being recognised as mother by her son because she's always away training, flashed before her eyes. She refused to accept the bronze. "I don't want any boxer, from any country, to suffer the way I did," she said.
Sarita apologised later, saying she did so as she didn't want Indian boxing and boxers to suffer. But the international boxing association has acted. She's been suspended, along with Indian coaches and officials.
The suspension may be overturned, Sarita could fight in Rio in 2016. But she already may have made her most famous move, a protest against the institutionalised corruption in boxing. Idealists in sports may not like her for "not losing with grace", but boxing needs more such "bad losers", because boxing needs to be cleaned up.