Universities need India centric ranking
India's continued poor performance in educational rankings comes in the background of working towards National Knowledge Network. Many countries put resources into improving the global profile and performance of their universities. Should India care for these rankings or should we have our own ranking system?
B.S. Ghuman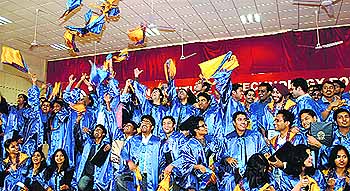 For assessing the performance of the Indian universities, we need a ranking methodology which is governed by the issues and challenges of our higher education system.

In ancient times, two Indian universities, Nalanda and Takshashila were among the top ranking universities across the world. These were epicenters of quality education like present day Oxford and Harvard; attracting international students from countries like Korea, Japan, China, Tibet, Indonesia, Persia and Turkey. The famous treatise of Arthashastra by Kautilya is said to be compiled in Takshashila. At present, however, none of the Indian universities figures in the first top 200 universities of the world. In the Times Higher Education Ranking Survey of World Universities, only two universities, namely, Panjab University, Chandigarh, and Indian Institute of Science, Bangalore, figured in the group ranked between 275-300. President of India in his recent address through National Knowledge Network expressed his serious concerns about the low performance of Indian universities and stressed on new initiatives for enabling the Indian universities to find a place among first 200 universities.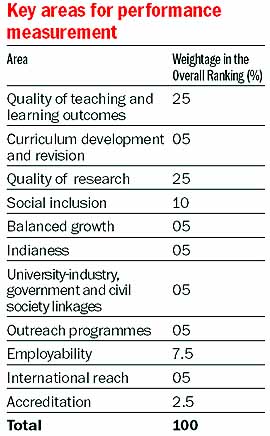 The low ranking of Indian universities suggests something is seriously ailing our universities. It seems a facile generalisation, otherwise how do we explain the outstanding contribution of our alumni within India and abroad in areas like fundamental research, management, information technology, that includes the Silicon Valley? These simple facts certainly point to strengths of the Indian universities and also question the efficacy of global methodologies employed by the ranking agencies like The Times Higher Education, Shanghai University and QS. The methodologies show a bias in favour of advanced countries. For example, in some of the surveys, alumnus and staff winning Nobel Prizes and Fields Medals in Mathematics, academic reputation surveys, papers published in Nature or Science, proportion of international students etc. are given sizeable weightage. Countries like India suffer on these parameters. It is only rarely that a Nobel Prize and a Field Medal are awarded to scholars of the third world. These two indicators together are given 30% weightage in case of Shanghai Ranking.
The challenges to higher education in India are much different from advanced countries. Therefore, for assessing the performance of the Indian universities, we need a ranking methodology which is governed by the issues and challenges of our higher education system. Prime Minister of India, Minister, HRD and Chairperson, UGC have already called for evolving India specific methodology.
The major issues and challenges relating to higher education are of moderate quality barring few Centres of Excellence, low access, and inequity. The access to higher education is 18% against 100% in Korea and 95% in the USA. Besides being low it is highly inequitable across gender, location and socio-religious groups. Additional issues include weak networking among Indian universities; lack of trusted institutional mechanism for university-industry and society interface; over-emphasis on lecture based teaching pedagogy; and fragile cultural diversity in many campuses.
The suggested methodology should also include the identification of parameters, which have the potential of taking leading Indian universities among top world universities.
Providing a scope for improving our global ranking by keeping India specific issues in mind, 45 calibrated performance indicators are suggested for ranking the Indian universities. These are classified into 11 key areas. The significance of each area is shown in the table.
Quality of teaching and learning outcomes (25%)
For assessing the quality of teaching and learning outcomes, the indicators to be factored into are: (i) teacher-taught ratio (5)%; (ii) teaching pedagogy combining traditional lecture based method, problem solving, experiential learning, student seminars, field based learning and use of ITC (3%); (iii) teachers having completed qualifying degree from other universities (2%); and (iv) adjunct faculty (1%); (v) choice -based credit system (3%); (vi) ratio of continuous assessment and terminal examination (3%); (vii) percentage of students with first division (3%); and (viii) students' feedback (5%).
Curriculum development and revision (5%)
For making our courses relevant to emerging needs of the economy and society, the recommended indicators include: (i) introducing new courses in tune with market/research surveys (2%); (ii) major restructuring of curriculum on regular intervals (2%); and (iii) involvement of stakeholders particularly alumni and industry in curriculum development (1%).
Quality of research (25%)
For incentivizing the universities for undertaking fundamental, policy, applied and evaluative research the major indicators include: (i) papers per teacher published in blind peer review journals normalized subject wise (5%); (ii) citation index/ research impact measuring frequency of published work cited by researchers across the globe and research's accumulated influence to drive action (10%); (iii) grants per teacher for major national and international projects (3%); (iv) productions, concerts, performance, art works, creative writings per teacher of participating disciplines (1%); (v) patents per teachers of the participating departments (2%); (vi) inter-disciplinary projects (2%); and (vii) Research Awards conferred by National/State Funding institutions (2%).
Social inclusion (10%)
For measuring the performance of Indian universities for promoting social inclusion, indicators can be: (i) percentage of rural students (2%); (ii) percentage of girl students (2%); (iii) percentage of minority students (2%); (iv) percentage of reserved categories including handicap students (2%); and (v) percentage of first generation learners (2%).
Balanced growth (5%)
Top ranking universities should strive for a balanced growth. The suggested indicators include: (i) percentage of Social Science and Humanities students (2%); (ii) percentage of Basic Sciences' students (2%); and (iii) percentage of inter-disciplinary courses' students (1%).
Indianess (5%)
The Indian universities have Centres for Excellence which hardly collaborate with each other. The cultural diversity in the universities needs to be encouraged in the new methodology by having indicators: (i) collaborations in teaching and research/inter-varsity knowledge clusters (2%); (ii) percent of students from other states/UTs (2%); and (iii) percent of faculty from other States/UTs (1%).
University- industry, government and civil society linkages (5%)
The university-industry, government and civil society partnership bridges the gap between academia and market; engages in innovations and transfer of knowledge; and promotes student internships. The performance indicators in this regard can be: (i) industry funded research project grants/income per teacher of participating disciplines (2%); (ii) outcome of technology incubation centres (1%); (iii) exchange of faculty and professionals (1%); and (iv) students' internships with industry, governments, civil society, courts, etc. (1%).
Outreach programmes (5%)
A number of universities in India remain confined to their walls, keeping this in view the recommended performance indicators comprise: (i) percentage of research projects relating to local community (2%); (ii) awareness programmes relating to health, environment, sanitation, low sex ratio, corruption, crime against women, drug abuse, etc. (1%); (iii) undertaking literacy programmes (1%); and (iv) involvement in disaster management programmes (1%).
Employability (7.5%)
In the Indian context there is wide gap between the skills formed in the universities and skills required by the market resulting in low employability ranging from 25% in case of professional courses to below 10% for arts graduates. In an economy having demographic dividends, preparing the students for market should be one of the priorities of the universities. For judging employability, performance indicators are: (i) institutional arrangements like Central Placement Cells/ Finishing Schools for honing students' skills for jobs (2%); (ii) percentage of students in vocational and job oriented courses (2%); and (iii) overall employability (3.5%).
International reach (5%)
Earlier, a large number of students from Africa, Middle East, East and South Asian countries were coming to the Indian universities. Settings up of universities in home countries and foreign exchange distress have resulted in a visible dip in the number of international students. Some universities are still getting international students. The number of foreign collaborations by the Indian university is on the increase. Good numbers of students are coming to India for internships. Keeping these considerations in view, indicators suggested for international reach are: (i) proportion of international students (1%); (ii) proportion of international faculty (1%); (iii) international partnerships in research and teaching including Joint/Dual Degree Programmes (2%); and (iv) international student internships (1%).
Accreditation (2.5%)
Regular accreditation holds the key to excellence. In India the National Assessment and Accreditation Council (NAAC) and National Board of Accreditation (NBA) are two accreditation agencies. Unfortunately their efforts have not yielded expected results as accreditation has been a voluntary activity till recently. In this light 2.5% weightage is suggested to all the universities which have received Grade B and above.
Overall rank of a university
For developing an overall rank of a university based on above-mentioned performance indicators, a standardized methodology by using suitable statistical techniques need to be followed.
Role of the universities and government
In most universities teachers are driven by their professional accomplishments. They spend maximum time on academic works. They eschew from participating in the meetings for devising strategies for marketing the achievements of the universities. Thus we have very impressive achievements of our faculty but we fail to project properly the macro accomplishments in the absence of an institutional mechanism for collating achievements. For marketing, the cumulative achievements of the universities, each university should either set up its own Cell for Performance Ranking or outsource this work. According to Mr. Phil Baty, Editor, The Times Higher Education Ranking, many countries invest resources for improving the performance of their universities. India should also emulate this practice by investing adequate resources for improving ranking of the Indian universities.
Disadvantaged or misjudged?
India now has close to 700 universities; central, state, private and deemed.
Barring the private ones, most universities have similar subjects and course structures.
The extent of specialisation is limited among Indian universities.
There is more growth in engineering and technology institutes, investment in the growth of humanities has been ignored in the higher education.
The IITs have said the method of ranking is loaded against their system.
Of the five criteria used in ranking - teaching, research, citations, international outlook and industry income - it is only on the last criterion that Indian universities face some disadvantage.
The writer is Professor at Department of Public Administration, Panjab University, Chandigarh. He has co-edited a book on higher education titled, Higher Education in India: The Changing Scenario.