Satpal Satti mulls flyover to ease traffic congestion in Una
Una, October 25
Una MLA and state BJP president Satpal Singh Satti today said in view of the increasing road congestion, he had decided to submit a project proposal to the Union Ministry of Surface Transport. Talking to The Tribune, he said he would meet Nitin Gadkari, the Union Minister concerned, on October 30 with a flyover proposal for the city.
Investment in state
CM to meet industry bigwigs
Shimla, October 25
Chief Minister Virbhadra Singh will hold investment meets in Mumbai, Bangalore and Ahmedabad from November 5 to woo industry bigwigs and roll out red carpets to business houses to attract investment in state.
Dhauladhar range gets first snowfall
Palampur, October 25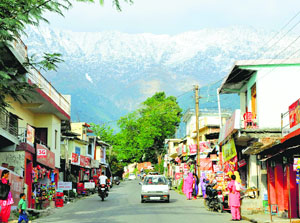 Higher reaches of the Dhauladhar range and upper areas of Chhota Bara Bhangal experienced the first snowfall of the season today. The lower areas witnessed light showers, bringing down the temperature. Himachal Pradesh Agriculture University experts advised farmers to speed up the sowing of wheat and other crops before the onset of winter.


The Dhauladhar mountain range receives fresh snowfall as seen from Dharamsala on Saturday. Photo: Kamaljeet

New cancer hospital under govt consideration: CM
Shimla, October 25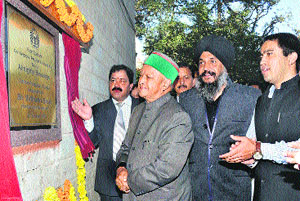 Opening a new cancer hospital in the suburbs of Shimla, with adequate rooms and a parking lot, is under the consideration of the state government. Chief Minister Virbhadra Singh said this after inaugurating a free canteen service, started by Almighty Blessings, an NGO, in the cancer hospital at the IGMC, Shimla, today.


Chief Minister Virbhadra Singh inaugurates a free canteen at the cancer hospital in Shimla on Saturday. Tribune photo
Not pursuing projects initiated by CMs, insult to democracy: Shanta
Kangra, October 25
Former Chief Minister and Kangra MP Shanta Kumar today said not pursuing projects initiated by any Chief Minister was an insult to democracy. The Chief Minister in office was bound to complete such projects in public interest.
Four held for manhandling Home Guard jawans
Una, October 25
The police today arrested four youths for allegedly manhandling Home Guard jawans who were on night patrol at the Chattarpur Dhada bus stop here. The incident took place on the night of Diwali when the youths, travelling in a Maruti car, were reportedly creating a nuisance on the road.
Man booked for organising bull fight
Hamirpur, October 25
The police registered a case under the Cruelty to Animal Act against Sanjiv Kumar for allegedly organising a bull fight at a village here yesterday. It was learnt that the bull fight was organised at Badehar village in Bhoranj subdivision of the district. The event was witnessed by hundreds of people of the area. This was organised to mark the traditional event of the village that coincided with the celebration of Diwali.
Rural sports a priority: Pathania
Kangra, October 25
Rural sports has been a priority for the state government, which is evident from the achievements of Himachali players in the World Powerlifting Championship, organised by the International Powerlifting Association, held at Las Vegas in the US recently. Sports should also be a high priority for the youth of the state as it will prove to be a boon for them in future. This was stated by state Forest Corporation Vice-Chairman and Manager, Indian Powerlifting team, Kewal Singh Pathania at a public meeting at Rait here today. — OC