Students seek refund from BIMS
Shimla, October 19
The orders of the HP Private Educational Institutions Regulatory Commission directing the Business Institute of Management studies (BIMS), Shimla, to close down courses of Sikkim Manipal University run by it through distance education mode and to refund the excess fee charged from students have not provided any relief to the affected students.
'Education biggest weapon for disabled'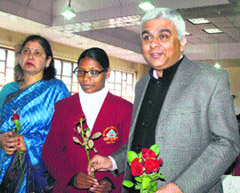 Shimla, October 19
Education is the biggest weapon for the disabled, especially the blind. George Abrahim, world-renowned blind scholar, activist and founder of the World Cup Cricket for Blind, said this while speaking at programme "Nazar Ya Nazaria" organised by the Umang Foundation, at Rajkiya Kanya Maha Vidyala (RKMV) and Himachal Pradesh University (HPU), yesterday.

George Abraham, founder of the World Cup Cricket for Blind, during an awareness programme at RKMV College in Shimla on Saturday. Photo: Amit Kanwar

'Tallest' national flag in Dalhousie hoisted
Dalhousie, October 19
Vice-Admiral Anurag G Thapliyal, AVSM and BAR, Director General, Indian Coast Guard, today inaugurated the "tallest" national flag in Himachal Pradesh on the premises of Dalhousie Public School on the occasion of the institution's 44th founder's day.
Basketball Championship begins at Dagshai APS
Solan, October 19
The Western Command Inter Army Public School's (APS) Basketball Championship for boys and girls began at Army Public School (APS), Dagshai. Five teams from each category are participating in the championship, which is being played on the league-cum-knock out basis.
CM honours Hindi poet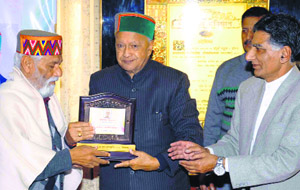 Shimla, October 19
Chief Minister Virbhadra Singh today honoured the renowned poet, critic and littérateur Shriniwas Shrikant with the lifetime achievement award for his efforts in promoting the Hindi literature at a function organised by the Himalaya Sahitya Avem Sanskriti Manch here today.

Chief Minister Virbhadra Singh gives the lifetime achievement award for promoting Hindi literature to Shriniwas Shrikant in Shimla on Sunday. Tribune photo

Relief to disowned heirs of farmers
Mandi, October 19
The government has restored the status of agriculturists to disowned heirs of agricultural landowners. The government has clarified that no person who has been deprived of inheriting the agricultural land by an execution of will or otherwise by his predecessor, father or mother, will be considered an agriculturist.

Smriti's Shimla visit cancelled
Shimla, October 19
Union Human Resourse Development (HRD) Minister Smriti Irani's two-day Shimla visit has been cancelled due to some important meeting convened by Prime Minister Narendra Modi. Smriti was scheduled to arrive here tomorrow to deliver a lecture on Rabindra Nath Tagore at the Indian Institute of Advanced Study (IIAS) and also visit the BJP office to address workers of the Mahila Morcha.
Red Cross Mela organised
Mandi, October 19
The annual Red Cross Mela was organised on the theme on sanitation at Seri Manch here today. Addressing a gathering, Himachal Pradesh Red Cross Society vice-president and former MP Pratibha Singh said the society was selflessly working for the uplift of poor and downtrodden.
Pinegrove School celebrates 23rd annual day
Solan, October 19
Pinegrove School, Subathu, celebrated its 23rd annual day today where students performed a host of cultural and physical activities. Amber Raskin , founder and executive director of Santa Clarita Valley International School, USA, who is also an accomplished television producer and an educationist, was the chief guest on the occasion.
Dance Fest ends
Shimla, October 19
Chief Minister Virbhadra Singh today said the Sangeet Natak Academy was playing a pivotal role in promoting the heritage of the vast diverse culture and lauded the Department of Language, Art and Culture for hosting such programmes. Speaking on a three-day Dance Festival that concluded here today, he said the festival witnessed a series of classical dances, including Kathak, Bharatnattyam, Manipuri and Odissi. The theme today was, 'When the Gods Meet' directed and choreographed by Dr Sonal Mansingh from the Indian Classical Dances Repertory Group, Delhi, displaying Lord Krishna's battle with the serpent king 'Kaliya.' Chief Minister said such festivals should be organised in routine so that the people could get a chance to watch the diverse culture of the different states, he said. TNS
1 killed in mishap, cop suspended
Mandi, October 19
One person was killed in a mishap at Jharol under Jhanjheli police post in Gohar subdivision yesterday. A constable was suspended for dereliction of duty. SP Mohit Chawla said Lajja Ram (70) sustained injuries when a pick-up van (HP 65-2714) driven by Rajesh Kumar (32) hit him. The injured was rushed to the Jhanjheli health centre where he succumbed to his injuries. The SP said a mob of nearly 70 persons blocked the road after the mishap. "I received an information that constable Ram Das allegedly helped the driver to flee the spot," he said. The driver has been arrested and a case under Sections 279 and 304 of the Indian Penal Code (IPC) has been registered against him. TNS
Badminton championship ends
Shimla, October 19
The district-level Fly Power India Badminton Championship concluded in Shimla today. Vikas Sood bagged the first position in the "35 years" category , while Gyan Thakur and Ishwar Singh Kataria won the doubles. In the "40 years" category, Vikas Sood came first, while in the 45, 50, 55 and 60 years categories, Chandershaker Turki, Kamal Turki, Kamal Kishore and JP Bhatt won the titles, respectively. TNS
PWD staffer booked for forgery
Mandi, October 19
The Jogindernagar police registered a case of forgery against a PWD employee yesterday. In a complaint to the police, Kashmir Singh of Kholi village had alleged that PWD employee Sher Singh of the same locality had submitted a fake birth certificate to get the job of a labourer in the department. Kashmir alleged that the accused had threatened him with dire consequences if he revealed the same. TNS