OPED

Health
How to bring down maternal mortality rates
Usha Rai
Despite many schemes launched for the antenatal care by the government, the maternal mortality rate remains high in India. The reason behind this high rate is not just poverty. Lack of cohesiveness between medical agencies accounts for the loss of many young lives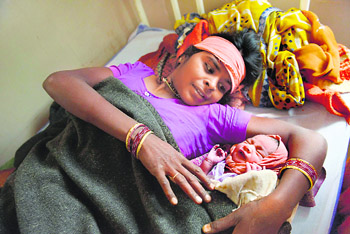 Poor healthcare facilities for women account for high maternity mortality rate in India. afp

Rita, a 16-year-old adivasi woman from Jharkhand, was pregnant for the first time. She had multiple problems during her pregnancy – malaria, jaundice, swelling of feet and face and night blindness, but her antenatal care was restricted to receiving one dose of tetanus toxoid. She died of eclampsia (a condition to which younger women are more vulnerable) and which could have been prevented had the risk factor been identified in the antenatal period.
An analysis of 124 maternal deaths from January 2012, to December 2013, by a coalition of 21 NGOs in 10 states of the country shows that 78 of the 124 women who died were very young, less than 25 years. While it is true that most pregnancies occur in this age group, the loss of young lives during a routine reproductive process cannot be condoned. The civil society report, poignantly called 'Dead Women Talking,' shows that 26 women were between 16 to 20 years.
Each of these deaths, reflects the lack of proper healthcare despite the heightened focus on institutional delivery and cash assistance under the Janani Surakha Yojana and more recently the Janani SishuSu Raksha Karyakram.
Vulnerable young and old
Rupa (name changed), just 17 and pregnant for the first time, lived in a resettlement village of Chhattisgarh as her original home was near a tiger reserve. The new home was 10 kms away from any road. Rupa received no health care—no female health worker or nurse ever visited her village, nor was there an ICDS centre in her village. The local health practitioner had told her after an antenatal check-up that she was anaemic, but she was not treated for it. She started bleeding after home delivery and died before any vehicle could be arranged to take her to a health facility.
At the other end of the spectrum were older women with a history of several pregnancies. It is well known that older women are at greater risk because of their age and their weakened state due to repeated pregnancies. Urmilla, a 32 years old migrant worker of Panchmahal, Gujarat, had suffered tuberculosis for which she had been treated. Of her three previous deliveries one was at the construction site where she worked and two at home. In her fourth pregnancy she visited the PHC just once for antenatal care. She was given a tetanus toxoid injection and 10 tablets of iron folate. Her blood pressure and haemoglobin level was not checked. In her eighth month, Urmilla developed breathlessness and pain and was taken to seven health facilities over five days but did not get medical attention and ultimately her family brought her home where she died that night.
Ironically, in the chronicle of the 124 dead women is that of two ASHAs( accredited social health activist), frontline health workers, who along with the ANM (auxiliary nurse midwifery), are expected to be more knowledgeable about child bearing and health care. One of the ASHAs, 28 years, was from Godda, Jharkhand and died in her fifth pregnancy. She had lost two of her infants earlier. She received no antenatal care not even a tetanus toxoid injection. Her delivery was at home and the local medical practitioner was called as she had retained the placenta after delivery.
Much needs to be done
Though the maternal mortality rate (MMR) has fallen from 254 per 100,000 live births in 2004—2006 to 178 in 2010 – 2012, it is nowhere near achieving the Millennium Development Goal of 109 per 100,000 live births by 2015. This is despite the National Rural Health Mission's efforts to strengthen the health system by providing Emergency Obstetric Care at different levels and emergency transport like ambulances and even private vehicles.
So why are these deaths occurring? Are maternal deaths preventable? Renu Khanna of Jan Swasthya Abhiyan and B Subha Sri, a gynaecologist working for Common Health, maintain maternal deaths can be prevented if the focus shifts from institutional delivery to safe delivery. Unfortunately, safety is equated with institutional delivery whereas the delivery should be safe where ever it occurs. Emergency obstetric care is either delayed or unavailable. Though ambulances services are available, 31 women died in transit, seven of them en route to the first facility. Urmilla was taken to seven facilities but was either denied admission, the doctor was not available or she did not carry enough money and returned home to die.
The wilful neglect
In many cases there was "wilful neglect." Emergency care was not provided to stabilise the women, blood was not available and families had to run around making arrangements. Haemoglobin tests of pregnant women were not done, and though anaemia is high among the migrants and other marginalised women it was not addressed, as in the case of young Rupa, leading to her death. Antenatal care was poor and there was no post natal care. Eighty two women (66 per cent) died in the postpartum period (immediately after giving birth to a child).
With the help of senior gynaecologists, the study tried to find out the medical cause of death. They found that the district level maternal death review was not happening in most cases. To get information on the deaths, family members from the women's marital homes as well as natal homes and the community were interviewed. The collective came up with a social autopsy tool (SAT) to look at each death and what caused it. Field investigators were taught how to use SAT.
Lack of cohesiveness
The study revealed that the health system did not work as a cohesive, single unit. The women kept being pushed around like a football – referred from one facility to another, from private to government hospitals and vice versa. It was a harrowing journey in search of elusive care! The health system did not give special care to women who were highly anaemic, had tuberculosis or malaria. Sickle cell anaemia was not picked up in pregnant women.
Almost 45 per cent of the women who died are from scheduled tribes and another 17 per cent from scheduled castes. However, since many of the 32 districts where the documentation was done were adivasi population areas, the tribal/low caste finding cannot be seen as conclusive. However, what can be confirmed is that the women who died were socially and economically vulnerable. This leads to the question does our health system not care for poor women, living in our outback, who in fact should be the focus of public health care.
System-induced vulnerabilities have also been documented. The impact of the family planning programme and the two-child norm on frontline workers and how it affects maternal health is highlighted in the case of Shanta, an adivasi woman of Gadchiroli district. With two daughters, Shanta was under pressure to produce a son. The ANM, however, insisted that the husband should undergo sterilization as they had two children. In this scenario no antenatal care was provided to Shanta nor did she seek care. She delivered a premature boy who died. Shanta went into depression and four months later died with an infected ulcer on her leg.
Need political will
Dr Syeda Hamid, former member of the Planning Commission in charge of health and women's issues, questioned the political parties' failure to put maternal deaths on the election agenda. She confirmed over emphasis on institutional delivery and said she had been assured of a blood bank in every district. During the discussions on the report, health activists said the maternal death review reports should be placed in Parliament and MPs should be asked to deal with the deaths in their constituencies and ensure they do not recur.
Programmes like the Janani Suraksha Yojana, it concludes, have skewed the focus towards demand creation for institutional deliveries. The report highlights that health policies and programmes have neglected several issues that are of great public health significance, especially for women from marginalised communities. These include addressing anaemia and access to safe abortion services. Among the macro issues that need to be addressed are low public expenditure on health, promoting privatisation at the cost of strengthening public health systems and inadequate investment in public medical and paramedical education. Unless there is long term investment in overall strengthening of the health system, maternal health service alone will not improve. The root causes of maternal deaths like gender issues and social determinants also need to be addressed.
The new government in the throes of framing a new National Health Policy, it is felt, could improve universal access to healthcare by strengthening both primary and secondary care. Among the more specific recommendations are improving Emergency Obstetric Care, quality in antenatal and post-partum care, streamlining of the referral system, assuring blood supply and providing safe abortion services to all women. Since anaemia is an important reason for maternal deaths and poor health of the general population, it needs to be addressed at the national level. Men too are anaemic!
A new discreet contraceptive for women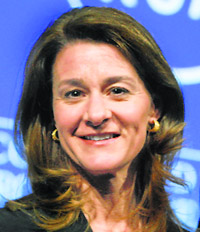 Melinda Gates, co- founder of The Bill and Melinda Gates Foundation

India should piggyback on the success of the polio eradication programme and bring down the maternal mortality rate as well as the infant mortality rate, says Melinda Gates, co-founder of the Gates Foundation. In Delhi recently to meet Prime Minister Narendra Modi and the new Health Minister, Dr Harsh Vardhan, Ms Gates expressed concern about the India's high MMR and talked about the Foundation's focus on women's health in particular in Bihar and UP. She expressed interest in the just launched New Born Action Plan and applauded the sanitation and clean toilets drive of the NDA.
The family planning and child development programmes in India, she said, should keep in mind the social structure in India. If the mother-in-law can be convinced about family planning, it becomes easier for women to follow it. She hopes to come up with an innovative, discreet and inexpensive contraceptive that women can use so that the power to use it lies with them. There is also a project to invent a more pleasurable condom using thinner material.
With the new technology of mobile kunjis and cash transfer system in place, health delivery even in Bihar had become easier she said. However, the services and care provided at primary health centres (PHCs) had to be strengthened and more money needs to be pumped into the health sector.
With her focus on clean toilet near homes, Ms Gates visited a community toilet facility in Delhi designed by women of the community to suit their needs. There is a wall between the men's toilet and that of the women, ensuring privacy. The site is supervised by women to ensure it stays clean, functional and is safe. It also provides for disposal of sanitary pads. It was a powerful example of what happens when women become agents of their own destinies.
We worship mothers
Pregnancy-related and infant deaths have declined significantly from a few years earlier, but, there is not much to cheer.
India accounts for 29 per cent of global first-day deaths of the new born babies. Chine accounts for just 5 per cent.
India still lags behind developed nations and even its poorer neighbours like Nepal and Bangladesh in terms of controlling maternal mortality rate.
India has made headway in institutionalising child deliveries, i.e. taking place in hospitals. More than 40 per cent of child deliveries in Chhattisgarh and 79 per cent in Madhya Pradesh were institutional in 2012.
Institutionalised deliveries will have marginal results till problems like early marriage of girls, nutrition of women and gender equity are not looked at.
The writer is a free-lance environment journalist