In his whirlwind innings of the first months in office, Prime Minister Narendra Modi has shown that he makes his own rules as he goes along. They are, in essence, a mix of good theatre, self-interest and a propensity to place his Bharatiya Janata Party's interests above other considerations.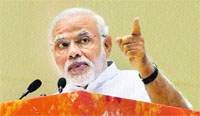 In some instances, it would seem, Mr Modi is poking his critics in the eye to tell them that he is strong enough to discard conventions and conventional wisdom. Initially, he showed his contempt for the intellectual classes by appointing a school leaver to look after the country's highest institutions of learning.
In a similar vein, the Prime Minister gave two of the major portfolios, Finance and Defence, to one person, competent as he is, who needed a breather to present his initial budget and has had hospital stints since then. Perhaps he is seeking to prove the point that he, rather than any of his ministers, runs the show.
More recently, Mr Modi has shown that he does not respect norms in becoming the prime campaigner for his party in electioneering in the state assembly elections in Maharashtra and Haryana, hardly a role for the country's Prime Minister.
Such electioneering coincided with a particularly intense phase of cross-border firing along the Indo-Pakistani border. He remained undeterred and continued with his campaigning even as civilian lives were lost. Apparently, he felt that the BJP's victory in these two Opposition-ruled states, particularly in Maharashtra, would strengthen his hands at the Centre and hence had priority over other national affairs.
To suggest that Mr Modi is aspiring towards a presidential form of government is irrelevant because, as Indira Gandhi had shown during the peak of her power, a parliamentary system can be subverted through the simple expedient of gathering power and imprinting upon Cabinet members and the country who the boss is.
Indeed, it would appear that Mr Modi is fully utilising his initial grace period to gather as much power in the Prime Minister's Office (PMO) as he can. He has a majority in the Lower House and is seeking his party's weaknesses in the Upper House to win as many states as possible eventually to tilt the balance.
At the same time, Mr Modi has caused a flutter in the opposition camp by raising their hackles. Take the instance of slipping in the name of the publicity-seeking MP, Shashi Tharoor, in his list of personalities who can help him in his Clean India campaign. Predictably, the Kerala MP fell for the bait and lost his cachet as a Congress spokesman.
The Prime Minister is, of course, working on a wider canvas by appropriating Congress and national symbols to veer the country away from the consensus the party of Independence, the Congress, had built over many decades of independence and since 1947. In a sense, Mahatma Gandhi was the antithesis of what the Rashtriya Swayamsevak Sangh (RSS) stands for. But despite having been reared by the RSS and helped by it to rise in the political hierarchy of the BJP, Mr Modi had no compunction in appropriating the Mahatma for his Clean India campaign, denuding his philosophy of his other basic tenets inimical to RSS philosophy.
Even more daring has been Mr Modi's attempt to raid India's Independence hero and first Prime Minister, Jawaharlal Nehru, to steal his idea of periodically lecturing schoolchildren on the virtues of life. Logically, it would be difficult to imagine two totally different personalities than Modi and Nehru in their understanding of civilizations and India's place in the universe and the ideals India should follow in advancing the interests of the country.
Whether by conviction or expediency, Mr Modi is at the same time willing to pay a price to the RSS family to keep it from rebelling. One sterling example is the patronage being extended to men like Dina Nath Batra and his pseudo-historical exercises in mixing myth with facts to evolve a history regimen that is being promoted in Gujarat schools, to begin with.
There is no harm in BJP leaders and Cabinet ministers appearing on television against a backdrop of gods and goddesses, but if the young generation of an entire nation is to be indoctrinated in myths, rather than the past as it was, it would produce a nation of pygmies.
Among the many contradictions of Mr Modi's make-up is his zest for the instruments of modern technology in governing and communicating with the public at large. In the last general election, Mr Modi made a paradigm shift in campaigning by how he used technology to advance his cause, leaving his opponents miles behind. And since assuming power, he has sought to harness technology in governance, even by taking over the Congress' Aadhaar scheme after repeatedly denouncing it.
It is not unusual for opposition leaders to transform themselves on assuming power. A remarkable aspect of Mr Modi's change has been how daringly he has taken parts of the Congress-built consensus that suit him and his philosophical bent while seeking to change the very essence of such consensus.
Perhaps Mr Modi fashions himself after Kautilya, who preached that there was nothing good or bad in advancing the state's interests. The twist in his case appears to be that in asserting the country's interests, Mr Modi has ideals contradictory to the house Nehru, the Mahatma and a host of tall leaders of the Independence movement built over the decades since 1947.
How far Mr Modi will achieve his larger goal of replacing national goals by a form of Hindu nationalism mixed with traditional doses of RSS myths remains to be seen. The Prime Minister is still in his honeymoon period and has room for manoeuvre. One hopes his political instincts will warn him of the dangers of tearing the country's inter-ethnic, inter-religious and inter-linguistic ethos.