Murder accused remanded in judicial custody
Tribune News Service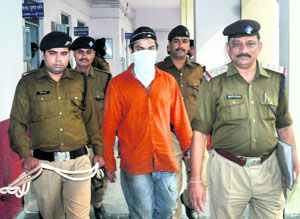 Harmeet Singh, accused of murdering his family members, being taken to jail after being remanded in judicial custody in Dehradun on Saturday. A Tribune photograph

Dehradun, October 25
The 21-year-old Harmeet Singh, accused of killing his four family members, including his father on the night of Diwali, has been sent to judicial remand after he was presented before the court here today. Moreover, the police have also registered a case under Section 316 of the Indian Penal Code (IPC) against Harmeet, which deals with causing death of quick unborn child by act amounting to culpable homicide.
Notably, one of the victims included Harmeet's step-sister, Harjeet Kaur, who was carrying full-term pregnancy. Harmeet has already been booked under Section 302 and 307 of the Indian Penal Code.
"We have decided to impose Section 316 of Indian Penal Code against Harmeet, which refers to the offence of criminal miscarriage and has a provision of 10 years of rigorous imprisonment in case he is found guilty under the IPC section," Superintendent of Police (SP), City, Ajay Singh, told The Tribune.
On the question of whether police have found any other clue in the case, the SP City said, "We have gathered all the forensic evidences from the crime scene and now we would try to build them together to be presented before the court against the accused. However, the police would now try to get Harmeet on police remand during the next hearing on October 27. The police want to question him with regard to numerous other unanswered questions in the sensational multiple murder case.
According to police sources, Harmeet Singh continued to change his statements since his arrest on Friday afternoon and tried to mislead the investigators in the case. "He is an alcohol addict and changed his statements on a number of times during interrogation," VK Jetha, in-charge, Cantt police station said.
It is to be noted that Harmeet Singh allegedly killed his father Jai Singh, his step-mother Kulwant Kaur, his step-sister Harjeet Kaur and his 3-year-old nephew on October 23 night. Moreover, he also tried to kill his seven-year-old nephew, Kawaljeet, but he luckily survived and sustained serious injuries.
It is pertinent to mention here that Harmeet stabbed all of them with a sharp knife. Initially, to deceive the police, Harmeet told the cops that unidentified thieves struck the house on Diwali night and killed the family members.
Although his lies could not last long after his nephew Kawaljeet, who also got injured in the incident, told the police that Harmeet killed all the family members. Later, after stern interrogation, Harmeet also confessed to having committed the crime.
During investigations, the police found that Harmeet was upset over "step-motherly treatment" given to him and was allegedly planning to take revenge from his father and other family members. Reportedly, Harmeet was also angry over his father's second marriage and was carrying a feeling of vengeance against his father, step-mother and other family members.
The police were told by the relatives that Harmeet was an alcoholic and used to have regular fights with family members under the influence of alcohol.