The history of relations between India and Pakistan is being re-written — this time in vitriol. Their acrimonious separation 67 years ago must qualify as the most protracted divorce on record.
No two nations, addicted as its citizens are to television serials, could have for so long provided their viewing public with such a riveting soap opera. It has all the necessary ingredients: confrontation, conflict and conciliation, suspicion and suspense.
Sadly, Indo-Pak relations are now reduced to single episodes connected by a flimsy storyline. And like most soap operas, it is limited only by the ingenuity of the scriptwriters and by the stamina of the performers.
As a Pakistani attending the Khushwant Singh LitFest in Kasauli from 10-12th October, I was prepared for the slurry of resentment shovelled by my Indian counterparts. Their attitudes ranged from an obsession to reverse the partition of the Punjab in 1947, through a determination to avenge Kargil, the attack on the Lok Sabha, 26/11 in Mumbai, to the more recent firing across the J & K Line of Control. What did catch me off-guard were the strident attempts by an educated audience to stifle the opinions of Indians once regarded as 'friends' of Pakistan and now reviled as 'enemies' of India.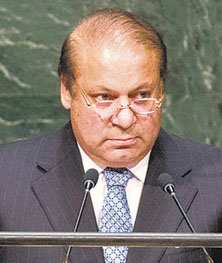 Nawaz Sharif at the UN Assembly. afp

Once pro-Pakistani Indians were personified by Khushwant Singh whose humane advocacy post-1971 for the return of 73,908 Pakistani military PoWs and 16,413 civilian CUPCs so irked Mrs Indira Gandhi. In time, Khushwant's pennant passed to Kuldip Nayar, who anticipated the Gujral doctrine with his book "Distant Neighbours". The latest bête noire is Mani Shankar Aiyar. I was saddened to see him, now unprotected by the shield of a Congress Party in government, being hounded into silence by BJP supporters. Had there been a tree in the auditorium, they would have lynched him.
The BJP followers in that audience were placated only after being reminded that two of their own leaders had been casualties to their firebrand extremism — L.K. Advani for describing M.A. Jinnah as 'a secularist' and Jaswant Singh for writing a book that praised Jinnah with too faint damns.
These three 'friends of Pakistan' had one thing in common — they were all born in areas that are now Pakistan: Khushwant Singh in Hadali (now Pakistan's Punjab) in 1915, Kuldip Nayar in Sialkot in 1927, Mani Shankar Aiyar in 1941 in Lahore. Of them, only Mani has lived in a post-1947 Pakistan, when he served as the Indian Consul General in Karachi.
Unlike them, Narendra Modi was born in 1950. He is a post-Midnight's Child. Unlike Atal Behari Vajpayee, who visited the North-West and Lahore first as a student, then as Foreign Minister and finally as Prime Minister, Modi has never come to Pakistan. He can be forgiven, therefore, for viewing Pakistan through the prism of unfamiliarity, tinctured by a patina of political prejudice.
Since his kneejerk cancellation of the Indo-Pak talks at the Foreign Secretary level, Mr Modi has been more circumspect in his utterances. He refers to the 'invisible enemy' now, rather than berating Pakistan by name. He is absorbing gradually the dictum of the Israeli leader General Moshe Dayan: 'If you want to make peace, you don't talk to your friends. You talk to your enemies.'
And who is the 'enemy' that Prime Minister Modi needs to talk to across his western border?
Until the next general election (or any premature snap general election), there is no one else in Pakistan Mr Modi can talk to than Pakistan's Prime Minister Mian Nawaz Sharif.
As a reward for almost a decade of tapasya in exile, Mr Sharif has been granted rare boons. He has been able to choose his own Chief of Army Staff (General Raheel Sharif) who hopefully will be more loyal to him than his earlier choice General Pervez Musharraf was. Nawaz has anointed a new head of ISI, Lt-General Rizwan Akhtar. And four senior Corps Commanders are due for retirement before the year is out.
Nawaz Sharif knows that he cannot extinguish the fires of ambition in his military. However he must have felt comforted when General Raheel Sharif demonstrated by his abstention during the Imran Khan/Tahirul Qadri dharnas in Islamabad that the Army would not threaten an incumbent lawfully elected government. It was as meaningful an endorsement of civilian democracy as Field Marshal Manekshaw's refusal to oust Mrs Indira Gandhi during her Emergency in the 1970s.
For the time being, Sharif is fortified in Parliament by the support of Asif Zardari's PPP-P. However, Imran Khan's PTI poses a growing threat to Nawaz Sharif, not now but in the future. Imran's PTI recently won a crucial seat in Multan, vacated in a pique by Javed Hashmi, once president of Imran's PTI. Imran Khan's tsunami has converted into a slow water torture, drip by drip, by-election by by-election.
The writer is a Lahore-based art-historian and a columnist for Dawn.