SUV snatched at gunpoint in Zirakpur
Zirakpur, October 18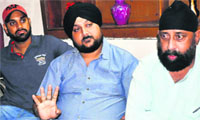 An armed gang of auto thieves targeted a Kanpur-based businessman and snatched a Fortuner vehicle from him at gunpoint from near Lucky Dhaba on the Zirakpur-Patiala Highway on Friday night. The snatcher also opened fire at the victim before fleeing from the scene.

Victim Gurvinder Singh Gill (left) narrates the incident in Zirakpur on Saturday. A Tribune Photograph



Chandigarh police put up poor show
Chandigarh, October 18
Itís not just the vehicle thefts, but the Chandigarh police have even failed in recovering the vehicles stolen from the city.
Drive to track missing children
Chandigarh, October 18
The Chandigarh Commission for Protection of Child Rights is launching a special drive to track missing children of Chandigarh in the neighbouring states.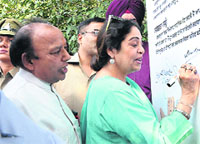 MP for clean city
Chandigarh, October 18
Kirron Kher, Member of Parliament, Chandigarh, today launched a signature campaign at Sukhna Lake to keep the city clean and green.

MP Kirron Kher flanked by Mayor Harphool Chander Kalyan takes part in a signature campaign on Swachh Bharat Abhiyan at Sukhna Lake in Chandigarh on Saturday. Tribune Photo: S Chandan
For a better Diwali in tricity
Keeping pollution level under check a tough job
Chandigarh, October 18
Following the directions of the Central Pollution Control Board (CPCB), the Chandigarh Pollution Control Committee (CPCC) is collecting data on air and noise pollution by installing equipment at three locations, including residential, commercial and the silence zones.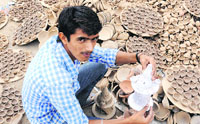 Making diyas for bright days
Chandigarh, October 18
At a time when classmates of Sandeep Verma, a BA-II student, are busy studying, the 18-year-old lad has taken a two-week off from his college to help his father mould diyas (earthen lamps) for Diwali.

Sandeep Verma is the first member of his family who is going to college. Tribune photo: Vicky Gharu
Mini-fire tenders to be stationed in congested areas
Chandigarh, October 18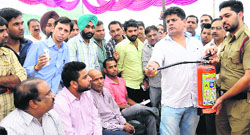 To tackle any untoward incident on Diwali night, the Chandigarh Fire Department will station mini-fire tenders in congested areas of the City Beautiful. Also, the department has decided to keep fire tenders at markets witnessing heavy footfall and residential areas having godowns.
Cracker sellers being trained in fire-fighting during a camp in Sector 17, Chandigarh, on Saturday. Tribune photo: Manoj Mahajan
Only 3 sites earmarked for sale of crackers in Mohali
Mohali, October 18
he district administration has earmarked only three sites in Mohali town where crackers can be sold this Diwali.
Sweets shops raided in Píkula
Panchkula, October 18
The Food and Supply Department, Panchkula, today raided several renowned sweets shops in the district and seized samples.
49th Annual Conference of Association of Plastic Surgeons of India
Rural folks opting for surgery: Experts
Chandigarh, October 18
While plastic surgeons in the country are being flooded with demand for cosmetic surgeries, people from rural areas and smaller towns are not behind in going under the knife to improve their looks.
Pink City Walk marks Breast Cancer Awareness Month
Chandigarh, October 18
Sahayta Charitable Welfare Society in collaboration with Rotary Mid Town celebrated Pink October as Breast and Cervix Cancer Awareness Month by organising the Chandigarh Pink City Walk from Circus Ground to Plaza in Sector 17 followed by a breast cancer awareness programme here today.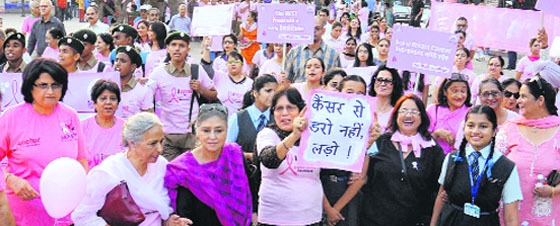 City women and NCC cadets take part in a walk for breast cancer awareness in Sector 17, Chandigarh, on Saturday. Tribune photo: Pradeep Tewari
CII fair draws huge crowd on Day 2
Chandigarh, October 18
The states pavilions are drawing huge crowd at the CII Fair as was evident from the rush on the second day of the fair today.
Rotaract holds salsa workshop to raise funds for calamity struck J&K
Chandigarh, October 18
The Rotract Club, Chandigarh, will organise a 3-day workshop ĎSalsa Fest 2014í to support the flood victims of J&K.
Cubs Club to hold eye donation camp
Chandigarh, October 18
To lighten up the lives of visually impaired children this Diwali, Cubs Club, a city-based NGO comprising 15 working mothers, has slated an initiative to hold a camp where club members and other volunteers will pledge their eyes for donation.
LPG cylinders kept in open an invitation to tragedy
Panchkula, October 18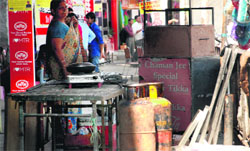 Tragedy awaits the cityís main market of Sector 7, as food joints are keeping LPG cylinders out in the open.






LPG cylinders kept in the corridor outside showrooms in Sector 7, Panchkula. Tribune photo: Nitin Mittal



Soft skills plan for students
Chandigarh, October 18
In order to develop and align talent pool for the industry, the UT Administration is all set to extend the Chandigarh Training on Soft Skills Programme (C-TOSS) in 86 government schools, which would cater to nearly 25,000 students.
2 teachers from London visit Píkula school
Panchkula, October 18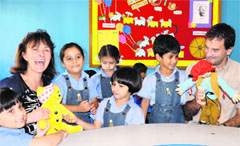 Diane Brewer, principal, and Daniel Hollis, a teacher, of Baring Primary School, London, visited a school in Panchkula in order to experience the education scenario in schools here.


Diane Brewer and Daniel Hollis from Baring Primary School, London, interact with students at The Gurukul, Sector 20, in Panchkula. A Tribune Photograph
Gian Sagar, J&K college lend helping hand to flood-hit
Chandigarh, October 18
Budding medicos from Gian Sagar Hospital and Medical College, Banur, joined hands with Government Dental College, Jammu and Kashmir, to provide medicare to flood victims in Jammu and Kashmir.
Folk performances enthral audience
Chandigarh, October 18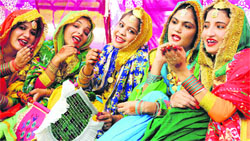 Panjab University Zonal Youth and Heritage Festival - 2014 (Chandigarh Zone A) continued in full swing at Sri Guru Gobind Singh College, Sector 26, on the second day today.


Girls perform during a folk song competition during the Panjab University Zonal Youth and Heritage Festival - 2014 at SGGS College, Sector 26, in Chandigarh on Saturday. Tribune photo: Manoj Mahajan
Students of Vivek High School stage play ĎAnnieí
Chandigarh, October 18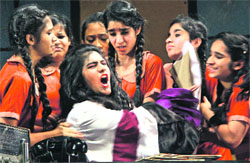 While celebrating the 8th Founderís Day at a Sector 38 auditorium, the senior wing of Vivek High School, Mohali, mesmerised the audience with their scintillating performance of the play ĎAnnieí here today.




Students of Vivek High School, Mohali, enact a scene from ĎAnnieí, in Sector 38, Chandigarh, on Saturday. A Tribune photograph