M A I N N E W S
'Million March' failure leads to squabbling in Pak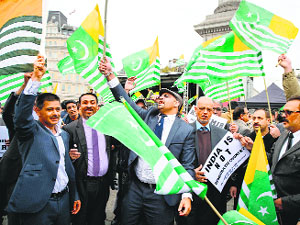 People during 'Million March' at Trafalgar Square in London. AFP
London/Islamabad, October 27
Fizzling out of a rally organised by a UK-based pro-Pakistan group on the Kashmir issue in London has led to a political slugfest with supporters of Imran Khan and Bilawal Bhutto Zardari accusing each other for the debacle.
The so-called 'Million March' from Trafalgar Square to Downing Street turned into chaos as Pakistan Peoples Party (PPP) chairperson Bilawal Bhutto Zardari stepped on to the makeshift stage to speak. The crowd began booing and throwing empty plastic bottles and refused to let him speak at the march yesterday.
Pakistan Tahreek-i-Insaf (PTI) chairman Imran Khan's nephew, Hassan Niazi, was also involved in the controversy. Niazi was briefly detained by the UK police after the incident, according to a tweet from his official account.
The PPP and the PTI rivalry which was earlier confined to rhetoric of top leaders of the political parties seemed to take a violent turn after the incident at the march.
A PTI office in Hyderabad in the Sindh province came under attack by some political activists, who according to Imran Khan led party were affiliated with the PPP, shortly after Bilawal was forced to cut short his speech by alleged PTI workers at the rally held in London.
"This march was to be about Kashmir and for the welfare of Kashmiris. Bilawal has no business being here," said a group of angry protesters who had travelled from Derby in the East Midlands region of England.
Following the incident, Bilawal's sister Aseefa Bhutto Zardari tweeted that her brother is safe and alleged that "Indian agents" tried to stop him from speaking but they did not succeed. People also chanted 'Go Bilawal Go' and 'Go Nawaz Go' as the PPP chairman attempted to take the stage.
Meanwhile, PPP leader Rehman Malik has demanded Prime Minister Nawaz Sharif to take notice of the incident at the rally in London. — PTI