Thieves dig up 120-ft tunnel, clean out 89 bank lockers in Sonepat
BS Malik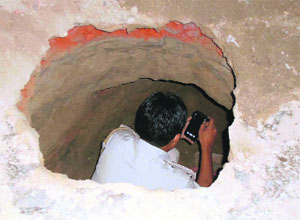 A cop takes pictures of the tunnel dug by thieves. Photos: BS Malik
Sonepat, October 27
It has all the ingredients of a Hollywood thriller. In a perfectly planned and meticulously executed operation, a gang of thieves dug a tunnel leading up to the strongroom of a bank in Sonepat's Gohana area and decamped with cash and jewellery believed to be worth crores after breaking open 89 lockers.
The heist came to light after the strongroom of the Punjab National Bank was opened on Monday.
"The thieves appear to have entered the strongroom through a 120-ft-long and 2.5-ft wide tunnel that opens in a deserted building adjoining the bank. They broke open the lockers with iron rods," said DSP Gohana, Rajiv Deswal.
"It seems the thieves had done a proper recce of the bank. The tunnel opened in the strongroom where there were no surveillance cameras," said the police. On the complaint of bank manager Devender Malik, a case has been registered against unidentified persons at the Gohana police station. The bank manager said the thieves also tried to break open the iron chest that contained Rs 40 lakh cash, but failed to do so.
The theft shocked the locker owners, who started an indefinite dharna outside the bank demanding compensation from the bank.
The bank said a list of stolen cash and articles was being prepared. "We have so far not been able to assess the loss. We are in touch with customers and will take some time to compile the list," said bank's senior manager Satish Goyal.