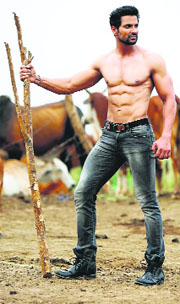 Absolute stunners
A website called sixpackfactory.com, dedicated to those who live for just one reason, to get the finest and neatest abs, religiously follow the motto-Workout till last breath. In fact, back home, our Punjabi actors have taken it far too seriously. Cutting abs is not a new trend, not even for the Punjabi film Industry. But yes, there are far too many people who are now joining the bandwagon of chiseled bodies. Kuljinder Sidhu is one such actor who displays eight packs in his upcoming film Yoddha. And, he of course, is not the only one. Kartar Cheema of Sikander fame is known to be one of the actors with a wow body. Others are Anil Juneja, Varinder Ghuman, Balli Riar, Nav Bajwa.
Kartar cheema
coming soon
A moment with Virani
The documentary film which is generating active debate all over India on the issue of passive euthanasia, Kahaani Karuna Ki, premieres in Chandigarh. Post-screening, author-activist Pinki Virani will interact with the audience. In March 2011, the Supreme Court passed an historic judgment permitting passive euthanasia in India.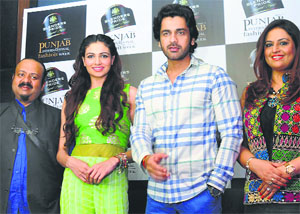 When fashion blends with drama
It's time to hail the dramatic twist adding to the flavour of fashion as the Blenders Pride Punjab International Fashion Week gears up for its fifth edition at The Radisson Blu, Ludhiana. Slated to begin on October 31, the three-day-long event extends its concerns beyond the ramp and just good clothes.
(L-R) Lovell Prabhu, Simran Kaur Mundi, Arjan Bajwa & Sonu Gandhi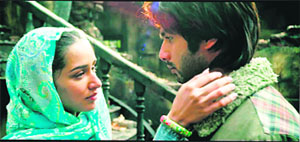 STAR TRACK
People's film
Vishal Bhardwaj's Haider, a modern-day adaptation of Hamlet, won the People's Choice Award in the Mondo Genre (world genre) at the ninth edition of Rome Film Festival.

A still from Haider

Aarya Babbar to release his novel after Bigg Boss
Aarya Babbar seems to be a man of many shades. An actor, director, lover...and now even a writer. Yes! You heard it right. Soon after Bigg Boss, Babbar sher (as he is fondly called) plans to release a fiction novel, whose name is being kept under wraps.

Raveena turns 40
Bollywood's ravishing beauty Raveena Tandon, who has turned 40, says there's still so much more that she has on her to-do list in life. Raveena, who turned a year older on Sunday, feels 40 is just a number, "and a very attractive one at that". "I don't know if life begins at 40. But I definitely feel I've many things to do. And they're all happening in a bunch," she said.
The wedding planner
Actress Cameron Diaz has reportedly asked partner Benji Madden's sister-in-law Nicole Richie to help her plan her wedding.
Incredible Lohan
99 Homes producer Mohammed Al-Turki has praised actress and longtime friend Lindsay Lohan's West End debut performance in Speed-the-Plow, calling it incredible.
Anil helps out
As an attempt to explore new talent, actor Anil Kapoor has reportedly roped in fresh face to direct his son Harshvardhan's second film. The movie will be co-produced by his daughter Rhea Kapoor.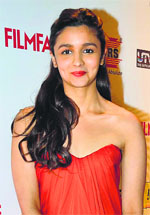 Alia speechless!
Alia Bhatt has found a fan in Hollywood hunk Ashton Kutcher, who has praised the actress's short film on woman safety. Titled Going Home, the short film, which has gone viral in social media, has been directed by Queen helmer Vikas Bahl.
A warm platter at night
When armoured with innovation, an idea that is structured on the foundation of needs becomes a lethal business weapon. Well, Sehaj Bir Sidhu, the 21-year-old CEO of the Night Factory, wears this wisdom quite stylishly on his sleeve as he talks about his new venture that dwells on Chandigarh's night life.
Oh so Oriental!
As he shares the nuances of cooking authentic Chinese food at RED, the eastern dining restaurant at Radisson Blu, MBD Mall, Ludhiana, Master Chef Wang Li drops pearls of wisdom from his rich and varied experience of 29 years in Oriental cooking. Chef Li has served in various five-star hotels across the globe.
it's rocking
A love-ly tune
Of what can be spoken or written about love that has not been written or said before — perhaps that is the biggest challenge that stands in the way of those who intend to tread on the concept of romance. With his brand new song, Thinking Out Loud, English singer-songwriter Ed Sheeran brings about a new flavour of romance that is refreshing and engaging all at once. It features production from frequent collaborator Jake Gosling. Serving as a promotional single from his second studio album, x (2014); the song entered the UK Singles Chart at number 26 and has since peaked at number 2.
Par Excellence
The fundamentals of putting
Putting is a complex part of the game and is made of a number of building blocks. Reading a green and experience are important as well as being able to visualise and having a positive mind set. Good putters seem to have more of these aspects and not necessarily a technically sound or superior putting stroke.
the foodies
When hunger strikes…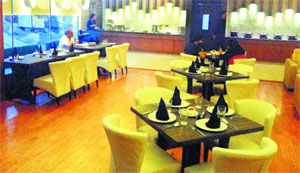 In which direction do you steer your car to cure insatiable, buffet-like hunger? If you're as bored of Barbeque Nation and Pirates of Grill as we are, giving a third buffet option a shot shall come easy. And so it did for us, as we ventured to Gourmet 9, located coyly in Hotel Turquoise, Industrial Area, Chandigarh.

An inside view of Gourmet 9

chatter box
Scaling new heights
Star Plus has announced the launch of its most awaited series Everest, which is the story of a regular girl's struggle to win her father's acceptance. It is set against the extraordinary backdrop of the magnificent Mount Everest. In line with the channel's strategy of offering innovative and differentiated content, Everest has been conceptualised, shot and presented on a scale never seen before on TV.
Nazim's passport woes
Mohammad Nazim, who is currently seen in daily soap Saath Nibhana Saathiya, was supposed to travel to Malaysia for his film's premiere as well as a cricket match. But as luck would have it, he lost his passport. He had to cancel his other travel plans as well.
End of a dream journey
Popular television show Pavitra Rishta bid adieu to its viewers recently. The show's lead actress Ankita Lokhande talks about her journey and more.
Ajay meets King Khan
TV actor Ajay Chaudhary, who plays Vishnu in Uttaran, recently met Bollywood star Shah Rukh Khan at a media function. He says, "One of my close friends, who is an associate of Shah Rukh Khan, invited me for the trailer launch of Happy New Year. I went there and met the man himself. The experience was unforgettable."
Money matters
Bollywood star Shah Rukh Khan doesn't come cheap. Buzz is that the makers of Taarak Mehta Ka Ooltah Chashmah got a duplicate because they couldn't afford to pay Rs 1.25 lakh as fee for Shah Rukh's security. However, the producers of the show denied the news and said it was a requirement of the plot. Interestingly, actor Shah Rukh Khan has also shot for the episode.
The year ahead
If your birthday is October 28...
Astro Turf
ARIES: Be particularly wary if dealing with property matters. Get to bed earlier than is normal for you. Don't let dogmatism close your mind. If an old friend needs your support, get ready to offer it.