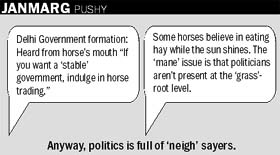 Bail plea of two women found drunk dismissed
Chandigarh, October 28
In a rare instance, a local court today dismissed the bail application of two women who were found drunk last week and had misbehaved with policewomen after they were rounded up.
Man crushed to death under goods train
Chandigarh, October 28
Less than 24 hours after two persons were crushed to death under a train in Mohali, a middle-aged unidentified man was killed after being hit by a goods train near Makhan Majra at around 4.30 pm today.
Revise house tax, Admn writes to MC
Chandigarh, October 28
With the Municipal Corporation (MC) failing to increase the house tax rates, the UT Administration has now written to the civic body to revise the house tax. At present, the tax on residential property is Re 1 per sq yard annually.


Education Dept doesn't care two hoots for traffic rules
Chandigarh, October 28
Soon after the opening ceremony of the 60th National School Games for Baseball at Government Model Senior Secondary School, Sector 37, players were asked to board overloaded buses to reach their respective match venues today.

Students (encircled) of Government Model High School, Sector 43, seen travelling on the rooftop of a bus near the Sector 36/37 light point on Tuesday. They were reportedly asked to sit atop the bus from Sector 37 to Sector 43 to hold gymnastics mats. Photo by writer

Tribune Roundabout
UT plans cloverleaf-type flyover
Chandigarh, October 28
Despite the fact that the Chandigarh Administration is yet to initiate work on the over-delayed project of underpasses planned at several rotaries in the city, the Administration has come up with another proposal of constructing a cloverleaf-type flyover at the Tribune Chowk roundabout.
The Tribune roundabout in Chandigarh on Tuesday. Tribune photo: Pradeep Tewari



Chandigarh Housing Board holds draw of lots for 160 two-bedroom flats
Chandigarh, October 28
The draw of lots for allotment of flat number for 160 two-bedroom flats in Sector 51-A was held in the Sector 9 office of the Chandigarh Housing Board (CHB) here today.
The draw of lots in progress at the office of the Chandigarh Housing Board in Sector 9, Chandigarh, on Tuesday. A Tribune photograph


not inviting tenders for advertisements on fleet of buses
Chandigarh Transport Undertaking loses Rs 16 lakh per month
Chandigarh, October 28
The Chandigarh Transport Undertaking (CTU) is losing around Rs16 lakh every month by not inviting fresh tenders for advertising on the fleet of CTU buses in September last.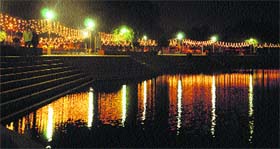 Faith beckons: The lake has been decorated for the Chhath puja in Sector 42, Chandigarh. Tribune photo: Vicky Gharu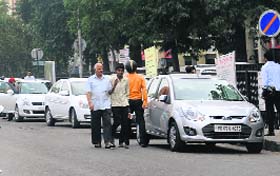 Flouting norms: Vehicles parked on the road outside the Deputy Commissioner's office at Phase I, Mohali, on Tuesday. Tribune photo: Vicky Gharu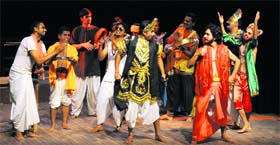 Drama kings: As part of Vigilance Awareness Week, the Income Tax Department organised a cultural programme at Punjab Kala Bhawan, Sector 16, on Tuesday. A drama, 'Namak ka Daroga', was also staged on the occasion. Tribune photo: Pradeep Tewari
Jaundice cases reported
Mohali, October 28
Cases of jaundice among children have been reported in Sohana here. Interestingly, the Health Department is unaware of the situation at the village. According to reports, several children living in Dhobianwala Mohalla in the village had earlier come down with fever and lost appetite.
Zirakpur becoming favourite destination for hoteliers: MLA
Zirakpur, October 28
Zirakpur is gradually becoming a hot destination for hoteliers with some premier chains of hotels expanding their branches in Punjab. In the past five years, Taj, Radisson, Park Plaza, Aloft and certain other big players in the hotel industry have set up their business establishments here and some others are coming up.
Hold camps to create awareness on Central schemes, says MP
Mohali, October 28
Awareness about schemes sponsored by the Centre should be created at the grass-roots level so that the public can get more benefits under these. This was stated by MP and chairman District Vigilance and Monitoring Committee Prem Singh Chandumajra while presiding over a meeting of the committee here.
UT Administrator approves two special MC committees
Chandigarh, October 28
UT Administrator Shivraj V Patil today accorded approval to constitute two special committees of the Municipal Corporation namely Primary Health Committee and Primary Education Committee.
DSP Sanjeev Kumar joins UT police
Chandigarh, October 28
DANIPS cadre DSP Sanjeev Kumar joined the Chandigarh Police today. Meanwhile, Punjab cadre DSP Ashish Kapoor has been relieved from the Chandigarh Police. DSP Kapoor joined the Chandigarh Police on May 12, 2011.



56th Panjab University Inter-Zonal Youth and Heritage Festival
Youth festival kicks off at DAV College
Chandigarh, October 28
The 56th Panjab University Inter-Zonal Youth and Heritage Festival commenced at DAV College, Sector 10, here today. The students participated in a variety of competitions, including rangoli, group song, geet ghazal, essay writing, poem writing, group shabad and classical singing.


Students take part in a group song competition during the youth festival at DAV College in Sector 10, Chandigarh, on Tuesday. Tribune photo: S Chandan

tribune impact
DAV earmarks area around campus as no-parking zone
Chandigarh, October 28
A day after Chandigarh Tribune highlighted the perpetual problem of traffic congestion outside DAV College in Sector 10 and the lack of planning by the college authorities for handling the increased rush of vehicles during the youth festival, the entire area was declared as a no-vehicle zone today.


Barricades were put up to manage traffic outside DAV College on Tuesday. Tribune photo: S Chandan
Experts dwell on plant sciences at PU
chandigarh, October 28
A two-day national conference on "Recent trends in plant sciences with special reference to phycology and mycology" commenced at Panjab University (PU) today.
Reconsider scrapping of hospital project, says PUTA member
Chandigarh, October 28
Following Panjab University's decision to scrap its 100-bedded project for the Dr Harvansh Singh Judge Institute of Dental Sciences & Hospital, one of the members of Panjab University Teachers' Association (PUTA) has appealed to the members to reconsider the decision.
CGC students excel
Mohali, October 28
Chandigarh Group of Colleges (CGC), Jhanjeri, proved its academic excellence by bagging the highest number of positions in the merit lists of the IInd semester BTech as well as MBA examinations conducted by PTU in April 2014.
Vocational service awards given
Chandigarh, October 28
Rotary Chandigarh Shivalik Club presented the 2014 Manoj Aggarwal Vocational Service Awards during an award ceremony held here on Monday. The awardees included head constable Karan Singh, Charanjeet Kaur and Jasbir Singh Pathania.
Freshers' party held
Mohali, October 28
A freshers' party — Agaaz 2014 — was organised for the students of diploma in engineering at Guru Gobind Singh Polytechnic College, Kharar campus, today. Rupali and Deepak Kumar were adjudged Miss Fresher and Mr Fresher.


pu & college notes
MPhil course for defence personnel
Panjab University Registrar Col GC Chadha inaugurated an MPhil course for the serving defence services officers. It is the seventh course being run by the Department of Defence and National Security Studies, Panjab University.
The Panjab University Registrar, Col GC Chadha (right), interacts with defence personnel at the Department of Defence and National Security Studies on the campus. Tribune photo: Pradeep Tewari