Pampered paws
They are more than pets. In fact, they are more than family members. So, don't be surprised if you get invited to a birthday party of someone called Puggy or come across a Facebook profile of a pug named Eddy Rally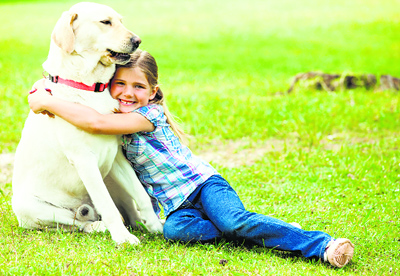 There was a time when petting a dog served a purpose—protection. Though these animals still serve a purpose, the realms of it have inverted. As dogs become less of a pet and more of a family member, there are some in Tricity who take time out and go the extra mile to look after the apple of their eyes and make them feel special. And, why not? If we can spend time and money on all other family members, why not your best friend? We speak to some of these proud dog owners…
A cultural outing
This time it's the North in its complete glory which is being captured at the 6th Chandigarh National Crafts Mela at Kalagram
The curios and crafts all seamlessly blend into the red soil, lending and at the same time borrowing the rustic touch. In the 6th Chandigarh National Crafts Mela, organised by the Department of Cultural Affairs, Chandigarh Administration and North Zone Cultural Centre, the exhibitors, artisans and the handicrafts come together to portray the rich heritage that we proudly refer to as culture.
Wedded to luxury
Looking for a one-stop solution for all your wedding needs? Head straight to the exhibition, Doli — The Wedding Grandeur, Season II, at The Lalit, Chandigarh
Weddings are a lavish affair in India and it is only fair to indulge in them lavishly! Perhaps that reasons the concerns of the organisers of the two-day-long wedding exhibition, Doli— The Wedding Grandeur's Season II, at The Lalit, Chandigarh.


Eye catching: Various stalls at Doli — The Wedding Grandeur's Season II are indeed a crowd-puller. Photos: Manoj Mahajan

Notes of remembrance
An age-defying singer is timeless, indeed. Having been a producer for Marathi shows and Bhojpuri movies, Shashi Khanna decided to cut an album of Punjabi songs and explore a new and soulful side to her life. In Chandigarh on Saturday for the launch of her first album, Nach Di Ve Main Nach Di, Khanna says the six-song album is dedicated truly to her late son Vikas Khanna. "He was a very famous child artiste in Bollywood, having worked with the likes of Rajesh Khanna and Jitendra.
Fashionable lanes
Offering collectibles, cars, accessories and of course, apparels, the Indian Luxury Expo is sure a delight to visit…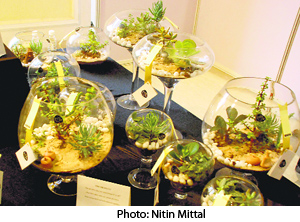 While luxury never really rubbed shoulders with crowds, it needed patrons to exist nevertheless. Exclusive exhibitors bring in limited buyers. Call it a good thing, call it a bad thing. No swarming crowds, no cramped stalls, no parking woes. Together they can perhaps offset the fact that there is not plenty to choose from. The Indian Luxury Expo debuts in Punjab (Chandigarh to be precise) with all the luxury names promised in tow. Only the footfalls were amiss. Crowds? Shares Karan Bhangay, founder-director, already high on the editions of Hyderabad, Mumbai and Pune, "With Chandigarh, we test waters in Punjab, and get to read the market and what really ticks here."
A designer platter
A deft touch to traditional recipes can do wonders to the taste and flavours. Bharti Sanghi has mastered the art…
With all other aspects of our lifestyle taking the designer route, it is now time for designer sweets that should look sensuous besides melting in your mouth. Putting her culinary expertise to use, Bharti Sanghi drew upon her experiences in a typical Marwari household to infuse new life into rare and traditional delicacies.
Star track
Meet the Barbie girl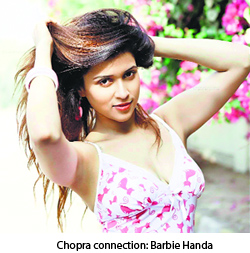 After Priyanka and Parineeti Chopra, Barbie Handa aka Mannara is the latest Chopra girl to enter Bollywood. She is all set to make her Bollywood debut with Anubhav Sinha's Zid. She talks about the film, her role and more.
Being Mannara: My real name is Barbie Handa. I want to grow up a little and move from Barbie to Mannara. Mannara is a Greek name, meaning something that shines. And, of course, we all want to shine in our respective professions. Anubhav sir (the film's producer) felt I should change my name. Even Priyanka agreed. Mannara was the right name because Anubhav sir wanted the name to start with the letter 'M' because he is a big fan of Madhuri Dixit. So am I.
Hirani miffed with brands
Raj Kumar Hirani is contemplating taking legal action as a lot of brands are cashing on the popularity of his next film, PK. He is seeking legal advice to explore what can be done. He has been buried with editing work and has had no time to be noticing things around him. When people around him showed the advertisement and the merchandise item he was shocked.
Hrithik attends Zayed's trailer launch
Hrithik Roshan and Sussanne Khan may have parted ways, but the actor seems to be keen on maintaining a cordial relationship with his ex-wife's family. Some time back, Hrithik had apparently promised to help Sussanne's brother, actor Zayed Khan, promote his upcoming film. And, for the same, now, he is set to make an appearance at the film's trailer launch that will take place today.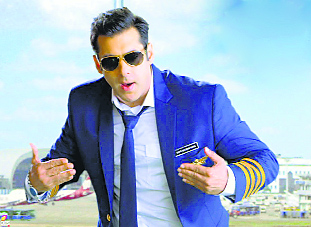 Chatter box
Salman to opt out?
If the latest rumours are anything go by, Bollywood star Salman Khan has asked the makers of reality show Bigg Boss to find a replacement for him. In the past too, there were reports of Salman wanting to opt out of the show. However, he hasn't. After all, he makes good money from the show. Still we wonder if the latest buzz is true. Guess only time well!

Decision time: Salman Khan in Bigg Boss

Story of young love
Marriage is a turning point in everyone's life and needs consent of both partners. But what happens when things go wrong and two individuals get into wedlock by accident? While it amazes us, it will amaze our audiences too. Life OK brings alive the bitter-sweet pill of romance with its new show Mere Rang Mein Rangne Waali in association with Rajshri Productions.
Astro turf
ARIES: The day will be quite busy, since you will be taking care of issues such as pending bills, appointments and miscellaneous errands. Yet, once you are through, you will be able to lie back. Tarot message: Don't take financial decisions impulsively. Lucky colour: Navy blue. Magic number: 32.
The year ahead
If your birthday is November 16... There will be some relief in the form of salary hike or change in the nature of work. You will begin to treat problems in your own way from July 2014. People engaged in business can restructure partnerships. There will be satisfactory returns for your investments in fixed assets. People engaged in insurance, non profitable organizations and multimedia will prosper well.