Guest Column
As PM, Modi must shun references to blind faith
Modi's speech in Mumbai, comparing genetics and stem cell research to Karna's birth is indicative of the appeasement by political and social powers that has crippled our nation through centuries.
Swami Agnivesh

As the nation is celebrating the 125th anniversary of our first Prime Minister Jawaharlal Nehru, let's pause and ponder how we should pay true homage to that epoch-making soul.
If we encapsulate the true spirit of Nehru, we find that he was driven by his urge of promoting rationality and a scientific temper and ridding the nation of blind faith and superstition that he thought were responsible for the majority of the social ills that plague it. He had exhorted in a speech in Parliament in 1953: "It is science alone that can solve the problems of hunger and poverty, insanitation and illiteracy, of superstition and deadening customs and tradition, of vast resources running waste, of a rich country inhabited by the starving people. Who indeed could afford to ignore science today? At every turn we have to seek its aid. The future belongs to science and to those who make friends with science."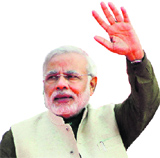 Almost half a century over these historic exhortations by the nation's visionary leader, truth is that this "rich country" is still inhabited, if not by "starving people", by people shackled by the bands of "superstitions, miracle mongering and obscurantism", especially in the living core of this great subcontinent spread over more than 7,00,000 villages and habitats. Unless these shackles are broken, Nehru's vision of progress through making friendship with science will still remain a toy for the elite and an exploiting tool for a few.
Prime Minister Narendra Modi had, in his first speech in the Lok Sabha on June 11, 2014, laid emphasis on the eradication of blind faith for the eradication of poverty. He had said: "We have to rid the poor of superstition and blind faith. To take the poor out of poverty we have to give them the power to fight. The biggest weapon is education. The administration should come together to empower the poor."
I was elated after listening to this speech. As an Arya Samaj activist, I have crusaded against these very social plagues in spite of criticism and murderous assaults. Sometimes, the greatest service to society is to call a spade a spade. Modi's speech could truly be the instrument of change to destroy these oppressive structures of religious bigotry. This in true sense would have been a fitting tribute to Nehruji. But while Nehruji always remained committed to his resolve of crusading against blind faith, our current Prime Minister has dented the very ideals his own speech had espoused through his actions—be it his constant visitations of religious sites or his frivolous and wasteful "rudrabhishek" in Nepal. His recent speech in Mumbai, where he compared path-breaking genetics and stem cell research to Karna's birth and plastic surgery to Lord Ganesha, was shocking. For a gathering of overzealous "svayamsevaks" this might be an inspiring speech, but coming from the Prime Minister of a nation, that too while inaugurating a state-of-the-art hospital, this is indicative of the very sickness of blind faith and its appeasement by the political and social powers that has crippled our nation through centuries.
This kind of nonsensical comparison of the developments in modern science to mythology is extremely unbecoming of a Prime Minister of a country that is still deeply ridden in blind faith and obscurantism and needs an enormous movement for the inculcation of rationality and scientific temper. This kind of irresponsible and laughable trivialisation of modern science will not only negatively affect our scientific research and fraternity, but also damage our rich metaphoric mythology by turning it into non-serious stories like Ganesha and his elephant head or others that have metaphoric values and should not be taken literally.
Swami Dayanand in his magnum opus "Satyarth Prakash" has explained several such references and elucidated the metaphorical philosophy behind them. I advise the Prime Minister to read and follow such rich and enlightening literature instead of only Dinanath Batra ji's books.
His speech in Mumbai would not only ravage his personal reputation, but also hint at the intellectual bankruptcy of the PMO. As our Prime Minister, he is duty bound to uphold Article 51(a) of the Constitution in letter and spirit, which enjoins upon each one of us "to develop the scientific temper, humanism and the spirit of inquiry and reform". And speeches like these not only contradict this talisman by the Constitution, but also his own vision of a modern India, with bullet trains and digital networks, 3G villages, etc.
—The writer is an Arya Samaj scholar and a social activist