G R O U N D Z E R O


ground zero


Nehru and the Bomb, a puzzling duality
On nuclear weapons, Nehru proved to be both an idealist and a pragmatist. While he was dead against the bomb, he believed that when India called for a nuclear-free world, it must do so from a position of strength.
Raj Chengappa

When Jawaharlal Nehru died in 1964, I heard the news first over All India Radio. I ran to the barber shop where my father was having a haircut to inform him. I still remember the shock with which he received the news and the sadness that settled in. At the barber shop, as was the custom those days, pictures of leaders who fought for India's Independence, including that of Nehru, lined the walls. Such was the reverence our political leaders were held in that they shared space with pictures of gods in shops and at home.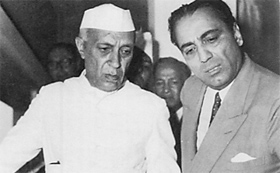 Jawaharlal Nehru with Homi Jehangir Bhabha, the father of India's nuclear programme.
As did most of us, I studied Nehru's contribution to the freedom struggle and in nation building in history classes, both in school and college. But to me what brought home his iconic status was when I first visited the Nehru Memorial Museum and Library in Teen Murti Bhavan in Delhi. Apart from the memorabilia I was impressed by the number of books on him. Not only had Nehru written many books, but in the library there were a whole section containing books written about him. Such was his impact on India and the world.
It was while researching my book on India's nuclear weapons history that I read most of his works and those of others about him. I also talked to a range of people who knew him, including politicians, scientists, diplomats and armed forces personnel. While Mahatma Gandhi was unambiguous about his opposition to the atom bomb, Nehru, while championing a nuclear-free world, exhibited a duality in thinking that puzzled me.
Nehru was reportedly deeply shocked when the US exploded atom bombs over Hiroshima and Nagasaki. It was then he decided that he would work towards persuading the world to abjure the use of nuclear weapons. The late PN Haksar, one of Mrs Indira Gandhi's closest and most respected advisers, whom I interviewed in 1998, remembered Nehru telling him, "Let's save future generations from the scourge of nuclear war. We should not fail."
Nehru was disappointed when a proposal to get the UN to outlaw atomic weapons failed with the Soviet Union determined to have the bomb. The nuclear arms race had begun. Nehru understood that Independent India had to not only harness the immense potential the atom held as a source of electricity but also its uses for the defence of the country. In 1948, as Prime Minister he wrote to Defence Minister Sardar Baldev Singh: "The future belongs to those who produce atomic energy. That is going to be the chief national power of the future. Of course, defence is intimately concerned with this. Even the political consequences are worthwhile."
It was Nehru who encouraged Homi Jehangir Bhabha, known as the father of India's nuclear programme, to think big. When Bhabha came up with a plan to build self-reliance in nuclear energy, Nehru sanctioned it with alacrity, bringing the Atomic Energy Commission directly under the PM's office. He freed it from all bureaucratic clearances and even made parliamentary scrutiny limited. Bhabha was mandated that India should develop the dual capability of using nuclear energy for both peaceful purposes and if necessary war.
It was widely believed that Nehru forbade Bhabha from building a nuclear weapon. But Professor S. Gopal, his biographer, told me, "It is not generally known that Nehru wrote to Bhabha that he was against outlawing atomic weapons. His policy was never to use it but to have it because we can't completely abjure from it." Even as Nehru advocated a nuclear bomb-free world and pushed for a nuclear test ban treaty, he sanctioned expensive plans for Bhabha to set up the giant infrastructure capable of both generating nuclear energy and building bombs.
There is plenty of evidence of Nehru's dual intent. In 1958 he cleared a project to recover bomb-grade plutonium from Cirus, the research reactor built with Canadian help. And in 1962 when Nehru learnt that the Chinese were close to testing its first atomic device, he told Bhabha to speed up India's capability for a peaceful nuclear explosion. Earlier he had given Bhabha clearance to set up a small group of top physicists to understand the physics behind nuclear explosions.
On nuclear weapons, Nehru proved to be both an idealist and a pragmatist. While he was dead against the bomb, he believed that when India called for a nuclear-free world, it must do so from a position of strength. Nehru argued that it was not because India didn't have the capability of making the bomb but because we believed that a nuclear arms race would only end in the annihilation of life on earth. While criticism is heaped on Nehru for his pacifist approach towards the defence of India, on his 125th birth anniversary we must acknowledge that he laid the foundation of making India nuclear capable in every sense.
raj@tribuneindia.com