Nationalist Congress Party chief Sharad Pawar has once again shown that he is the most consummate political operator in Maharashtra. Credited with driving the Shiv Sena and the BJP apart ahead of last month's Assembly elections just before breaking up with the Congress, Pawar is making the most of the hung Assembly that has been thrown up after the polls.
First, he effectively scuttled a political rapprochement between the Sena and the BJP by offering unconditional support to the latter, which has just 121 MLAs in the 288-member Assembly.
The Maratha strongman's calculations about the Sena and the BJP refusing to dismount their respective high horses have almost proved correct, with the former now occupying the opposition benches in the state Assembly. With Chief Minister Devendra Fadnavis virtually at the mercy of Pawar and his controversial nephew Ajit, the NCP supremo quietly indicated that his support for the government should not be taken for granted.
"Our support for the government depends on them working for the interests of Maharashtra," Pawar said days ahead of Fadnavis' confidence vote.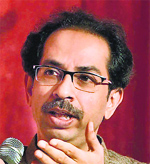 A setback for Sena chief Uddhav Thackeray.
What is left unsaid is that the new Chief Minister will quietly forget about his election promise to investigate the allegations of corruption against Sharad Pawar's nephew and former Deputy Chief
Minister Ajit. Several PIL petitions are before the Bombay High Court and the Pawars are worried that the government may bend backwards to fix them.
NCP leaders have said Fadnavis should not become overconfident after winning the vote of confidence. "The government can be brought down if it fails to pass the money Bill," an NCP leader said. The party, which controls a large swathe of the state's cooperative sector, is expected to put up a fight should the state or Central government attempt to regulate the sector.
Party leaders said they would oppose any move to liberalise the state's Agriculture Produce Marketing Committees, most of which are controlled by the NCP. The party will also oppose any move by the Narendra Modi government to liberalise free movement of agricultural produce within the country.
Observers say Sharad Pawar will also use his clout to join hands with the BJP to cause further damage to the Congress and the Shiv Sena in the state. Even before the Assembly polls, Ajit Pawar managed to woo several local leaders of the Shiv Sena in different parts of the state. This is expected to intensify and the Pawars will use the breathing space to grab as many local bodies as possible from a weakened Shiv Sena.