More listless than lustful
The Shaukeens is not even half as sleazy as one would expect. But, before we say cheers, here is the dampener — it's not half as funny either.
Nonika Singh
Sex, the three-letter dirty word in the Indian lexicon becomes even dirtier when uttered by three ageing men. So, what do you get when three sexually frustrated men lust after a hot young girl? A raunchy adult comedy is in the making... so you believe.
Well, the good news is The Shaukeens is not even half as sleazy as one would expect from a film delving into an adult subject. Rather it walks the thin line between talking about what is almost a taboo subject in Indian society and Indian ethos as it keeps Indian sensibilities in mind rather well. But, before we say cheers, here is the dampener — it's not half as funny either.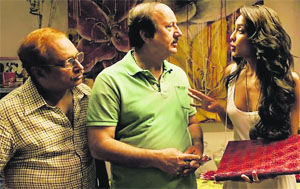 Piyush Mishra, Anupam Kher and Lisa Haydon
The supposedly naughty film's naughtiness remains mostly in the minds of three ageing friends (Anupam Kher, Annu Kapoor, Piyush Mishra), who stop in the tracks each time they encounter a PYT — pretty young thing. From Delhi to the beaches of Mauritius, the shaukeen mizaaz hope to realise their lustful dreams in lovely lady Ahana (Lisa Haydon), a free spirit deliriously oblivious to the undesirable intentions of the three very 'very' grown up men.
And between her Facebook updating status aspirations and their nefarious designs lies the drama, which is in effect a 21st century adaptation of Basu Chaterjee's film Shaukeen. Alas, the drama, though not jarring, does not tickle your funny bone as often as it ought to.
Sure, the film has some rib-tickling moments, yet surprisingly these come from Akshay Kumar who incidentally is the producer of the film and who one was led to believe had a cameo in his home production. Indeed, Akshay is not the hero of the film. Rather, he plays himself — that is the superstar Akshay. Ahana, the dusky beauty the object of three shaukeens' amorous attention, is crazy about him.
And he remains the anchor on which the film rests. His scenes not only provide comic relief, but also do some serious introspection. No, he is not contemplating as to why three senior citizens have become tharki—a common word in Indian parlance. Rather Akshay's subplot that has him sipping whisky out of coconut shell is suitably satirical with many a pun intended at others, but mostly at himself. He takes a dig at his own film career, the Rs 100-crore clubs and the endorsements which he signs left right and centre. Why, there is a price tag for meeting fans too? All this and more, especially the National Award angle, are genuinely amusing. And herein even Cyrus Barocha in a bit part as Akshay's manager is spot on.
In contrast the three veteran actors' lust for a fistful of lust becomes jagged after a while. They have some tricks up their sleeve, but at no point do they bring the house down. Actually, their desperation might make a sociological point; it doesn't score very highly on the scale of humour. It's not that the veteran actors are not impressive. Be it Piyush Mishra who becomes one with the character of masala king, whose life is devoid of any masala. Or respectable shoe-shop owner Anupam Kher, a 'lech' alright but worried as hell, like any true middle-class Indian on being caught on the wrong foot. Annu Kapoor as the suave rich bachelor and the master planner of dirty games is equally consummate. They are no doubt in top form. But together, they are not a riot and the problem is the film perks up only when Akshay comes on the screen. Since that does not happen too often, the film sags more than it lifts. Finally, as Akshay ties up the knotty problems the three shaukeens land into, the film wraps up on a feel-good note, absolving all condemning none. All of this could have worked well only if it had packed more mirth.
Film: The Shaukeens
Director: Abhishek Sharma
Cast: Akshay Kumar, Lisa Haydon, Anupam Kher, Annu Kapoor, Piyush Mishra
Rating: **