Centre accepts proposal to increase NCB staff
Chandigarh, November 7
The Union Government has agreed to the Punjab Government's request to strengthen zonal and sub-zonal offices of Narcotic Control Bureau (NCB) at Chandigarh and Amritsar to tackle the drug menace in the state in a more efficient and result-oriented manner.
State may follow Andhra to deal with farm suicides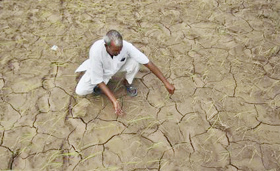 Chandigarh, November 7
The two teams sent to Andhra Pradesh and Maharashtra to study the relief provided to debt-ridden farmers and the families of those who committed suicide have appreciated the policies adopted by these states.




Repeated crop failure has been blamed for farm suicides. Tribune photo



CM's remark on need for SAd-BJP alliance triggers row
Badal pursuing politics of blackmail, says Capt
Patiala, November 7
The Congress Deputy Leader in the Lok Sabha, Capt Amarinder Singh, today condemned the "politics of blackmail" resorted to by Chief Minister Parkash Singh Badal.
Berth for Sampla will help BJP get Dalit votes


Chandigarh, November 7
The move to induct Vijay Sampla, first-time BJP Member of Parliament from Hoshiarpur, in the Union Cabinet, is yet another effort by the BJP leadership to go it alone in the next Assembly elections.


Vijay Sampla
Cong seeks white paper on state finances
Jalandhar, November 7
Demanding a white paper on the state's financial health, PPCC spokesman Jaiveer Shergill today demanded that the SAD-BJP government should explain to the people why governance had come to a standstill.
Will field candidates from all wards in Moga: Gill
Moga, November 7
A day after Ram Shankar Katheria, the new BJP in charge, Punjab affairs, met party leaders in the state, Paramdip Singh Gill, former Director General of Police (DGP), announced that the party would field its candidates in Moga. He said they would contest from all 50 wards in the city in the local body poll.


Chief Secy gathers feedback on starting new ITI courses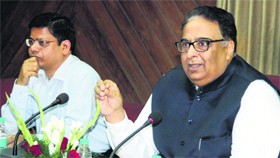 Jalandhar, November 7
Chief Secretary Sarvesh Kaushal today chaired a day-long discussion with the principals of 130 Industrial Training Institutes (ITIs) and polytechnics across the state.


Chief Secretary Sarvesh Kaushal and Principal Secretary, Technical Education, Rakesh Verma at a meeting with ITI principals in Jalandhar on Friday. Tribune Photo: Sarabjit Singh

Experts discuss India's development story
Patiala, November 7
MM Modi College, Patiala, oraganised a two-day "international business conference" in collaboration with Punjab Commerce and Management Association (PCMA). The theme of the conference was "India's development story in the backdrop of fast-evolving global, economic and political scenario".
Levying of fee: Dalit students protest in Muktsar

Muktsar, November 7
Dalit students in the state are up in arms after government and private institutes started charging fee from them. The state government had announced free education for them.


Students protest outside the District Administrative Complex in Muktsar on Friday. A Tribune photograph

Muktsar leads in eco-friendly management of paddy stubble
Muktsar, November 7
The administration today claimed that the district was leading in the management of paddy stubble in the state. Eco-friendly techniques were being used to do so, it claimed.
BSF defers 'Day Tourism' at Attari

Amritsar, November 7
Following the suicide bomb attack at Wagah that claimed over 60 lives, the BSF has decided to defer its 'Day Tourism' plan that was to be launched on trial basis at Attari border from November 10. The aim was to cut down rush at the Retreat ceremony.

The Retreat ceremony at Attari-Wagah border. photo: Vishal kumar

Cong workers block road in Sangrur
Sangrur, November 7
Congress workers blocked the Sangrur-Patiala road at Bhawanigarh for an hour and raised slogans against the government today. They were protesting against non-payment of farmers' dues for the paddy procured by government agencies.
After the barbs, leaders warm up at wedding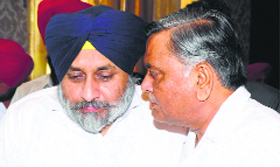 Jalandhar, November 7
All bitterness forgotten, Punjab ministers, Chief Parliamentary Secretaries and SAD and BJP office-bearers were today seen exchanging greetings, hugging one another and getting group pictures clicked at the wedding ceremony of Health Minister Daljit Singh Cheema's daughter near Jalandhar.

Deputy CM Sukhbir Badal with BJP leader Manoranjan Kalia at the marriage of Education Minister DS Cheema's daughter near Jalandhar on Friday. Tribune Photo: Malkiat Singh

Centre urged to resolve turban issue
Anandpur Sahib, November 7
Takht Kesgarh Sahib Jathedar Giani Mal Singh has sought the Union Government's intervention for resolving the turban issue in France.
Few takers for housing project in Fazilka
Fazilka, November 7
The ambitious housing project of Improvement Trust, Fazilka, has attracted only a few buyers as the authorities priced the plots at high rates and the real estate business is going through a slump.
Trauma centres in coma
Jalandhar, November 7
Failing to sustain the four government-run trauma centres in the state, the Punjab government has decided to approach the Central Government for funds.
Bajwa accuses Akali govt of being anti-Dalit
Chandigarh, November 7
Punjab Congress president Partap Singh Bajwa today took exception to the non-utilisation of funds earmarked for the welfare of Dalits, saying this revealed the "anti-Dalit" face of the Badal government.
Giant turtle released into zoo lake
Chandigarh, November 7
Facing criticism by different sections of society as well as animal rights groups, the Punjab Wildlife Department has been forced to release the giant turtle, put on display in an enclosure at the Chhatbir zoo since October 30, into the zoo lake.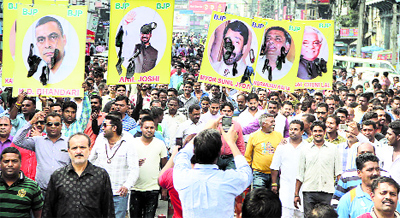 Pictures of CPS KD Bhandari, Local Bodies Minister Anil Joshi, Mayor Sunil Jyoti, ex-minister Manorajan Kalia and Forests Minister Bhagat Chunni Lal garlanded with shoes during a protest by safai karamcharis in Jalandhar on Friday. Tribune Photo: Sarabjit Singh

Safai karamcharis are protesting against the state government for forcibly implementing the solid waste project in Jalandhar


On Friday, they organised a protest under the leadership of president of the Safai Mazdoor Union Chandan Grewal


They raised anti-government slogans and entered the MC office where they held a day-long dharna


No waste has been lifted from houses for the past three days as MC employees are on strike and private company JITF Urban Infrastructure has been lifting waste only from dumping sites
Govt to blame for delay in payment: Capt
Chandigarh, November 7
Congress Deputy Leader in the Lok Sabha Capt Amarinder Singh today asked Chief Minister Parkash Singh Badal to own moral responsibility for failure in ensuring timely payment to famers for their paddy crop. He said, both the state and the Centre must find a way out and not make the farmers suffer for no fault of theirs.
Need to reform agri-banks, say experts
Chandigarh, November 7
The National Cooperative Agriculture and Rural Development Banks' Federation and Punjab State Cooperative Agricultural Development Bank jointly organised a seminar on reforms in long term cooperative credit structure today.
Sale of drugs: Framing of charges against cops adjourned
Moga, November 7
Additional District and Sessions Judge of Moga Manju Rana today adjourned the framing of charges against the policemen facing allegations of selling drugs. The court fixed November 20 as the next date of hearing for considering an application filed by the police seeking permission to reinvestigate the case.
32 SC youths to get loan for self-employment
Sangrur, November 7
The district office of the Punjab Scheduled Castes Land Development and Finance Corporation has approved 32 cases of granting loans to unemployed Scheduled Caste (SC) youths under various schemes.
Relief material sent for J&K flood-hit
Amritsar, November 7
The SGPC today sent yet another consignment of relief material for those hit by recent floods in Jammu and Kashmir.
Livestock tourney to be held in Muktsar
Muktsar, November 7
Gulzar Singh Ranike, Animal Husbandry, Fisheries and Dairy Development Minister, today announced that the National Livestock and Milching Championship 2015 would be organised at the Guru Gobind Singh Stadium in Muktsar from January 8 to 12.
Illicit liquor seized from Fazilka village
Fazilka, November 7
The district police have seized 2,000 litres of illicit countrymade liquor from Mahalam village in Fazilka district. Police sources said on a tip-off, a police team raided the houses of alleged bootleggers.


Amritsar resident held for gunhouse robbery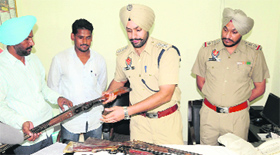 Amritsar, November 7
A day after the Faridkot police arrested two notorious criminals in connection with the gunhouse robbery in Kotkapura, the Amritsar police today claimed to have arrested one of their accomplice.


The Amritsar police with weapons recovered from local resident Simarjit Singh on Friday. A Tribune photograph

Child protection officer among 3 held for graft
Ludhiana, November 7
District Child Protection Officer (DCPO) Shilpa Jindal was arrested today for allegedly taking a bribe of Rs 50,000 to shift a differently abled child to All India Pingalwara Charitable Society, Amritsar.